Vikings LB Eric Kendricks named NFC Defensive Player of the Week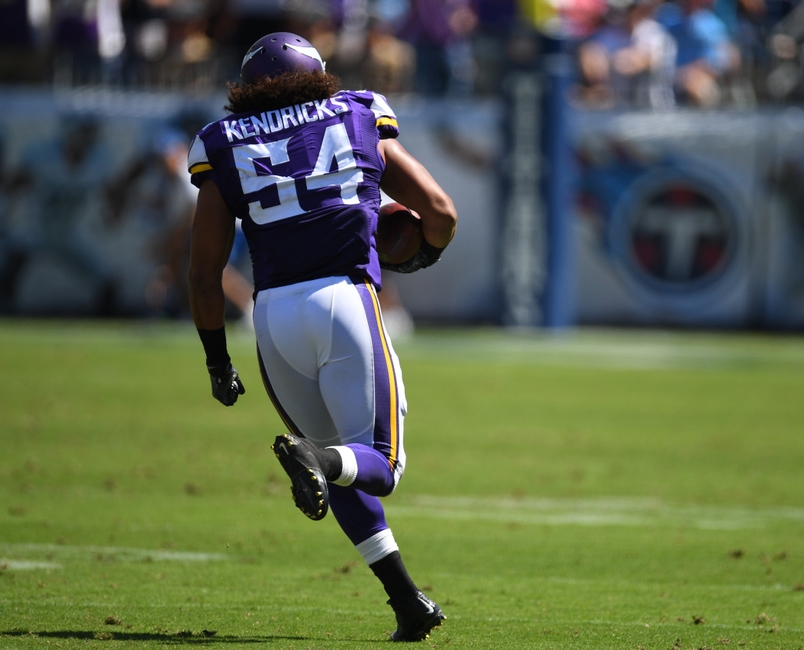 Minnesota Vikings linebacker Eric Kendricks was named NFC Defensive Player of the Week for his week 1 performance against the Tennessee Titans.
When the defense of a team can make big plays, sometimes the offense doesn't need to be hitting on all cylinders. That was the case for the Minnesota Vikings during their 2016 season opener in Tennessee against the Titans.
There were several key moments from the game that put the team in position to win. There was a long kickoff return from Cordarrelle Patterson, a fumble recovery from Danielle Hunter, and other key moments, but the one that stands out in particular is the interception by linebacker Eric Kendricks that he returned 77 yards for the touchdown.
The NFL has honored Kendricks for his excellent play on Sunday, naming him the NFC Defensive Player of the Week for week 1 of the NFL season.
Here is the announcement made by the Minnesota Vikings on their official Twitter account:
As stated above, Kendricks big play was the interception of Marcus Mariota for a touchdown. However, he did also have 6 tackles on the day and one of those was for a loss against a hard-running Titans team focused on pounding the football against the Vikings.
Vikings.com wanted to remind fans that Kendricks is no stranger to awards based on his good play, listing some of his past honors on their site:
"The second-year LB from UCLA became the first rookie to lead the Vikings in tackles since Rip Hawkins in 1961, after posting 105 tackles during his initial campaign. The 2014 Butkus Award winner was also named the NFC Defensive Rookie of the Month for October 2015 and was selected to the PFWA All-Rookie Team last season."
Kendricks becomes the eighth individual to win a Player of the Week award from the NFL under head coach Mike Zimmer, with half of those coming on the defensive side of the ball.
Congratulations to Eric Kendricks on winning the NFC Defensive Player of the Week award as well as to the Minnesota Vikings for proving that defense does win games in today's National Football League.
This article originally appeared on