Vikings at Redskins Preview, Predictions, and More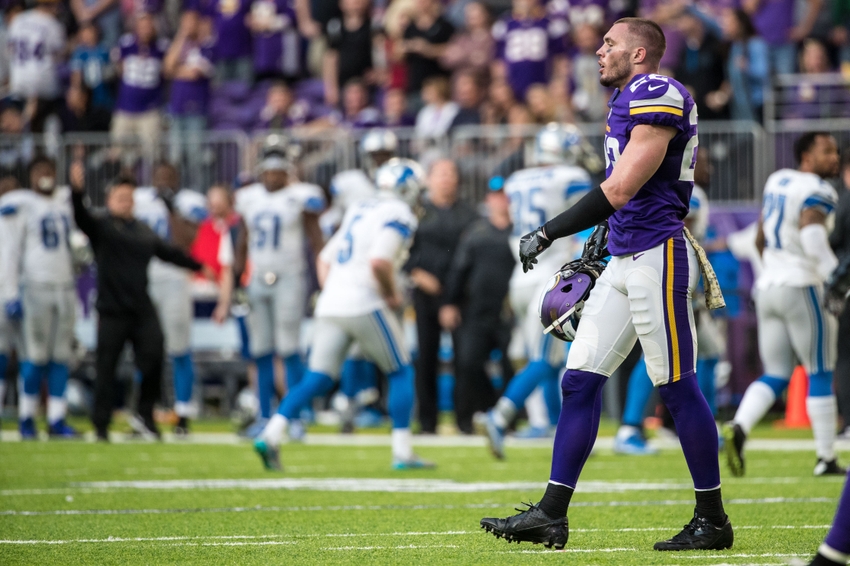 Minnesota Vikings vs. Washington Redskins
Despite having lost three games in a row since returning from bye, the Minnesota Vikings surprisingly still lead the NFC North. The Washington Redskins sit at third in the NFC East, a game above .500. These two teams will clash at FedEx Field on Sunday in NFL Week 10.
Coming off one of their most heart-wrenching losses, the Minnesota community must be somewhat optimistic of what they saw from their offense Sunday versus the Lions. Sam Bradford was clean in the pocket for most of the game, the passing efficiency was on par for the most part, and the offense was by far more less unpredictable than before.
Washington is a tougher team to analyze coming off their bye week following a tie in London. Kirk Cousins leads a Redskins offense centered around his passing ability with inconsistencies at running back. The Skins are practically league average on defense, but have put together some strong pass rushing efforts as of late with Ryan Kerrigan and Trent Murphy leading the way off the edge.
Keys to Victory
As it was in Detroit last week, the scat-back play for Washington should play a key role in breaking the Minnesota Vikings defense scheme. Theo Riddick and Eric Ebron found success underneath while Golden Tate exploited bad tackling with his intermediate catches in the middle.
The key here for Washington will be to find Jordan Reed and Chris Thompson early on throughout the game. Their defense should be able to provide the pass rush needed to sterilize the Vikings offense, while secondary has to stay disciplined on screen plays.
Minnesota must be better on third downs defensively and offensively. Moreover, they have to score points when reaching the red zone. Blair Walsh left four points out on the field, the defense couldn't get off of it when they needed to the most, and the offense has been a work in progress all season.
For the most part, Norv Turner was right; he was holding this offense back. A Pat Shurmur led offensive didn't look so bad. Maybe throw in a few more designed plays for Cordarrelle Patterson and Laquon Treadwell and Minnesota might just be onto something.
But the real question is what happened to this Vikings defense!? Once considered the best in the league, this unit has allowed Matthew Stafford and Jay Cutler to torch them with ease. It makes absolutely no sense after witnessing their dominance over quarterbacks Cam Newton, Aaron Rodgers, and Eli Manning. It's been a complete 360 swing on their end, leaving many wondering when the bleeding will stop.
Odds
Point Spread: Washington -2.5
Moneyline: Washington -140, Minnesota +120
Over/Under: 42
Prediction
It's hard to side with the Vikings with the current state that they are in. Once again traveling on the road and desperate for a win, Washington will be well rested and ready to pounce on a nonchalant Minnesota squad. Cousins will pick and choose his shots underneath, Sam Bradford will probably be sacked another three or more times, and possibly a few turnovers should be expected.
Pick: Minnesota Vikings: 13, Washington Redskins: 24
This article originally appeared on