Vikings at Lions: Highlights, score and recap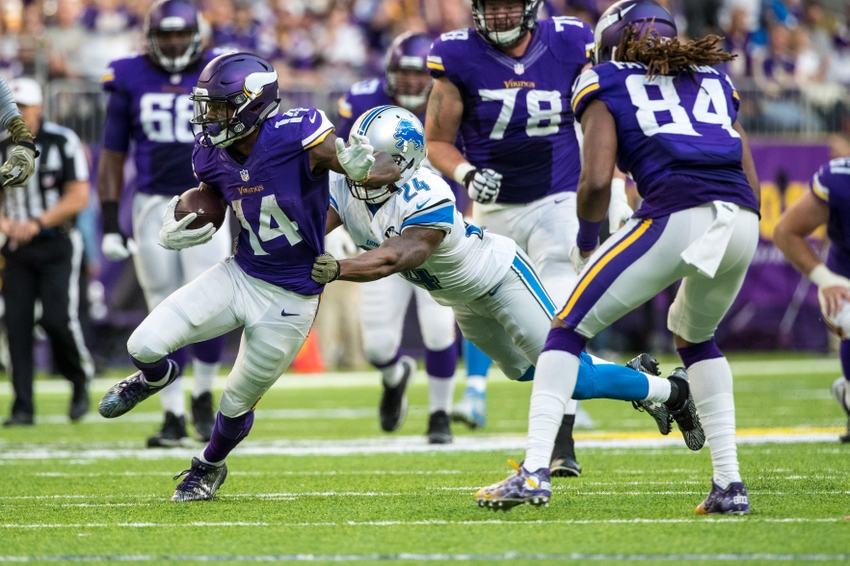 The Detroit Lions hope to grab control of the NFC North when they host the Minnesota Vikings on Thanksgiving starting at 12:30 p.m. ET.
It's Week 12 and the NFC North is still very much up for grabs. Currently, the Detroit Lions (6-4) and the Minnesota Vikings (6-4) share first place. After their 12:30 p.m. ET kickoff to Thanksgiving at Ford Field, one team will stand alone in first place.
Minnesota is hoping to carry over some momentum from their win over the Arizona Cardinals on Sunday. Following a 5-0 start to their season, they lost four consecutive games. However, with their win over Arizona on Sunday, they're right back in the mix for the NFC North title. Sam Bradford and the Vikings offense are still struggling, but there were some encouraging signs last game.
If Minnesota wants to win this game, it's going to have to come from their stellar defense. When given time to rest, they've been one of the best units in the NFL. However, as their four-game losing streak showed, when they get tired, they're prone to giving up points in bunches.
On the other side of the field, the Lions are looking to cement their spot in first place following a 4-1 record over their last five games. After a 2-3 start to their season, they've rebounded to be one of the premier teams in the NFL. Quarterback Matthew Stafford hasn't been as deadly as he has been in recent years, but he has been quite efficient. He's limiting his turnovers, which gives the Lions a chance to win most games.
Highlights
Highlights will be posted and updated throughout the game.
Three Stars
1. Matthew Stafford
The Lions quarterback has shown impressive maturity this year without star receiver Calvin Johnson and could be a legit MVP candidate. Stafford is no stranger to playing on Thanksgiving, so expect him to have a big day. The main key for him will be controlling the ball and not turning it over.
2. Golden Tate
Tate had a huge game earlier this month against the Vikings, tearing them up for 11 catches. He also had the game-winning touchdown in overtime. Tate has quickly emerged as one of Stafford's favorite targets.
3. Sam Bradford
Despite losing against the Lions last month, Bradford was impressive. Much like Stafford, he doesn't turn the ball over that much. If his offensive line can give him enough time to throw the ball, he should thrive.
Next Week
The Detroit Lions will square off against the Saints on the road on Sunday, Dec. 4. Meanwhile, the Minnesota Vikings will face the Dallas Cowboys on Thursday, Dec. 1.
This article originally appeared on