Video Highlights: Oakland Raiders at Tennessee Titans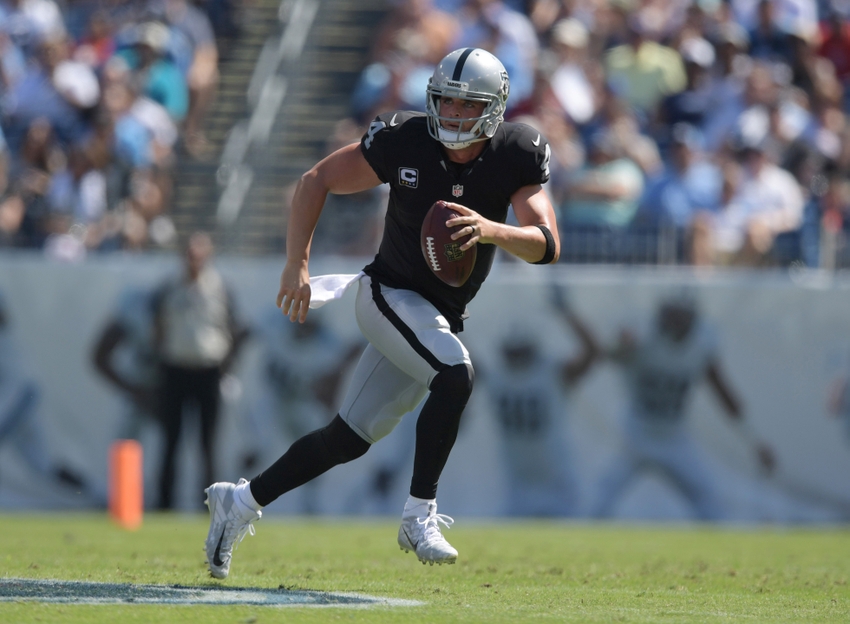 Video highlights of the Oakland Raiders Week 3 against the Tennessee Titans.
Oakland won a thriller in Tennessee, improving to 2-1 on the season.
Even though it was a low scoring game at 17-10, there were plenty of highlights.
On Oakland's opening offensive drive, they got right to work. A 25-yard pass from Carr to Cooper to start the game kicked things off, and a few plays later, Latavius Murray took a run to the house.
Latavius continues to impress on 2016, albeit in much more limited time compared to his workload in 2015.
The defense came to play in the first half, and even D.J. Hayden got in on the action. He laid quite the hit on DeMarco Murray.
Up 7-3, Bruce Irvin forced him second fumble of the season, which was recovered by Reggie Nelson.
After a Sebastian Janikowski field goal, which broke an NFL record, the Raiders defense came up with another stop. David Amerson is picking up right where he left off in 2015, and continues to play well.
With a little more than 30 seconds to go until halftime, Carr connected with Seth Roberts on a touchdown.
DeAndre Washington is another young player that is starting to make a name for himself. This 30-yard carry was his career long — for now.
David Amerson made another play, this time with a deflection on a Mariota pass. Reggie Nelson picked it off, and in a confusing situation, left no time on the clock before the end of the half.
The highlight of the game was this play by Carr. He escaped a sack twice, from three different defenders, before throwing deep downfield (while on the run) to Michael Crabtree.
Sean Smith, whose struggles through two games have been well-documented, picked off his first pass a Raiders. He ripped the ball from Rishard Matthews.
The game would be in the books on a failed fourth down attempt by the Titans.
There was some contact on the play, but mostly of feet just getting tangled up, which typically isn't called.
More from Just Blog Baby
This article originally appeared on