Ty Nsekhe Has A Big Opportunity With Trent Williams Suspended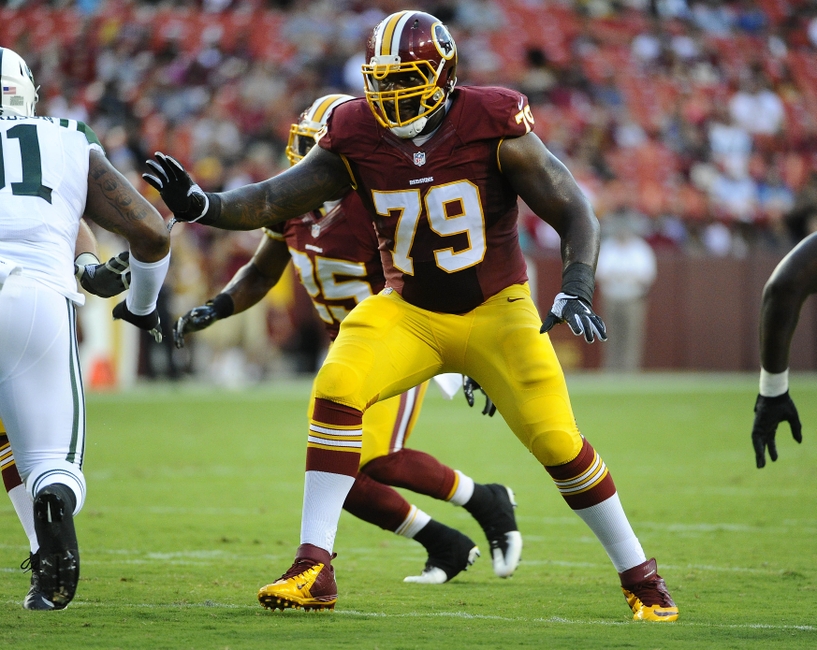 Nothing worthwhile comes easy, just ask Washington Redskins tackle Ty Nsekhe.
It's been a long journey for Ty Nsheke. Since his college days at Texas State, he has bounced around. Now, Nsekhe has found his home with the Redskins. The Redskins will depend on Nsheke for the next four weeks as they move forward without the suspended Trent Williams.
Nsekhe, who is in his second season with the team, came out of Texas State as an unrestricted free agent. The 6-foot-8, 335 pound tackle signed with the Corpus Christi Sharks (AFL) in 2009. Nsheke spent three years with numerous AFL teams, and also had a few brief stints with NFL teams (Colts, Rams, Saints).
In February of 2015, Nsheke signed with Washington. He was waived by the Redskins May 4, 2015 but was quickly retained May 11, 2015. During the 2015 season Nsheke played in 13 games and started two for Washington getting his first start against the New York Jets.
With the loss of veteran leader and captain Williams due to suspension, the Redskins will turn to Nsheke to fill the void. Those are big shoes to fill, but for the 31-year-old Nsheke, he believes he's up to the challenge (per Mike Jones of the Washington Post).
I'll approach this like I do every week: with full confidence in my abilities, and taking practice as the opportunity to perfect my craft. So, nothing changes for me. I look to take full advantage of the opportunity.

Getting a chance to build on what I did last year is always good, and I'm ready for the opportunity. I've always been a left tackle, so left is more comfortable to me. But whatever side they want me to play, whenever my number is called, I go out there to do my best.
The Redskins will depend on just that; his best. The role of right tackle is a vital role that has one major job requirement: protect Kirk Cousins blind side.
Teammates have been vocal about their faith in Nsekhe. The suspended Williams has reached out and expressed his confidence and support via text messages and GM Scot McCloughan has spoken very highly of Nsekhe's abilities (per Dan Steinberg of the Washington Post).
Ty, in my personal opinion, he would start on over half the teams in the league at left or right tackle. And he started two games last year, and one was Dallas, and he locked [Greg] Hardy down bigger than life. Threw him out there, it was like 'Okay, wow, what's going to happen?' But no, he's a football player.
The start represents all the hard work Nsekhe has put forth to get to this point. From undrafted, to numerous AFL teams, to practice squads, to being cut; it's been a long difficult journey.
Now Nsekhe is faced with the biggest opportunity of his career. The Redskins will hope that he succeeds.
This article originally appeared on