Trevone Boykin Comes In, Hits Up Doug Baldwin For Six (Video)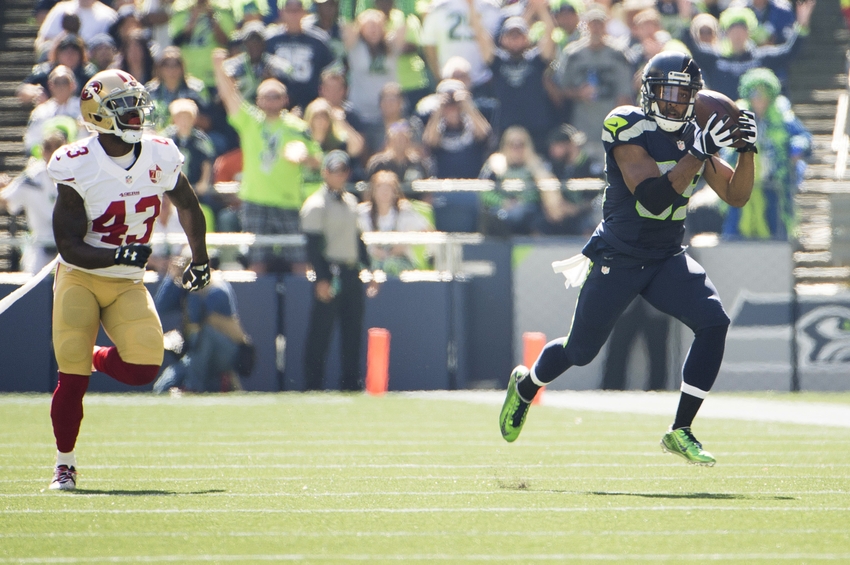 After barely squeaking by and then getting embarrassed in the first two weeks, the Seattle Seahawks are finally back, even with a backup at quarterback
Seattle Seahawks quarterback Russell Wilson already soldiered through an injury in one game this season. But he was forced out of Sunday's Week game against the San Francisco 49ers with a leg injury.
Wilson's absence hasn't hurt the Seahawks one bit, because they haven't skipped a beat with former TCU star Trevone Boykin at the helm. The undrafted free agent rookie has come in and picked up where Wilson left off in the Seahawks utter dismantling of Chip Kelly's 49ers.
Doug Baldwin's connection with Wilson is one of the strongest in the NFL, and it looks like he can keep delivering the goods for both the Seahawks offense and fantasy owners with Boykin at the helm, too.
Boykin went 5-for-6 with 54 passing yards to start, including this touchdown. Just as the 49ers have fallen back to earth after their big win over the Rams and a surprise showing against the Carolina Panthers, the Seahawks have risen from major struggles on offense.
The 16-yard score gave Baldwin 164 receiving yards on eight receptions and 10 targets, and he and Jimmy Graham have been impossible to cover. Throw in two touchdowns and strong running from likely breakout star Christine Michael, and the Seahawks offense is playing to its true potential here in Week 3.
We'll see if Boykin can keep it up, but all eyes are glued to Twitter for updates on Wilson's status.
This article originally appeared on