Trent Baalke's Wide Receiver Problem is Hampering the 49ers' Rebuild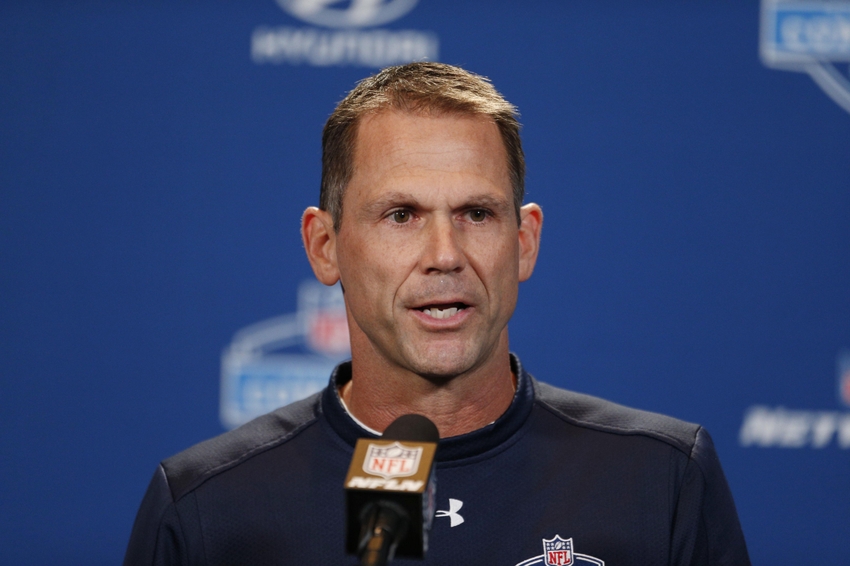 The 49ers are further along in their rebuild than many think, but Trent Baalke's well-documented wide receiver problem is holding them back.
Despite widespread criticism of the lack of talent on the roster, the 49ers are progressing in their rebuild following the devastating offseason of last year.
General manager Trent Baalke has his fair share of detractors but, for the most part he has approached the reconstruction of the roster in the right manner.
Baalke has prioritized the trenches in the draft, so much so that both lines look considerably better than in 2015, as the Week 1 shutout win over the Los Angeles Rams demonstrated.
In Arik Armstead and DeForest Buckner, the 49ers have two massive young interior defensive linemen who both generated pressure consistently in the opener.
Our data is still going through our review process, but we have Armstead and Buckner leading the #49ers D with five QB pressures each.

— Jeff Deeney (@PFF_Jeff) September 13, 2016
Add that duo to a fine run-stopper in Quinton Dial, an excellent nose tackle in Ian Williams – providing he can recover from his latest injury setback in time for 2017 – and promising rookie Ronald Blair, and San Francisco looks well set for the future on the D-Line.
On the O-Line things are not as cut and dried. Joe Staley is approaching the twilight of his career and, given the reports of him mulling a second retirement, there is no guarantee Anthony Davis will be there to take his place.
But San Francisco appears to have the right tackle spot locked down with Trent Brown, has a dependable center in Daniel Kilgore and decent depth on the interior with Zane Beadles, Andrew Tiller, Davis and Joshua Garnett.
There is a good blend of youth at cornerback, a position Baalke has invested heavily in recently, and experience at safety in the form of Eric Reid and Antoine Bethea.
Running back figures to be another area of strength as long as Carlos Hyde stays healthy after his first two years were hampered by injury.
But, while there are issues with the outside pass rush and at linebacker as well as the obvious quarterback problem, Baalke's biggest blindspot is at wide receiver and that failing is the one holding the Niners back the most.
Indeed, though the 49ers are blighted by below-par quarterback play, they are likely to be in a position to draft an early-round signal-caller such as DeShone Kizer or DeShaun Watson.
Yet, given Baalke's track record, any quarterback San Francisco takes will not have impressive targets to throw to.
The Monday night victory over the Rams served as evidence of Baalke's struggles with finding wide receiver talent. Jeremy Kerley, a guy plucked off the street in preseason, was the main wideout to contribute with seven catches for 61 yards.
Quinton Patton did have five catches for 60 yards and the 49ers will hope that he can finally be an impact player in his fourth season in the league.
But it is asking a lot of Patton, whose best season came last year when he had 30 catches for 394 yards and a touchdown, to elevate this receiver corps from one of the worst in the league to middle of the pack.
Two more receivers drafted by Baalke, Bruce Ellington and DeAndre Smelter, are not on the active roster, with the latter waived/injured – becoming the latest roster casualty of the general manager's 'Team ACL'
Baalke has, to his credit, made some effort to rectify the situation, investing heavily in Torrey Smith last year, and it is Blaine Gabbert's unwillingness to throw deep, rather than Smith's skill set, that is preventing the former Baltimore Raven from making a difference.
And he should at least receive a modicum of credit for identifying a player in Kerley who has been able to come in and influence the passing game on short notice.
Yet, for the most part, Baalke has been unable to recover after the disaster that was the first-round pick of A.J. Jenkins in 2012, which has seemingly left him unwilling to gamble on an early-round receiver.
His failings in adding receivers to the team have left the 49ers to rely on street free agents like Kerley and Rod Streater, who are unlikely to be players they can lean on long term.
While much of the offensive issues boil down to Gabbert's shortcomings, the quarterback problem is one fans can at least have hope of being rectified via the draft.
That is not the case in terms of the receiver position and, until he proves otherwise, 49er supporters are right to believe that Baalke's inability to identify talented wideouts will in all likelihood continue to hold the offense back in San Francisco's recovery from the 2015 offseason from hell.
This article originally appeared on