Travis Kelce Ejected For Throwing Towel At Ref (Video)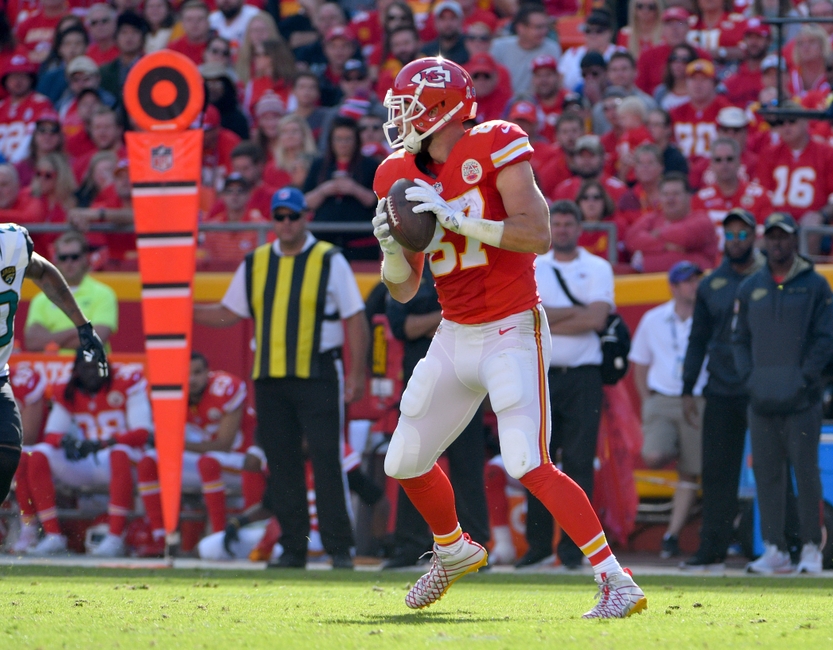 Kansas City Chiefs tight end Travis Kelce got the boot from their Week 9 game thanks to throwing some laundry at an official.
Travis Kelce has been known for making obscene gestures near referees in the past, and he isn't afraid to make his feelings known. The linked example was of him making a sexually suggestive gesture after he took offense to a hit from Denver Broncos edge rusher Von Miller on Kansas City Chiefs quarterback Alex Smith.
Obscene gestures aside, though, there's a line between what's going to get you penalized and what's going to get you tossed from a game. On Sunday in Week 9, Kelce crossed that line.
In the matchup against the Jacksonville Jaguars, the Chiefs elite tight end was thrown out of the game for throwing his towel at the referee.
Not a smart move.
Travis Kelce's ejection put the Chiefs in a bit of a bind on offense, but the Chiefs didn't have much to worry about with a 19-7 lead against a Blake Bortles-led team. That said, Jeremy Maclin was out, the running game had trouble with Charcandrick West leading the way, and Kelce was operating as the team's bread-winner with a team-high five receptions for 58 yards.
Why did Kelce throw his towel at the ref? He was upset about a 15-yard flag for unsportsmanlike conduct. Well, throwing a towel at the ref is a second 15-yard unsportsmanlike conduct (this set up a third-and-34), and that resulted in Kelce's dismissal. Somehow, they still notched a field goal thanks to a 20-yard pass from Foles to West.
Per the Kansas City Star's Terez A. Paylor, Kelce pumped his fist towards the home crowd before exiting. Because of course he did. I'm guessing Kelce threw his towel as a way of mocking the way the refs throw flags. It's funny, but it didn't help his team.
This article originally appeared on