Tracis Kelce catching, not Catching Kelce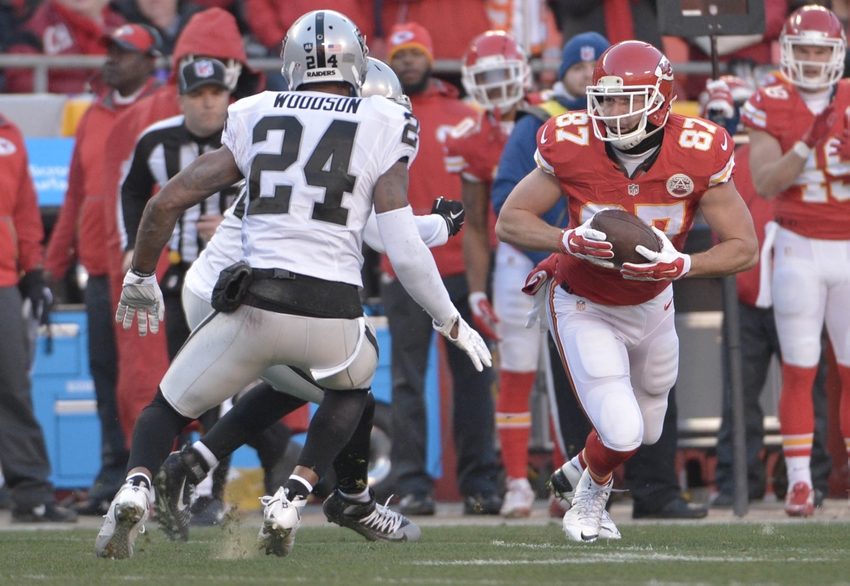 For all of their good signings, the Oakland Raiders defense has not performed so far this season. Travis Kelce needs to take advantage.

Despite securing the services of Bruce Irvin, Reggie Nelson and Sean Smith, the Raiders have been dreadful. In terms of yards allowed per game they rank 32nd. In points per game they rank 23rd. Against the run they rank 27th whilst they are the league's worst side against the pass. So yeah the Raiders defense is the gift that keeps on giving.
The Chiefs need to exploit this. To date the Chiefs offense has been as poor as the Raiders defense, maybe not in terms of stats but certainly on the eye. However, there is one connection that the Chiefs should look to go to over and over.
Generally when Travis Kelce has the ball in his hands good things happen. You only have to look at what he did to the Texans last year to realise that this guy can completely take over games. Many tip Travis Kelce to become the next big thing at the Tight End position. And for good reason too. He has all of the measurables and talent to become a top 3 player at his position.
But for some reason, Kelce has yet to announce himself as an elite Tight End. It's time for Travis to join the top table of Tight Ends. And where better to start than against the old enemy.
Against opposing Tight Ends the Raiders defense have been more than generous. Jacob Tamme, Hunter Henry and Anotnio Gates all had nice games against the Raiders, combining for 179 yards and three touchdowns. Right now Travis is better than all of those three.  If I am Andy Reid I would be looking at those combined stats and aiming for Travis to top them in one game.
I know what you are thinking. Alex isn't as good as Matt Ryan or Philip Rivers.
And I agree completely BUT the Chiefs are giving him the opportunity to play better. Alex Smith currently ranks second in terms of pass attempts per game (42). That is a huge body of work for any quarterback. Plus more throws mean more targets for his best receivers, right?
Wrong!!
Travis Kelce has only been targeted 29 times this year. These account for 17% of all of Alex's pass attempts. Not nearly enough for one of our best receivers, and arguably our biggest mismatch weapon. Instead of the check down or happy feet, Alex needs to keep his eyes downfield. Travis is one of the best route running Tight Ends in the league, and gets open a lot.
I am begging you Alex, please feed No. 87 so we can talk about 'Kelce catching' not 'Catching Kelce'.
More from Arrowhead Addict
This article originally appeared on