Top 5 ways Jets can split reps at running back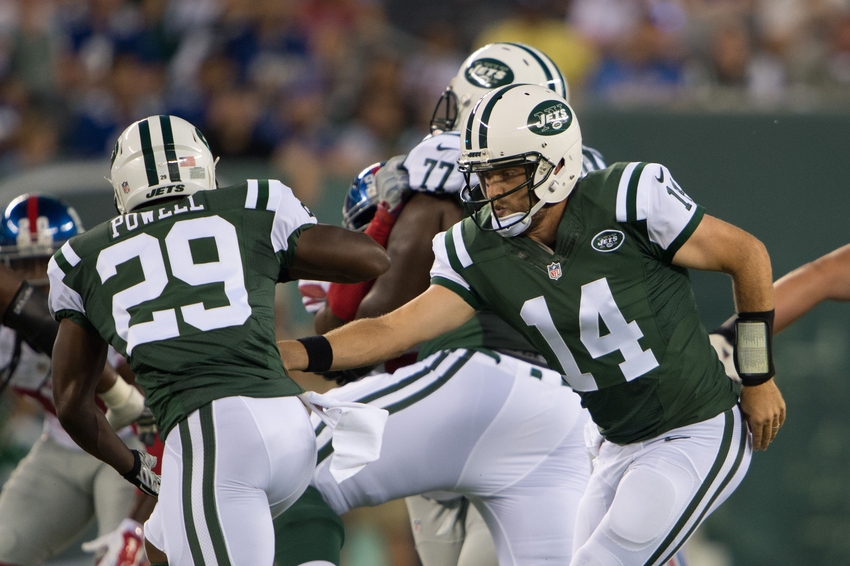 The New York Jets will launch a potent rushing attack this upcoming season with three running backs ready to make some noise. Here are the top five ways to split reps effectively in 2016.
Last season, the New York Jets had a good running back tandem.  Chris Ivory was undoubtedly the team's workhorse, both on the ground and through the air and ground.  He led the team with 247 carries and 277 combined touches, and Bilal Powell was second on the team with 70 and 117, respectively.  In short, the Jets wore him out and he had very little left against Buffalo, only having six carries.
During the offseason, the Jets re-signed Powell  and signed running back Matt Forte as a free agent.  As a result, they now have a good duo that can share the load, without wearing one guy out.
There are many ways to utilize this tandem to not only keep them fresh but to keep defenses guessing.  With a new running back added to the final roster, it's important the Jets spread the wealth and get everyone involved to ensure they can endure the long season ahead.
Without further ado, here are the top five ways the Jets can split reps at running back and use it as a main weapon to win plenty of football games in 2016.
5. The big free agent acquisition
On offense, the biggest free agent to come to New York is undoubtedly Forte.  He has big shoes to fill because Ivory became only the seventh running back to rush for 1000 yards in a season in franchise history.
He has achieved the feat five times in eight seasons.  With that said, he's also a threat out of the backfield.
He has 2,035 carries and 487 receptions in his career.  That shows he's an all-around threat out of the backfield.
Despite being the feature back, Forte doesn't need to carry 55.1% of the team's carries, like Ivory did last season.  The Jets have two other running backs for teams to deal with.
4. The backfield receiving threat
Powell had a breakout season in 2015.  He set a new career high in yards per carry (4.5) and receptions (47), and additionally, he was the team's third-leading receiver.
He also has two 100+ carry seasons in his five years with Gang Green.  So he can help Forte carry the burden, especially being that Forte has passed the 30-year-old plateau.
Powell has enough speed and power to share the load almost equally with Forte.  The fact hat he averaged 4.5 yards per carry should give the coaching staff some confidence to use him more as a runner.
Powell had his best season last year, and there's no doubt he can improve.  He will be a key player in the overall success of the Jets in 2016.
3. Using them in tandem
At the University of Southern California, Pete Carroll had a dual threat at running back.  He often used LenDale White and Reggie Bush on the field at the same time.
In those situations, White was used primarily as a power runner and Bush the slot receiver.  It provided USC with a way to disguise their plays while giving them multiple options.
There's a big difference between USC and the Jets.  Both running backs are receiving threats and good route runners.
The Jets can flip-flop them from slot to backfield if they choose to do so.  The threat of the run or pass will still be there with either of them in the backfield.
2. Use the rookie
The Jets decided to cut Antone Smith, Khiry Robinson, and Dominique Williams.    However, they did claim Troymaine Pope off of waivers from Seattle.
Pope had a good preseason, and according to CBS Sports in the article "Jets' Troymaine Pope: Claimed by Jets," the Seahawks were hoping to keep him on their practice squad.  However, the Jets scooped him up before he could clear waivers.
Ivory and Powell had 317 of the team's 448 carries last season.  With that said, 69 of the other 167 carries were by non-quarterbacks.
Expect Pope to see 50+ carries in order to keep Powell and Forte fresh.  Running backs also caught 81 passes on 105 targets, and we may see the same in 2016.
1. Split the carries accordingly
In addition to all of the previous ideas, the Jets can split the carries.  Powell has shown his ability to run when called upon.
In order to keep an older Forte fresh, and to take advantage of a young and hungry veteran with something to prove, the reps can be even between Forte and Powell.  In addition to that, Powell only has 402 carries, so he's not as worn down.
Moreover, the Jets are deep at receiver, and that gives the Jets some added looks without using a running back in the formation.  Then, the Jets can use short passes and run after catch to move the chains.  With a rookie in the mix thanks to Pope, he'll be able to spell relief when needed.
Also, the Jets can use designed quarterback runs like they did last season.  To sum it all up, the Jets are in a much better situation with their running backs in 2016 than 2015.  If they can split reps between all of their running backs, it would bode well for them being put in a position to win football games.
This article originally appeared on