Top 5 Greatest Quarterbacks in Colts Franchise History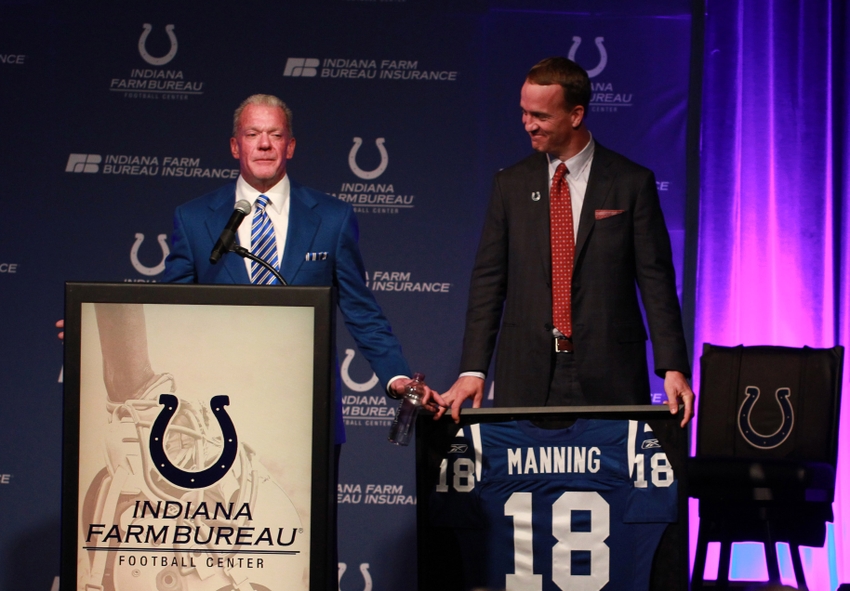 The Indianapolis Colts have had 33 starting quarterbacks in the history of the franchise, starting with Fred Enke in 1953 to Andrew Luck today. They certainly have had many ups and downs with the QB position as does any team. You probably have heard of Peyton Manning or Johnny Unitas, but have you heard of Curtis Painter or Jack Trudeau? Without further ado, let's take a look at the top five greatest quarterbacks in Colts franchise history.
5. Jim Harbaugh (1994-1997)
It was tough to decide who was better, Jim Harbaugh or Earl Morrall. The thing that sticks out is that Harbaugh played in just two more games than Morrall and had just over 3,000 more yards than him. Harbaugh also had a higher QBR and more touchdowns and less interceptions by 14. He never won a Super Bowl, but the stats don't lie. The advantage goes to Jim Harbaugh.
4. Bert Jones (1973-1981)
The successor to Johnny Unitas, Bert Jones had an impressive tenure with the Baltimore Colts before heading to the Los Angeles Rams for one year. The one time First Team All-Pro and Pro Bowler had a win percentage of .500 when being the starting quarterback of the team. Jones led the Colts to three playoff appearances during his time where he lost in the first round all three times. Bert Jones is third in passing yards and touchdowns in Colts history.
3. Andrew Luck (2012-Present)
Andrew Luck has been through a lot since 2012. From battling injuries to leading the Colts in some incredible comebacks, Luck has proven that he is one of the elite quarterbacks in the league. In his fifth year in the league, Luck has been named to three Pro Bowl rosters as well being the record holder for many categories in Colts history. He also holds many records in the NFL such as most passing yards in a game by a rookie with 433 yards! He is far from the man in the number two spot on this list.
2. Johnny Unitas (1956-1972)
There's no doubt that Johnny Unitas is one of the greatest quarterbacks in NFL history. He was 10 time Pro Bowler, 1 time Super Bowl champ, and 3 time league MVP. Oh, did I mention that he was inducted into the Pro Football Hall of Fame in 1979? Him and Peyton Manning are in a league of there own when it comes Colts quarterbacks. His #19 is one of the few retired numbers for the Colts. I think it is undisputed that 'Johnny U' is one of the greats.
1. Peyton Manning (1998-2010)
There isn't much debate that Peyton Manning is one of the best of the best. If you are considered as one of the greatest in NFL history, you should be considered as the best in Colts history. I don't think I need to tell you all of these stats to prove to you that Peyton Manning is the greatest in Colts franchise history.
More from Horseshoe Heroes
This article originally appeared on