Top 5 Dallas Cowboys players through Week Two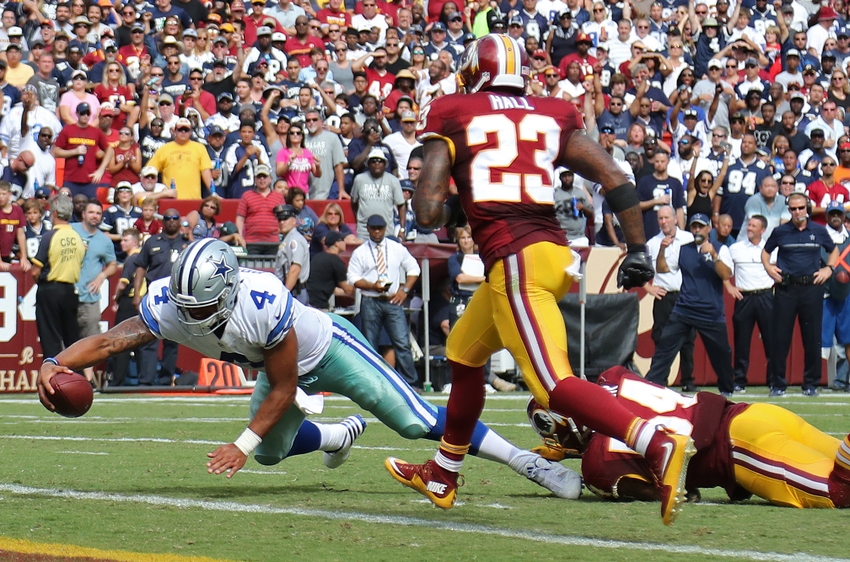 Here is my list of the Dallas Cowboys top five standout players through the first two weeks of the 2016 NFL regular season.
We are two weeks into the 2016 NFL season and the Dallas Cowboys are sitting at 1-1; which puts them in third place in the NFC East standings.
There have been plenty of positives as well as negatives to take away from the two performances thus far- from players as well as coaches.
I have put together my list of top five players for the Dallas Cowboys so far based on their execution and consistency through the these first two games.
Some of these names are veterans that should be expected to be listed but there may be a couple of names that have impressed you and exceeded expectations to this point.
The five foot eight inch fan favorite Cole Beasley has become Dak Prescott's go to target when it comes to converting key third downs.
Beasley's incredible agility and burst make it near impossible for defensive backs to stay in front of him which leads to easy opportunities for Prescott to throw to the shifty slot receiver.
Through two games Beasley has caught 13 passes out of 18 targets for 140 yards. If he continues at that pace for the rest of the year, he will catch over 100 passes and surpass 1000 receiving yards as well.
It has been a fantastic start to the year for Cole, despite dropping a potential touchdown in the first game against the New York Giants.
Expect Beasley's role in the offense to remain stable for the remainder of the year and it may even expand as time goes by.
Dak Prescott, Quarterback
Dak has absolutely exceeded expectations through his first two games as a rookie. Going into training camp this summer, Prescott was the third quarterback on the depth chart and was expected to compete for a roster spot.
Little did we know that backup quarterback Kellen Moore and starting quarterback Tony Romo would both suffer injuries before Week 1 of the regular season.
Yes, he lit it up in the preseason which helped build confidence in his teammates and his fans that he could perform at a high level in the regular season. But as he has come to find out- when the regular season starts things happen a lot faster when the games matter and it isn't nearly as easy as it is during preseason.
Through two games Dak has completed 47 of 75 passes (62.7%) for 519 yards and a passer rating of 83.1.
He has yet to throw a touchdown although he has led the Cowboys down the field for 10 scoring drives (4 touchdowns and 6 field goals). He has also yet to throw an interception or lose a fumble, showcasing that he knows how to be smart with the football.
Dak has carried the ball three times for 18 yards, including an 11 yard touchdown run against the Redskins in Week 2.
He has missed several throws that could have been touchdowns or big plays but all in all you have to be impressed by the way that he has remained poised and confident while competing in both games.
He made a major improvement in performance from Week 1 to Week 2 and if he continues that trend, the upcoming game against the Chicago Bears should be a joy to watch.
After struggling to stay healthy and seemingly lacking confidence in his first 4 seasons in the NFL, Claiborne appears to have turned the corner in his career.
He has finally had an entire offseason where he was able to work out and focus entirely on getting better instead of worrying about nursing injuries.
Through the first two games, Claiborne has started at left corner- where the most physically gifted cornerbacks line up to face the opponents' top receivers.
What we have seen is closer to the player that the Cowboys expected to get when the selected him in the first round of the 2012 NFL Draft.
He has yet to give up a big passing play or a touchdown through two games and has contested every pass thrown in his direction.
If Mo continues to play with a chip on his shoulder and can manage to force a few turnovers throughout the year, it would be in the Cowboys best interest to try and sign him to a contract extension sooner rather than later. He has been the most consistent defender in pass coverage so far this season.
Without question, Bailey has been the most consistent performer on the Dallas Cowboys this season and arguably for the past several seasons.
Cowboys fans know that when Dan Bailey trots out on the field to kick a field goal, there is a very high chance that there will be three more points on the scoreboard next to the word "Cowboys" by the time he jogs back to the sideline.
Through two games, Bailey has been a perfect six for six on field goal attempts and four for four on extra point attempts.
Those field goal attempts include two kicks over 50 yards: a 54-yarder and a 56-yarder.
While it can be disappointing when long offensive drives don't end in touchdowns, it is a relief to know that the Cowboys have a reliable kicker to knock the ball through the uprights when needed.
There really hasn't been an awful lot to be excited about when it comes to the Cowboys defensive line through two games. Most of the players have been pushed around in the running game and have been inconsistent at best when it comes to rushing the passer.
However, there has been a noticeable difference in run defense when Terrell McClain has been in games.
He has made 4 tackles at or behind the line of scrimmage through the first two games of the season.
His power and quickness have been hard for opposing offensive linemen to deal with and when he gets a push in the middle, it makes it easier for his teammates to be freed up to make tackles on the ball carrier.
Without a doubt, he has been the most consistent defensive lineman thus far.
I expect him to continue to improve when defensive end DeMarcus Lawrence returns from his four game suspension which should reduce the amount of double teams and extra attention he has been receiving.
This article originally appeared on