Top 5, Bottom 5 Chicago Bears Performances vs Houston Texans According to Pro Football Focus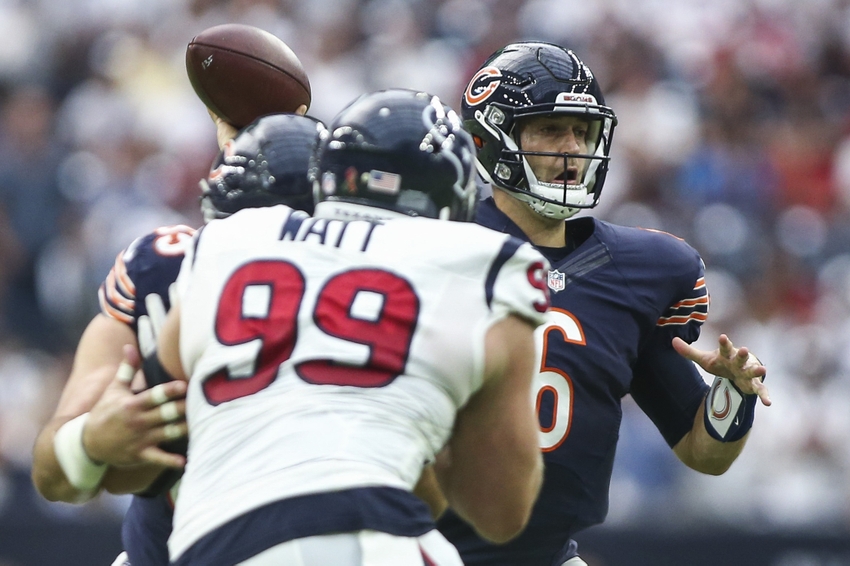 The Bears lost their first game of the year to the Houston Texans. According to Pro Football Focus, here are their top 5 and bottom 5 performances from that game.
It wasn't what most Chicago Bears fans hoped, but it was one many of them expected. The Bears dropped their season opener to the Houston Texans 23-14. Like any game, there were some positives and some negatives that came out of it.
Pro Football Focus does a great job grading each individual player based on their success (or lack of) in the game and how they did based on what their particular job was on each particular play. Most of the Bears had middle-of-the-pack scores, which should be expected based on the team's performance. But here are the top 5 and bottom 5 performances based on PFF's grades.
Lowest Scores
5. Lamarr Houston, OLB, 46.0
It wasn't that Lamarr Houston was horrible, he just wasn't good at anything in particular. He split time with Willie Young at the one edge linebacker and was just relatively quiet. He only hit Brock Osweiler once, recorded no sacks, and only had two solo tackles.
The biggest issue with the Bears defense against Houston was the lack of a pass rush and you can see how Houston's lack of production would directly affect that. Leonard Floyd was a surprise start and showed some ability, but the Bears are going to need better production out of Houston while Pernell McPhee is out.
4. Willie Young, OLB, 42.9
As bad as Houston's performance was, Willie Young was worse. Like Houston, he failed to get pressure on Osweiler, but unlike Houston, he didn't record one item in a statistical category. Young had zero sacks, zero QB hits, zero tackles, even zero assists. He was completely bottled up by the Texans' blockers.
The Bears face the Philadelphia Eagles and rookie QB Carson Wentz next week. The one thing you need to do is get pressure on young QBs and force them to make mistakes. The Bears need Houston and Young to play at a higher level if they are going to force the rookie to make mistakes and get a win on Monday Night Football.
3. Charles Leno, LT, 42.6
Anyone who watched this game should not be surprised by this spot. Josh Sitton, Cody Whitehair and Kyle Long did pretty well on the interior. Whitehair missed some stunts that did cause Jay Cutler some grief, but the biggest problem on the offensive line was a the tackles.
Leno really struggled. He was protecting Cutler's blindside and didn't do it well. His run blocking wasn't great, but his pass protection was very poor. Leno is going to have to play at a significantly higher level if the Bears offensive line is going to improve. They have little to no depth at tackle and need Leno to be a solid left tackle for the season.
2. Tracy Porter, CB, 39.4
This would probably surprise a lot of fans who figured Tracy Porter would be one of their better graded defenders thanks to his interception and pass defended, but truthfully, Porter struggled for much of this game.
Porter did well in the run and came up and made some tackles on the outside, but DeAndre Hopkins and in some cases Will Fuller, were able to get separation from him and he was burnt for the TD to Hopkins in the second quarter. If you want to argue that Hopkins is one of the best in the league and that it's unfair to criticize him, fine, but Porter is going to be going up against top receivers like he did much of last year an the Bears need better performances than the one he turned in against Houston.
1. Bobby Massie, RT, 34.0
Just thinking about Bobby Massie's performance makes me nauseous. First, I'll compliment Massie and say that he was solid in the running game. He and Kyle Long are going to be a nice duo to run behind this season, especially once Jordan Howard starts getting snaps. That's a lot of power for a defense to handle on one side of the field.
Then there's the pass blocking. Oh God, the pass blocking. Massie graded a 28.7 in pass blocking and a 34.0 overall. That's out of a total of 100. That's not an F. That's beyond an F. Massie was constantly torched on passing plays and caused Cutler to get hit on multiple occasions and allowed multiple sacks. If Cutler was less attentive, Massie could have surrendered as many as 5 or 6 sacks alone. Massie has always been known as a poor pass protector and the Bears are going to have to do something to help him out before Cutler gets knocked out for multiple games.
Highest Scores
5. Danny Trevathan, ILB, 80.1
Trevathan's performance was a nice thing to see for Bears fans. Ryan Pace spent a lot of money and made upgrading the inside linebacker position an offseason priority. Trevathan tallied 11 tackles including a sack. The Bears only had two sacks for the entire game and Trevathan had one of them.
Trevathan proved that he was worth the money spent. He was good both against the run and the pass and played every snap defensively. If Trevathan does this on a weekly basis, he is going to help lead the Bears into becoming a top ten unit in the league.
4. Kyle Long, RG, 81.3
It was good to see Kyle Long back at guard for the Bears and he didn't disappoint. Long, of course, was playing right tackle for the Bears last season and struggled at times and was clearly uncomfortable.
Long is an All-Pro guard and the Bears decided that keeping him at his most comfortable position was more important for the team moving forward. Long graded as one of the top guards in the league and was strong in the run game and great in pass protection.
Long proved that the combination of him and Josh Sitton at guard is going to be formidable this season and that the interior of the Bears line will not be an issue, the problem could be at the tackles and something the Bears will have to proceed with caution entering game two against the Philadelphia Eagles.
3. Jacoby Glenn, CB, 81.7
Glenn played well, but it's surprising to see him grade this high. Glenn tallied five tackles and had two passes defended. He proved that he had earned more playing time in the secondary moving forward.
Glenn was an undrafted rookie for Chicago in 2015 that spent most of last season on the practice squad. It's good to see his development continue and see if he can become an every down corner for the Bears.
Glenn, Deiondre Hall and Bryce Callahan all had solid grades for Chicago. If these three continue to develop the Bears could have some talented corners they could roll out there against some of the better passing attacks.
2. Jay Cutler, QB, 83.7
Plenty of Cutler haters are going to say that this grade is ridiculous. To be fair, PFF's scoring of quarterbacks is strange at times. The quarterback is not rewarded for big plays if the throw was average and the receiver makes the great play and doesn't get faulted for interceptions if they are deemed to be not his fault.
In this case, Cutler's interception was clearly on Kevin White. Cutler made some great throws to Alshon Jeffery and threw a strike to Eddie Royal for a touchdown late in the first half.
Cutler was also very impressive in the pocket. He was drilled constantly due to poor pass blocking and had the wherewithal to get rid of the ball and avoid sacks and turnovers by being intelligent with the football. While Cutler didn't have gaudy numbers he was smart in his decisions and was the main reason the Bears were in it deep into the fourth quarter.
1. Jerrell Freeman, ILB, 88.6
Anyone who watched this football game saw that Jerrell Freeman was the best player on the field for the Chicago Bears. Simply put, he was everywhere. He finished the day with 17 tackles and was on the field for all but one defensive snap.
Many (myself included) were shocked that the Indianapolis Colts didn't make more of an effort to keep Freeman on the roster. They didn't feel he was worth the money he was asking for, but the Bears did. It's just one game, but it appears to be the Colts loss and the Bears gain. Trevathan and Freeman combined for approximately one-third of the Bears total tackles.
Freeman's play was tremendous and he graded out as the second best linebacking performance in the entire NFL and one of the top ten performances of week one regardless of position.
Bill Zimmerman is an editor and featured writer for FanSided's BearGogglesOn. Like his Facebook page or follow him on Twitter for more news and interaction.
More from Bear Goggles On
This article originally appeared on