Top 20 Plays (Moments) of the 2016 NFL Season
Kyle Davis/FanSided via With the First Pick

Fansided
As we get closer to leaving 2016 and welcoming 2017, we take a look at the Top 20 plays and moments that this part of the NFL Season has given us.
There has been a lot of good…and maybe some bad parts to this NFL Season. Like every year, fans of every team will be left hungry for more in 2017, and some are already moving on the draft. However, one thing we can all appreciate are some top plays.
These are my takes on the Top 20 plays of the NFL season to date.
(If you want to see videos of the plays, they are available on Youtube. Just go search for it and you can find it there.)
No. 20 Donald Penn Touchdown versus the Tampa Bay Buccaneers
To start off our list, I had to go with the huge Offensive Tackle for the Oakland Raiders getting his very own receiving touchdown. The 6'5″ 315 pound man that has been one of the key cogs in the Oakland offense this season finally got tired of providing the protection.
He decided it was time for him to put some points on the board. On a play down close to the goal line, he reported as eligible. The play-action rollout from Derek Carr left an easy pass to Penn for the Touchdown.
It's always great to see the players that don't always get the credit be the one with the ball in their hands every once in awhile.
Good work Donald!
No. 19 Charles Sims TD versus the Atlanta Falcons
Next on our list of top moments is the TD scored Week 1 by Charles Sims in the Georgia Dome. Charles Sims is the electric 2nd-year back for Tampa Bay. He dealt with some injury issues this season, but before that, brought us this gem.
On the play, Sims catches a simple dump down across the middle from QB Jameis Winston. He turns around to see 3-4 Atlanta defenders converging on him to make the tackle. But, Sims takes a great jump cut to his right to lose ALL OF THEM. He then breaks a few more tackles to elude 6 Atlanta defenders.
That's more than half the defensive players on the field…it's very impressive. I'd recommend going to take a look if you haven't seen the play.
Hats off to you Sims.
No. 18: OBJ Spin Move on Josh Norman
At No. 18 is the iconic spin move in the heated rematch of OBJ vs. Josh Norman. NFL Fans had been awaiting this match since the heated rivalry started while Norman was still with Carolina last season. The two are heated competitors and were desperate to win this battle.
Josh Norman made some great plays in the game, but Odell ended up with over 130 yards, but with no score. I personally would say Beckham Jr. won the matchup, but well fought overall.
The play I'm referring to is when Odell catches the ball with a little space, and hits a spin move on Josh Norman, while putting the stiff arm to the face mask. It's an incredible move, full of immense athleticism.
This "play" could be this whole game, but I went with one in particular here.
No. 17: Patrick Peterson 1 Handed Interception vs Bills
At No. 17, an amazing interception by arguably the best cover corner in the league, Patrick Peterson. On 3rd and 22, Tyrod Taylor goes deep to Marquise Goodwin….but he went too deep. Overthrowing Goodwin by 5 yards, but not Peterson.
As you can see above Peterson stretches out his hand to bring in the deep pass with one hand while keeping 2 feet in bounds as he falls out of bounds.
Superior athleticism, awareness, and a bit of stick'em on his hands to go with it. Well done. This is why the Cardinals pay him the big bucks.
No. 16: Cam Newton Sideways TD Throw vs Saints
Early in the season, the Panthers were looking like one of the worst teams in the NFL. They won't finish much better than that, but this play in particular caught attention.
On 1st-and-goal from the 1 trailing by 14, Cam Newton rolled out to his left with defenders charging him down. Now, if you've ever tried to throw a football with your right hand while in full sprint to your left, it's not easy.
It's especially not easy as you're getting chased down by 280 pound defensive lineman. Cam didn't even have time to stop his momentum to get the throw across. He jumped into the air, turning his body and floated a touchdown pass to Ed Dickson in the back of the endzone.
I'd say almost every NFL QB in the league would've thrown this ball out of bounds, but Cam had the ability to make this play, and it is remarkable.
No. 15: Jets Hook and Ladder TD vs Rams
Starting to get down our list, the trick play for Touchdown for the NY Jets is next. This was a trick play that I personally had never seen before. Usually on your hook and ladder, it's across the middle with a drag by a wide receiver.
The Jets took a new stance. They set up a quick screen to Brandon Marshall with Quincy Enunwa blocking for him. The Jets run this play often as they want the ball in Marshall's hands. So the defense collapses on Marshall. However, Bilal Powell streaks around the other side and Marshall flips him the ball.
Powell then essentially walks into the endzone for the score. Great play overall, fun to watch. While this game had no implications whatsoever, this play was great, and ends up on my list.
No. 14: Doug Baldwin TD Pass to Russell Wilson
Coming in at No. 14 on our top plays, is Doug Baldwin's WR Pass back to QB Russell Wilson. Yep that's right, the pass to the QB for score. Usually Wilson is throwing touchdowns to Baldwin, but on this day vs the Eagles, they flipped the script.
On the play, it starts off looking like a simple WR reverse to Baldwin. But Russell continues the opposite way into his route. Baldwin, stops, finds Wilson, and delivers a perfect strike under pressure to get the score.
Good catch and finish by Wilson as well.
Great play, worthy of a spot on this list.
No. 13: Landon Collins Interception for TD vs Rams
At No. 13 is a great individual performance by Safety Landon Collins while in London. The 2nd year player and 1st year Pro-Bowler helped his cause on this play.
Collins makes the interception on a deflected ball across the middle and starts running towards the sideline. He runs out of room there and cuts it back across the other side of the field, breaking a tackle on the way.
A few cuts to miss some defenders, another broken tackle, and a spin move later, Collins finds pay dirt. It's a great play by an up and coming player. He is having a fantastic year and hope to see more of this in years to come.
No. 12: Mike Evans 1 Handed Catch
Next up, an acrobatic and amazing play by 3rd-year player Mike Evans. One could say that this was Mike Evans' breakout season. He's been absolutely remarkable. This play was great in itself for two reasons.
Mike Evans is taking a route towards the sideline that Jameis throws a bit behind him. Evans is able to twist his body and reach one hand out to snag the ball and get two feet inbounds. If it ended there, great play.
However, rookie Keanu Neal is right there to lay a vicious hit on Evans. Evans would be down for a couple of minutes, and be placed in the concussion protocol. The mere fact he held onto this ball makes this the No. 12 play on the season easy.
No. 11: Chiefs Fake Punt Run for Touchdown vs Falcons
Let me just say, this play was awesome. Leading by four on the first drive of the second half, the Chiefs are set to punt on 4th-and-1 from their own 44 yd line. But Andy Reid had other ideas.
Lined up in a fairly normal punt formation, the ball is direct snapped to Albert Wilson, who takes off through a wide open hole in the middle of the field. Wilson is almost streaking through the middle of the field before you even know what's happening.
All Wilson had to do was evade the punt returner (picture above) and he was in for the score. A great play in a great game. You don't often see Fake Punts that go for 56 yard touchdowns in the NFL. Interestingly enough, this isn't the craziest play in this game. We'll see more later.
No.10: Odell Beckham Jr. Game Winning Touchdown vs Ravens
This play/moment is two-fold. To start with, the Giants were down by 3, 1:36 left on the clock. 4th and 1 from their own 34 yard line. This was a huge play.
OBJ is lined up on the right side, and makes a quick cut inside. The Ravens CB and SS collide on the play, leaving Beckham Jr. wide open across the middle. One of his favorite ways to get the ball in space, he makes one cut around the last defender and goes to the house.
The touchdown won the game for the Giants, but OBJ caused a stir afterwards too. A week after the "Kicking Net" incident, OBJ then proposes to the net to make amends. Some people loved it, some people hated it, but either way you look at it, it was iconic.
No. 9: Jordan Reed 2nd Half Performance vs Cowboys
At No. 9, Jordan Reed's 2nd-half performance vs the Cowboys is solidified. Early in the game, Reed suffered what at the time was an "undisclosed Shoulder Injury". Before Halftime, you could see Reed on the sideline wearing a sling, and all but shut down for the rest of the game.
However, at the beginning of the 2nd half, Reed was back on the field, and made an immediate impact. He made a magnificent one handed catch on the sideline to signal he was back. He then caught not one, but two touchdowns, the second being a great grab out of the air.
He finished with 10 catches for 95 yards and two scores, after having just 2 catches for 10 yards in the first half before his injury.
It would come out later that Reed was in excruciating pain during halftime, and the duration of the 2nd half. Unfortunately, the Redskins still lost, but that type of fight and toughness is what gets Reed a spot on this list.
No. 8: Antonio Brown 3 Touchdown Game vs. Colts
The iconic Antonio Brown makes his appearance on this list, coming in at No. 8. Coming into this game, it was already known that this was a mismatch game for Brown. Vontae Davis is a good corner, but he can't cover the shifty No. 84.
Brown would go on to catch three touchdowns this night. The first on a back-shoulder throw. The second would go deep and Brown was able to get both feet inbounds. The last was a perfect throw to the pylon of the endzone and Brown snuck his feet in.
It's not often you see Wide Receivers haul in 3 touchdowns, but Antonio Brown did it that night.
Would it be a Top Plays list if Antonio Brown wasn't on it?
I think not.
No. 7: Ezekiel Elliott vs Steelers
In one of the best individual performances by a running back this season, Zeke finds himself at No. 7 on this list. Easily one of the best games of the season saw lead change after lead change, especially late in the game.
The Steelers hung tough and scored a good amount of points on the Cowboys defense, but Zeke would not be denied. After taking a long pass for TD in the first half, and another long run for touchdown in the 2nd. The Cowboys had the ball with less than a min and needing a score.
Contrary to most teams passing the ball in late game scenarios, the Cowboys handed the ball to Elliott, and he did the rest, scoring on another long run with 9 seconds remaining.
He finished with 114 yards rushing and 2 touchdowns, adding 95 yards and a touchdown through the air. 200+ yards, 3 touchdowns, including the game winner. Good enough for No. 7 in my book.
No. 6: Raiders go for 2 vs Saints
For this one, you'll have to think all the way back to week 1. Raiders at Saints. This one was a shootout, neither team could defend the other's high powered offense. So when the Raiders got within 1 point with 47 seconds remaining, Del Rio opted to take the lead.
Most teams would kick the extra point and hope for a stop, go to overtime. However, when your offense is clicking and your defense is not, you go for the win. As Herm Edwards once said, "you play to win the game!"
Derek Carr took the snap and through a corner fade jump ball to Michael Crabtree, who as you can see above, came down with it. The Raiders would hold on, and get a good start on their incredible season.
Who knows where they would be without this momentum boost and vote of confidence from their Head Coach?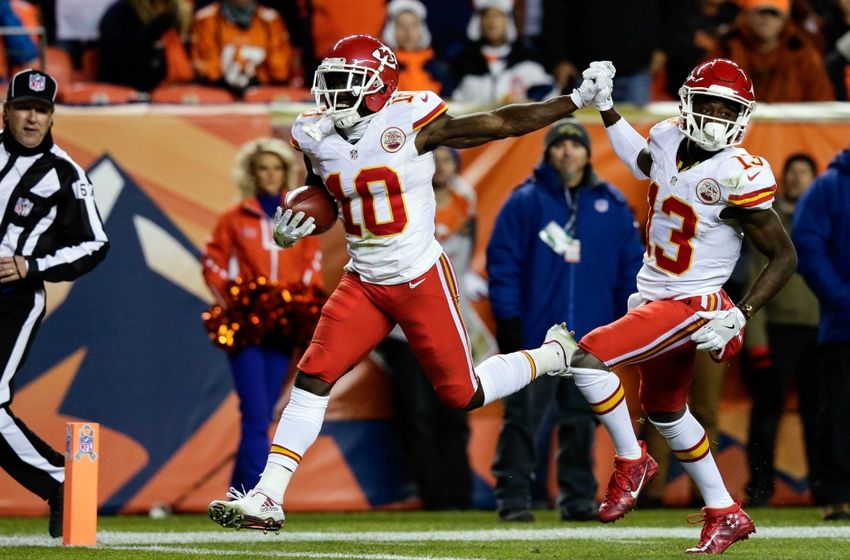 No. 5: Tyreek Hill 3 Touchdown Game
I know we already had one 3 touchdown game from Antonio Brown. But Tyreek Hill went about his in a different way, becoming the first ever player in NFL History to do so.
Tyreek Hill scored a touchdown on an 85 yard Punt Return and had 52 yards receiving and a touchdown. He also scored on a 3 yard rush. He was the first ever player to score on Special Teams, a Receiving TD, and a Rushing TD.
That's pretty impressive. He was the main piece in what turned out to be an overtime win for the Chiefs, putting them in great position to win the division or get the wildcard in the AFC.
Great overall performance from Hill down the stretch, and this game in particular.
No. 4: Denver Blocks Extra Point for Touchdown and Win
In a crazy finish to a close game, the Broncos Special Teams cracks a spot in the top 5. With the Saints scoring a late touchdown and ready to take the lead on an extra point, the Broncos had a change of plans.
The extra point in a tied game was blocked. In past years, this would've been the end of the play, but recent rule changes allow defenses the opportunity to score two points on the play. Will Parks would scoop the ball and take it the length of the field to complete their 2-point conversion.
This play went from the Saints taking the win, to the Broncos stealing it from under their nose. It was exciting, thrilling, surprising, and every bit of a No. 4 spot here.
No. 3: Tom Brady Becomes Winningest QB in NFL History
Much more of a moment, or a feat in itself, is Tom Brady eclipsing the mark to have the most NFL wins by a starting Quarterback. By beating the Rams, Brady gained his 201st win. Passing Peyton Manning who had 200 and Brett Favre who had 199.
The moment didn't create a legacy for Tom Brady, as that was already evident. But it does give even more credit to an underdog turned NFL legend. Many will say that he is the best to ever play the position, and he keeps adding to it.
He now has 203 wins, and looks to increase on that number for years to come, and Tom will probably say he'd like to add some more Super Bowl rings as well.
No. 2: Julio Jones 300 yards vs Panthers
The 2nd best performance on this list belongs to none other than Julio Jones. In week 4, Julio Jones exploded. He exploited a struggling Panthers defense for a record breaking day.
On this day, Julio Jones finished with 300 yards receiving and a touchdown for good measure.
That's insane right?
It is, he posted the 6th most receiving yards ever in a single NFL game. He set a franchise record for the Atlanta Falcons, also helping Matt Ryan set a franchise record for passing yards in a single game.
He repetitively blew by Panthers defenders like it was nothing. The picture above accurately depicts the game, as Panthers secondary was left chasing and on the ground. This massive performance earns my No. 2 spot on the season to date.
#1. Eric Berry's Game vs the Atlanta Falcons
This performance is #1 on this list for so many reasons, and it had to be #1 above anything else. If you haven't heard the story of Eric Berry, you should read up.
In December of 2014, Eric Berry was diagnosed with Hodgkin's Lymphoma, a type of cancer. He left the NFL, entered treatment, and was fighting for his life. The next season, Eric Berry was given the great news that he was cancer free, and returned to football.
Fast forward to this game in Atlanta. Berry's hometown, and still home to his parents. Berry told NFL reporters he was very emotional entering this game. He hadn't been back to Atlanta since his chemo treatments the year before. He hadn't played in front of his parents in a long time.
More from With the First Pick
But Berry started quick, and just before halftime returned an interception of Matt Ryan back for a touchdown. He found his mother, and gave her the ball. This probably would have been enough for one day, but Berry wasn't done.
With 4:32 remaining on the clock, the Falcons scored a touchdown to take a 1 pt lead. Like most teams, the Falcons opted to go for 2 to make it a 3 point game. Matt Ryan took the snap looked right, then looked left, but he didn't see Eric Berry.
Berry intercepted the ball on the goal line and returned it 100 yards back to the same endzone as he did the first time, this time finding his dad for the ball. The "pick-2" meant that the Falcons went from having a lead, to now trailing by 1. And it turned out to be the game winning play.
The craziness of the play, the 2 game changing moments by Berry, and the story behind it all make this a no brainer for No. 1 on this list of NFL top plays. Hats off to Eric Berry for more than just what he did in this game, and even football.
This article originally appeared on