Top 10 highlights of Week 8 in the NFL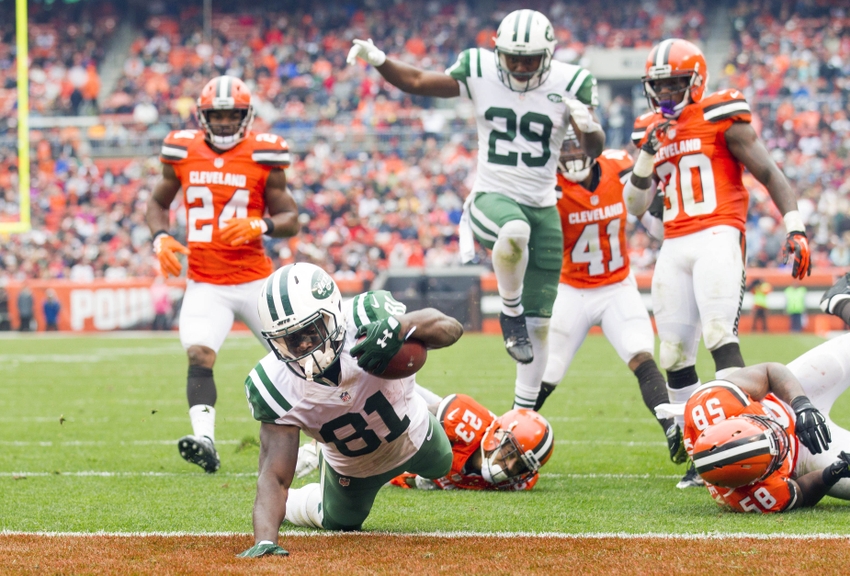 Week 8 of the 2016 NFL season had many fantastic highlights. Here are the 10 best from Sunday, October 30th. Does your favorite play make the cut?
10. Offensive tackle Donald Penn's touchdown catch
Sometimes, a team needs to get creative in how its gets points in the red zone. The Oakland Raiders were struggling to get into the Tampa Bay Buccaneers' end zone. Head coach Jack Del Rio decided it was time to shock the Buccaneers with a bit of trickery on the offensive end.
He made sure that offensive tackle Donald Penn reported as eligible for Raiders on the Buccaneers' one-yard line. Quarterback Derek Carr would run a perfect play action bootleg before tossing the football to an open Penn on the right side of the end zone. That was Penn's fourth big guy touchdown of his NFL career.
🚨🚨 BIG MAN TD ALERT! 🚨🚨@DPENN70 finds the end zone against hit former squad #OAKvsTB https://t.co/QIwTbeZLVH

— NFL (@NFL) October 30, 2016
9. Matt Ryan to Taylor Gabriel for six
The Atlanta Falcons had a big challenge on Sunday at home against the Green Bay Packers. Aaron Rodgers was playing very well for Green Bay all day. Atlanta still has a strong quarterback in Matt Ryan.
Ryan decided to show off his arm strength by hitting Taylor Gabriel for an impressive 47-yard touchdown reception. Gabriel would dive in double-coverage to come down with the grab. Ryan has shown that he is totally fine with going vertical in 2016 in Kyle Shanahan's West Coast offense.
Matty Ice goes DEEEEEEP.
And finds Taylor Gabriel!

47-yard @atlantafalcons TD! #RiseUp #GBvsATL https://t.co/sUUIHuv8UL

— NFL (@NFL) October 30, 2016
8. Tom Brady to Chris Hogan 53-yards vertical TD
Since when have the New England Patriots decided it was cool to go vertical once again? They haven't committed to it since Randy Moss was playing in New England close to a decade ago. Tom Brady is still starring at quarterback for the Patriots and still has the necessary touch to go vertical.
Brady finds recently acquired wide receiver Chris Hogan for a huge 53-yard touchdown to stifle the Buffalo Bills. Bills defensive back Stephon Gilmore was all sorts of confused on this Patriots touchdown. Since when do the Patriots go vertical? Since Week 8 of the 2016 NFL season. Bad news, AFC.
Brady. Hogan. 53 yards. PERFECT. #Patriots #NEvsBUF https://t.co/nFbVAYqbOP

— NFL (@NFL) October 30, 2016
7. Thomas Davis' scoop and score
The Arizona Cardinals were tired after playing the Seattle Seahawks in overtime on Sunday Night Football in Week 7. The Carolina Panthers didn't care that the Cardinals were exhausted and took advantage of them early in Week 8.
Coming off their bye in Week 7, the Panthers went after Cardinals quarterback Carson Palmer early and often in this one. Palmer tried to dump the ball on a shovel pass to avoid a sack. It didn't work, as Panthers linebacker Thomas Davis was able to pick up the fumble and take it to paydirt on this outstanding defensive score.
TD for TD!@ThomasDavisSDTM scoops and SCORES. #AZvsCAR https://t.co/HDgYU0p5KB

— NFL (@NFL) October 30, 2016
6. Quincy Enunwa won't be denied
The New York Jets aren't a great football team, but wide receiver Quincy Enunwa still plays hard every Sunday for the lowly Jets. He made several great plays in the passing game for the Jets. His most impressive involved shaking off three Cleveland Browns defenders to find the end zone for six.
Cleveland isn't talented, but plays hard. Enunwa just plays harder. With Eric Decker out for the season in New York, somebody has to step up in the passing game for the Jets. So far, that guy has been Enunwa. He could be a special player for the Jets going forward. This touchdown was all him.
Broken tackles (x3!)
And a @NYJets TD!

HOWWWW did @QuincyEnunwa do that? 💪 #NYJvsCLE https://t.co/ZC7fnDXXQ8

— NFL (@NFL) October 30, 2016
5. Seattle trickery
Russell Wilson is not himself at quarterback for the Seattle Seahawks. Playing behind a porous offensive line has severely limited what he can do offensively in 2016. He's clearly playing through pain. He might need somebody to help him move the chains this year.
Seattle has a former college quarterback in Tanner McEvoy who connects with C.J. Prosise for a huge 43-yard gain. If Wilson can't throw touchdowns to galvanize this struggling Seahawks offense, might it be in offensive coordinator Darrell Bevell's best interest to have McEvoy sling the pigskin at least once a game just to make something happen? This pass was beautiful from the former Wisconsin Badgers signal caller.
🚨 TRICKERY ALERT! 🚨

Wilson to McEvoy.
McEvoy to Prosise.
43 yard gain! #SEAvsNO https://t.co/fcSb240b3Q

— NFL (@NFL) October 30, 2016
4. Bradley Roby pick-six
All the Denver Broncos defense does is force turnovers. In a huge game against their AFC West rival San Diego Chargers, the vaunted Broncos pass rush was able to force Chargers quarterback Philip Rivers to throw a tipped pass at the line of scrimmage.
The tipped ball landed right in the hands of Bradley Roby. He shook a few offensive players on San Diego before he was of to the races. With the Broncos offense being stagnant with Trevor Siemian at quarterback, Denver has to get points anyway it can. Roby finds paydirt on this solid defensive touchdown for the Denver defense.
🚨 PICK-6 ALERT 🚨

Rivers' pass is TIPPED.
And @BradRoby_1 takes it to the house. #SDvsDEN https://t.co/1jE9srMyyk

— NFL (@NFL) October 30, 2016
3. Jameis Winston to Russell Shepard for touchdown strike
While the Tampa Bay Buccaneers cannot win a home game at any cost, they had one of the best plays on Sunday afternoon. Second-year quarterback Jameis Winston is still going throw growing pains, but finds wide receiver Russell Shepard for this borderline unbelievable touchdown catch.
Winston uses all of his arm to get it to Shepard in time. Shepard would dive to come up with this beautiful touchdown grab. If Roberto Aguayo could make an extra point, maybe Tampa Bay would be 4-3 and have a home win for the first time this season. At least this touchdown catch happened for the Buccaneers to write home about.
Wow. Wow. Wow. Wow. Wow. Wow.

This @LSUShep10 TD grab is… 😳 #OAKvsTB https://t.co/TcgiHlEKmo

— NFL (@NFL) October 30, 2016
2. Rob Gronkowski's 69th career touchdown
Rob Gronkowski is one of the greatest tight ends in NFL history. He is rapidly approaching Tony Gonzalez and Antonio Gates as the best the position has ever seen. Gronkowski tied the Patriots' career touchdowns record at 68 last week. He wanted No. 69 to be real special.
It was. He went for 53-yards up the middle on a slant pass from Tom Brady. The best part about this touchdown was that it encapsulated all of Gronkowski's greatness in one play. Great hands, speed, physical domination, and route running. The only problem was that it was 16 yards too short for Gronkowski to double-down on 69.
GRONKKKKKKKKKKKKKKK. #Patriots #NEvsBUF https://t.co/9nWTAk6iTw

— NFL (@NFL) October 30, 2016
1. Derek Carr's game-winning touchdown to Seth Roberts in overtime.
The NFL has already had too many ties this season. The Arizona Cardinals and the Seattle Seahawks tied on Sunday Night Football in Week 7. The Cincinnati Bengals and the Washington Redskins tied in London this morning.
Derek Carr.
Seth Roberts.
FOR THE WIN. #RaiderNation #OAKvsTB https://t.co/ysquu6TZe2

— NFL (@NFL) October 30, 2016
Oakland Raiders quarterback and wideout Seth Roberts wanted no part of a tie with the Tampa Bay Buccaneers. Carr connected with Roberts who broke a tackle to get into the end zone to win it for the Raiders. Oakland moves to 6-2 on the year and 5-0 away from the Bay Area, thanks to this amazing game-winning touchdown from Carr to Roberts.
More from FanSided
This article originally appeared on