Top 10 Biggest Mistakes the 49ers Have Made Since 2015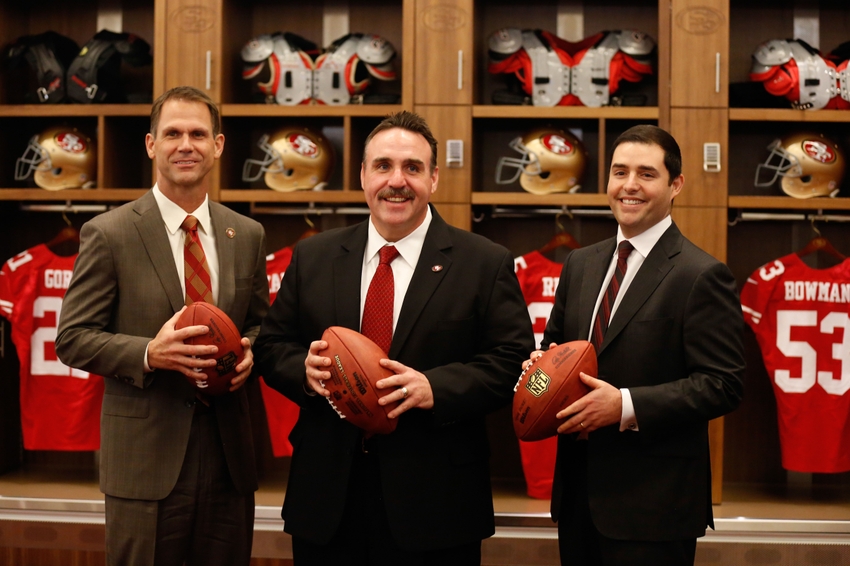 The San Francisco 49ers have gone from perennial Super Bowl contenders to a laughingstock in a very short amount of time. This means mistakes were made, and Niner Noise looks at the 10 biggest dating back to the beginning of 2015.
The 1-7 San Francisco 49ers of 2016 are a bad, bad team. Everyone knows this, and it's no secret.
49ers vs. Cardinals: Previewing Week 10 for San Francisco
But how exactly did San Francisco get here? How did all of this come to be not long after the Niners were considered perennial Super Bowl contenders earlier in the decade.
Simply put, mistakes were made. A lot of them. And while there is no perfect way to run any given NFL franchise, it's clear the decisions this organization has made in recent years have gone a long way in plummeting the 49ers from the league's elite to laughingstock.
Finger-pointing is a popular thing. There's plenty of blame to go around in Santa Clara. Much of it falls on general manager Trent Baalke. A good deal falls on CEO Jed York. And the rest of the San Francisco top brass also earns negative critiques.
So let's look at some of those mistakes and try to identify the top-10 reasons why the 49ers are bad right now.
Hopefully, but learning from its own mistakes, the team can go about rectifying what went wrong and working towards a future rebuild down the road.
No. 10: Gaffes in the 2015 NFL Draft
It's easy to point out the failures general manager Trent Baalke made in previous NFL Drafts, such as 2012. But since we're only going back to 2015, let's just stick with that draft class.
Here it is:
DE Arik Armstead (No. 17)
S Jaquiski Tartt (No. 46)
OLB Eli Harold (No. 79)
TE Blake Bell (No. 117)
RB Mike Davis (No. 126)
WR DeAndre Smelter (No. 132)
P Bradley Pinion (No. 165)
G Ian Silberman (No. 190)
OL Trent Brown (No. 244)
TE Busta Anderson (No. 254)
Out of this class, only defensive end Arik Armstead and tackle Trent Brown have made any notable impact. And Armstead (shoulder) is out for the rest of this season.
Safety Jaquiski Tartt hasn't made the leap from a rookie backup to regular rotational player. And it took him a number of injuries to get on the field in Week 10, at least according to 49ers play-by-play radio announcer Ted Robinson (h/t KNBR 680).
Linebacker Eli Harold hasn't given much of anything in the pass rush and in run defense. Tight end Blake Bell is buried as the No. 3 guy on the depth chart. Running back Mike Davis hasn't been able to overtake journeymen guys like DuJuan Harris and Shaun Draughn out of the backfield. And wide receiver DeAndre Smelter (knee) has yet to take a snap at the NFL level.
Oh, and Baalke was the first GM in the draft to take a specialist — punter Bradley Pinion in Round 5.
While it's still early, this particular draft class isn't shaping up to be one of Baalke's finest.
No. 9: Letting RB Frank Gore Walk
It made sense, at the time, to let now 33-year-old running back Frank Gore depart via free agency prior to 2015. He was aging, and the 49ers had an up-and-coming tailback in Carlos Hyde.
Hyde, a second-round pick in 2014, was viewed as the heir apparent to Gore. And while something of the sort may still happen in future seasons, Hyde's injury problems have been a major setback to whatever the 49ers are trying to accomplish.
Dating back to 2015, Hyde has missed 11 out of 24 regular-season games due to one injury or another.
San Francisco should have made efforts to retain Gore. Serious ones. Gore continues to contribute at a high level, now for the Indianapolis Colts, and has 592 rushing yards and four touchdowns this year.
Hyde could have easily complemented Gore in 2015 and 2016, which would have kept both players fresh and, likely, healthy.
No. 8: Promoting Jim Tomsula to Head Coach in 2015
Out went head coach Jim Harbaugh. Up moved former defensive line coach Jim Tomsula to the position.
Almost everyone will agree Tomsula was pushed into a position for which he wasn't qualified. And the thought he inherited a mess of a situation, after all those player departures last year, didn't make things easier on the one-and-done head coach.
This was a clear mistake from San Francisco's brass. But it hurts more considering what the 49ers lost when Tomsula was fired.
Yes, Tomsula has some positive attributes.
Before his promotion, Tomsula was one of the better defensive line coaches in the NFL. Dating back to 2007, the Niners enjoyed a steady drop in yards allowed, until they were among the league's elite during the early years of this decade.
Jim Tomsula's going to be a good defensive line coach for somebody in 2016 if he wants.

— Bill Barnwell (@billbarnwell) January 4, 2016
And the D-line was a primary reason. We know names like now-retired defensive end Justin Smith. But Tomsula was also responsible for maximizing the ability of players like Isaac Sopoaga and Ricky Jean-Francois. This unit had a meanness and physicality not seen since Tomsula left.
Just think what Tomsula could have done over an extended period with now-49ers DeForest Buckner, Arik Armstead and Ronald Blair.
No. 7: Failure to Hit in 2016 Free Agency
San Francisco currently has $43,141,199 in salary cap space, according to Over the Cap. And at one point prior to the season, the Niners had more cap space than any other team in the NFL.
General manager Trent Baalke's biggest offseason addition? None other than less-than-stellar guard Zane Beadles.
OK, so Baalke isn't a big free-agency guy. And that's fine. Big contracts on the first day of free agency are usually the ones resulting in busts and/or poor cap management. There's a direct correlation there for various reasons.
But the Niners were hurting for supplementary and role-player talent as well. Last offseason wasn't much different than the one they faced in 2015, nor will it be vastly different than what will happen in 2017.
Baalke passed on standout players, like now-Jacksonville Jaguars defensive tackle Malik Jackson and now-Chicago Bears linebacker Danny Trevathan. But he also whiffed on guys who could have provided the much-needed depth to help supplement a roster in need of talent almost everywhere.
In some ways, those types of players are just as important as the elite-level playmakers too.
No. 6: Not Re-Signing G Mike Iupati
Injuries might have forced former 49ers guard Mike Iupati to have a not-so-great 2014 campaign. Yet he was still one of the more sought-after free agents on the market that season.
Iupati ended up signing a five-year, $40 million contract with San Francisco's NFC West rivals, the Arizona Cardinals, the following offseason. The former first-round pick of the Niners remains one of the better offensive linemen in the NFL.
Yes, Iupati would have been an expensive re-signing. But it's likely he would have accepted a bit of a discount to stay in San Francisco. Many players do.
Instead, the 49ers elected to invest their hopes in fellow linemen Anthony Davis and Alex Boone. Boone departed via free agency a year later. And Davis?
Well, he retired twice since then — the first time shortly after the 2015 NFL Draft, and the second early into the 2016 season.
All the while, Iupati is still playing at a high level and the 49ers offensive line is still in rebuild mode.
Hey, at least San Francisco has Zane Beadles, right?
No. 5: Not Drafting a WR High in 2015 and/or 2016
General manager Trent Baalke must be a little gun shy towards drafting a wide receiver, ever since he took A.J. Jenkins with the Niners' first pick in the 2012 NFL Draft.
Jenkins was a bust, and San Francisco hasn't gone anywhere close to taking a wideout high in draft classes since. Bruce Ellington is the highest player drafted at this position since Jenkings — No. 106 overall in the 2014 NFL Draft.
Chris Biderman of Niners Wire put together a piece breaking down how the overwhelming majority of impact wideouts have been drafted in either Rounds 1 or 2.
Baalke hasn't gone that round. Dating back to 2015, the only receivers he's taken have been DeAndre Smelter (Round 4) and Aaron Burbridge (Round 6).
Smelter, another one of the infamous "All-ACL" picks, has yet to take a snap on the field. Burbridge is buried on the depth chart, despite the Niners' obvious need for playmaking receiver talent.
No. 4: Failing to Hit in 2015 Free Agency
2015 was an ugly offseason for San Francisco, and general manager Trent Baalke deserves a bit of a pass for not being totally prepared for the en masse departures which took place that year. It would have been hard for the best of GMs to prepare for all that.
Still, Baalke's efforts in free agency that year left a lot to be desired.
The 49ers' 2015 free-agent class included wide receiver Torrey Smith, offensive lineman Erik Pears, cornerback Shareece Wright, wide receiver Jerome Simpson, running back Reggie Bush and defensive tackle Darnell Dockett.
Smith is the lone player remaining from this crop. Pears ended up starting after Anthony Davis retired, and well all know how that went. Wright fell on the depth chart and requested to be moved. Baalke obliged. Bush, after never making much of an impact, was injured midway through the season. And Dockett couldn't make the 53-man roster.
So much for commendable efforts.
No. 3: Not Taking an Inside Linebacker in 2016 NFL Draft
Understandably so, general manager Trent Baakle used the 49ers' first two picks in the 2016 NFL Draft to address the trenches. He selected defensive end DeForest Buckner and guard Joshua Garnett in Round 1.
Still, Baalke avoided one of the team's preeminent needs — inside linebacker.
While San Francisco was hopeful linebacker NaVorro Bowman would be able to do plenty in his first year back since the awful 2014 NFC Championship injury, the position still needed help. And it was a bit of a shock to see Baalke steer clear of inside linebackers altogether.
After the draft, Niner Noise put together some reasons why Baalke went this route. And we even recalled how Baalke said the position wasn't a need.
Hindsight tells us this was a major mistake.
The 49ers are dead last in the league against the run and are on pace to give up 3,088 rushing yards this season — historically bad.
And with this position so crucial in limiting and stopping opposing teams' ground games, it's easy to consider this a huge gaffe in Baalke's efforts.
No. 2: Putting Too Much Faith in QB Colin Kaepernick
Quarterback Colin Kaepernick thrived under former head coach Jim Harbaugh for two seasons between 2012 and 2013. And the Niners rewarded Kap with a lucrative, and team-friendly, contract prior to 2014.
But that year should have been a pretty clear indication of what was to come. Most experts agree Kaepernick's regression started in 2014. Simply put, the rest of the NFL caught up to him. Read-option techniques, in which Kap thrived, weren't fooling defensive coordinators anymore.
Simply put, Kaepernick was a scheme quarterback. When the scheme was working, Kap excelled. When it stopped, well, there you go.
Maybe the 49ers front office realized this after 2014 was over. It's possible this group wanted Harbaugh out because he was Kaepernick's biggest proponent. And it's likely why the quarterback's contract gave San Francisco so many outs.
The problem is there was no Plan B.
Unless one considers then-and-now backup Blaine Gabbert as the answer.
No. 1: Letting Trent Baalke Win the Power Struggle over Jim Harbaugh
Sorry, Jim Harbaugh. You lost in Santa Clara. And we're not talking about the record.
Remember the cracks showing within the organization — the ones which suggested a rift between Harbaugh and general manager Trent Baalke?
Just remember when Hall of Famer John Madden stated why a coach, with as great a track record as Harbaugh, should be a priority over a general manager. Madden felt Harbaugh should be retained if the rift was too large. Not Baalke — a "suit," as Madden described.
Well, the opposite happened. San Francisco and one of its most successful head coaches "mutually" parted ways after 2014.
And the franchise has been in tailspin mode ever since.
Things might not have been so bad if Baalke's roster actually showed some signs of improvement. But it's been a mess just as well.
Harbaugh probably would have gotten more out of the Niners roster, all else being equal, at this point. We can argue whether or not he wore out his welcome, or if he's better at building championship-caliber teams instead of keeping them such.
Yet there's not other single factor that ranks higher than this one in determining what's gone wrong with the 49ers.
This article originally appeared on