Too Little, Too Late: Why Green Bay Packers lost to Indianapolis Colts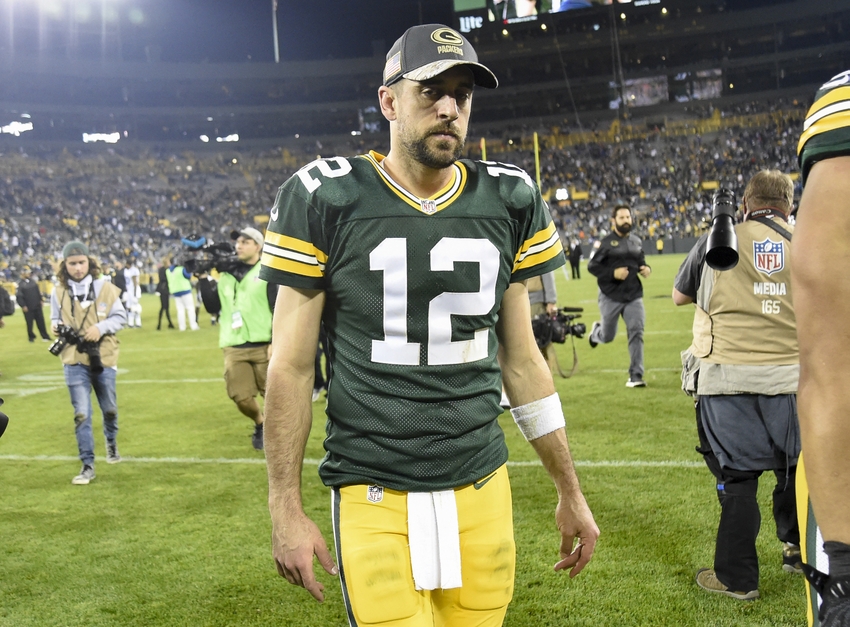 Though they lost in Week 8, the Green Bay Packers seemed to be at a decent place coming into Week 9.
Despite coming in with injuries decimating both sides of the ball and the offense not looking great, the Packers ended up almost stealing away a game few thought they had a chance in behind a great effort and rhythm from the Aaron Rodgers-led offensive unit.
With an seemingly shoddy Indianapolis Colts team coming into Lambeau Field and the team looking better, this appeared to be a romp in the making.
Or so we thought.
Indianapolis jumped out to a quick lead and manhandled the Packers in all facets of the game before holding on for a 31-26 surprise win.
What in the world happened out there? How did the Packers lose so handily to a team most thought they should have blown apart?
Let's dive into the details.
Starting off on the wrong foot
It did not take long for things to go south in this one; in fact, it was literally on the first play of the game.
Mason Crosby kicked the ball off for what seemed to be a routine opening kickoff; unlike most, however, this one was taken to the house.
Jordan Todman took the ball straight through the coverage unit, breaking past everybody without even getting touched on his way to an easy touchdown return.
Everything went wrong on this particular play for the Packers. Crosby landed the kick towards the middle of the field; based on the coverage which was called — an overload look to their right side of the field — that was not conducive to the plan.
From there, only two guys were even towards the left once Todman was bringing up the ball; both ended up blocked. With the whole side walled off, Todman bursted towards his right side of the field with nobody anywhere close to being able to stop him.
With that, not even :15 had gone off the clock yet Green Bay found themselves down in a 7-0 hole.
This was the first of many metaphorical punches in the mouth, completely knocking Green Bay on its collective backside in a game they probably expected to win handily.
Failure to convert
Despite the early hole, Green Bay had some great chances to make something happen offensively.
They scored a field goal on the first drive to get to 7-3, and then the defense stepped up. Twice in the next three drives, Ha Ha Clinton-Dix came down with interceptions of Andrew Luck to give the Packers an opportunity to jump up on the scoreboard.
Unfortunately, they didn't fully take advantage of the good fortune provided by Clinton-Dix.
On the first of those picks, Green Bay began the drive on the Indianapolis 29; from there, the expectation should be a touchdown in practically all cases, with a field goal being a disappointment.
Despite the excellent starting position however, the drive went nowhere.
Aaron Rodgers hit Davante Adams for a 2 yard gain on first down. He went back to him on second down, but this play lost 3 yards. Rodgers looked for Richard Rodgers (who saw a surprising amount of usage in this game) on third down, but they were unable to connect; this left Green Bay with a long field goal attempt.
Even with the disappointment of failing to jump ahead on a TD in great field position, the expectation of some kind of points still seemed likely; Crosby had missed only one field goal all season, and that was a block. He seems to officially have joined the large group of kickers struggling to hit their chances now though, missing on the 48 yard attempt.
Green Bay would convert their second INT into a TD, but the failure to convert on the first one left them down on the scoreboard; after the missed field goal, Indianapolis had good starting field position (their own 38) and used it to go for another TD.
After the two INT-preceded drives were completed, Green Bay found itself down 14-10 when they should have been at either 14-13 or even up 17-14 — and this is assuming Indianapolis still scores their TD without the great starting spot.
There was obviously plenty of time left at this point, but this could have been an entirely different outcome had these early turnovers both become points.
Having a TD on that first drive puts the Packers in the driver's seat, and would have had the offense in a situation where they can turn to the running game more often — something which worked well when they did use it.
Even the field goal could have been an immense help late. Assuming the other scoring stays the same, the team would still have needed to go for two late in their comeback; if the defense had managed to stop Indianapolis on one of their final two third down tries, Green Bay would have only needed a field goal to win the game from there, rather than a touchdown.
This is far from the only reason the team lost, but the path this game could have gone on had that first INT-preceded drive produced points stands as a massive missed opportunity which could have given the Packers what they needed to curb the early tide of the contest.
Where was the urgency?
Quite simply, the Packers came out lacking the urgency to win, and it took far too long for them to get going.
This malaise hit every unit, with each making key mistakes which can be at least partly attributed to not bringing enough focus to their tasks.
The offense was unable to find a rhythm against a Colts defense which came in pretty awful all around (#31 in Defensive DVOA through 8 weeks; #29 against both pass and run, respectively). The running game had some decent plays (though wasn't stuck to; probably could have helped), but Randall Cobb was inserted for a run — his first action of the game — and promptly fumbled away; it was a massive stroke of luck that Indianapolis didn't get the recovery there. The passing game was muddled, but even when they had chances, they missed; deep throws by Rodgers to Jordy Nelson and Adams were each too long, while Jeff Janis decided to try catching the ball with his face rather than his hands on what could have been a game-changing TD. When they did manage to find rhythm and score, it was far too little, too late.
The defense came up with early turnovers, but found themselves getting beat on multiple opportunities; multiple times, the pass rush was unable to break through and take down Andrew Luck, letting him find guys open towards the middle of the field to save drives. Even with great field position on their side on multiple occasions, they let the Colts take long drives for scores, and failed to stop the Colts on third down (allowed 7-14 to be converted) to let those drives continue.
The special teams was an absolute mess as well. The opening kickoff was bad enough (with each segment of the plan failing), but they also let up a 61 yard return in the first half to go with the opening TD. They hit the Colts punter on his third attempt, and were only saved from themselves by a Colts penalty forcing a re-kick. Even the usually-reliable Crosby missed his second field goal in the past three games.
Whether it be that the team was just knocked off their feet early (bad) or completely overlooked their opponents (really bad), it was disheartening to see the Packers not bring the kind of energy or focus to come out fully prepared to compete and win this game. This sort of thing has hit even the most successful teams at times of course (Pittsburgh has a running tally of losses to teams with terrible records under Mike Tomlin, and New England seems to drop a clunker every year to a subpar opponent), but when the standings are so muddled and the team is struggling to find any sort of consistency game to game, you can't come out just expecting to win; you've got to put in the work on the field to actually secure the victory.
Whatever the issue was this week, the players and coaches better come out more alert and ready, or the playoffs — much less a deep run — are a pipe dream.
No 2-for-1s today
I talked about two-for-one opportunities last week. For those who didn't read that one, a two-for-one in this instance is when a team has a chance to score before the half and also receives the ball after halftime. They don't happen in every game, but can have a powerful effect if they do.
Opportunities like this can completely swing a game. If a team is up when they receive this chance, they can put their opponents in a multi-score hole and run away with the contest; if they are down, they can carve into the deficit and even take the lead, throwing an opponent immediately from the driver's seat into chasing position.
In this game, Green Bay found itself behind 17-10 and punting before half. That punt pinned the Colts at their own 4 with 5:44 remaining; should Green Bay manage a stop, they would have plenty of time to go for a score of some sort leading into the half — and they would be getting the ball back afterwards.
From this point, the score could have gone numerous ways — most of which would have been at least somewhat favorable to Green Bay by the time Indianapolis got the ball back in the second half:
24-13 Indianapolis
24-17 Indianapolis
17-13 Indianapolis
17-16 Indianapolis
20-17 Green Bay
24-17 Green Bay
Some of those are much better than others, but all of those would have been preferable to what actually happened.
From their 4 yard line, Indianapolis drove all the way down the field for a touchdown. Along the way, the Colts converted three different 3rd downs and used up 5:33 of the remaining 5:44. This put the Packers down 24-10 with only :11 left in the half — not enough time for a pre-halftime drive.
It only got worse from there. The drive after the half could still give Green Bay either a 24-13 or 24-17 deficit despite getting no chance to drive before halftime, but it was a sloppy display:
Green Bay barely avoided a quick three-and-out
They got a lucky with a defensive holding call.
Cobb had his aforementioned first touch of the game on a run, with the Packers getting lucky his eventual fumble wasn't given to the Colts
Despite the fumble luck, the ball got moved backwards anyway due to a holding call.
Rodgers tries to break out of the pocket on a scramble, but gets tripped up for a sack.
The team had to call a timeout after the sack, despite plenty of time to get a play off.
Rodgers throws an INT, but it gets called back due to off-setting penalties (a roughing the passer hit on Rodgers, but Corey Linsley also held on the play)
Rodgers throws another INT, and this one counted; this one was over the middle throw to Adams easily grabbed by a defender sitting nearby who jumped the route
So what could have been a great opportunity became zero points and a 14 point deficit. It was emblematic of a day where Green Bay continued to flub away any chance to get themselves back in the game until it was too late — and really it could be a banner for the season to this point.
Ha Ha's miss
While there were many poor performances in this game from Green Bay, Ha Ha Clinton-Dix was a shining bright spot for most of the contest.
The two early INTs were both great plays by him, and provided his offense chances to get this to being a competitive matchup again. He also added in a sack while becoming Green Bay's top-graded player by Pro Football Focus for the week.
He wasn't perfect, however, and his failure to make one final play helped seal the eventual loss.
Green Bay had found some late life in the game, scoring two quick TDs in the 4th quarter to cut a 31-13 deficit down to just 31-26 with 3:29 remaining. If the defense could get one more stop, the offense seemed to be on the kind of roll where they would likely find their way into the endzone to steal away a win they had no business of getting.
They wouldn't even get the chance.
The defense quickly got Indianapolis into a 3rd-&-10 on their own 25; get a stop here, and the Packers have plenty of time and a timeout remaining to make a final drive. The defense got pressure on the snap, with an excellent playcall leaving Clinton-Dix running free around the left edge of the protection. He gets his hands on Luck, seemingly to take him down for a sack; we can already envision the punter trotting out there and seeing Rodgers driving for the game-winning score.
Unfortunately, Clinton-Dix wasn't able to finish the play. Luck broke out of the potential tackle, stepped up in the pocket, and hit Jack Doyle open over the middle for a 20 yard gain. Green Bay would have one more shot to stop Indianapolis on a 3rd down, but this play was the one where the best opportunity to make something happen.
Clinton-Dix had his hands on him, but could not stop him. The play was there for the taking, but he couldn't finish.
I'm not going to bash him about this — like I said, he was the top performer of anyone in green & gold on the afternoon — but this one play was there for the taking, and he just couldn't take down Luck. It continues the narrative of the defense as a whole being unable to make the one final stop which could change the game (much like last week, where they couldn't make a stop on Atlanta's game-winning drive).
If Ha Ha can keep up this sort of overall effort going forward, games like this may end up as a thing of the past. For now, it just hurts to see where even the guy playing the best on the team falls just shy of being able to get his team in position to win.
This article originally appeared on