Tony Romo is ready to play; quarterback controversy in Dallas heats up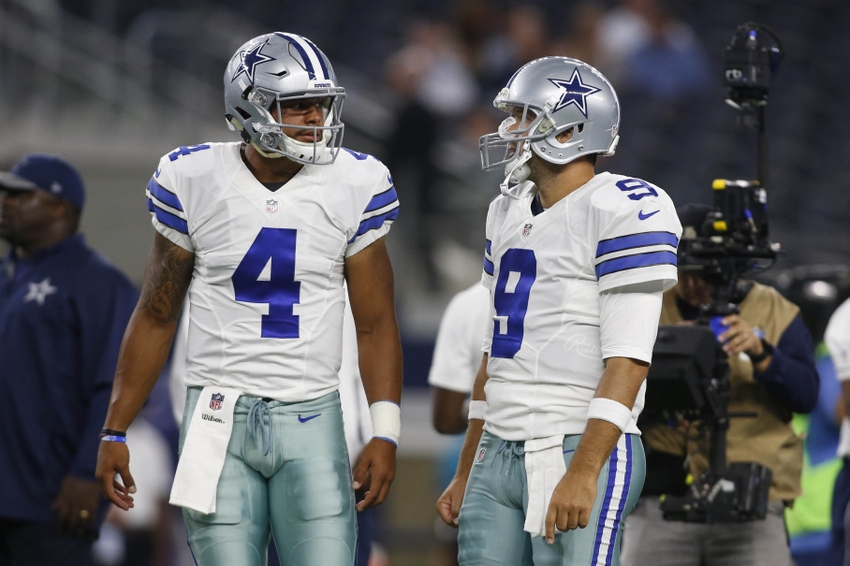 Tony Romo is ready to play, but the question remains: should the Dallas Cowboys bench rookie phenom Dak Prescott in favor of Romo?
Whether Tony Romo dresses for the Week 10 road matchup against the Pittsburgh Steelers or not, a massive quarterback controversy is looming for the 7-1 Dallas Cowboys. Romo suffered a fracture in his back during a preseason game against the Seattle Seahawks back in August, but he has since recovered and is ready to take his job back, per ESPN insider Ed Werder. If only it were that simple.
Source says that Tony Romo feels he has recovered from preseason compression fracture in back, ready to play, capable of taking #NFL hits.

— Ed Werder (@Edwerderespn) November 9, 2016
Since lighting up the NFL during the preseason, Cowboys' starting quarterback Dak Prescott has made a ridiculously strong case for Rookie of the Year. The Dallas offense currently weighs in as the sixth best in the NFL, and a large part of that success should be credited to Prescott. Prescott's 104.2 quarterback rating ranks fourth in the league behind just Drew Brees, Matt Ryan and Tom Brady. Prescott is among some extremely elite company in that category thanks to his accurate passes and brilliant decision making.
Prescott is also fourth in the NFL in yards per attempt. The 23-year-old signal caller is not only fearless in terms of throwing the ball downfield, he does it with incredible accuracy for a player his age.
What is the Dallas coaching staff supposed to do? Romo has a near decade-long tenure with the team and is beloved by fans and players alike. Prescott, however, has not only led the Cowboys to a .875 winning percentage in 2016, but he's done it with style.
At this point, Prescott must remain the Dallas Cowboys starting quarterback. As a team that has been virtually non-existent in the NFL playoffs since Romo took over the team in 2006, the coaching staff must think about who genuinely gives the Cowboys the best chance to win. Right now, the answer to that question is the youthful, dual-threat field general Dak Prescott.
This article originally appeared on