Tom Brady, Rob Gronkowski active vs. Jets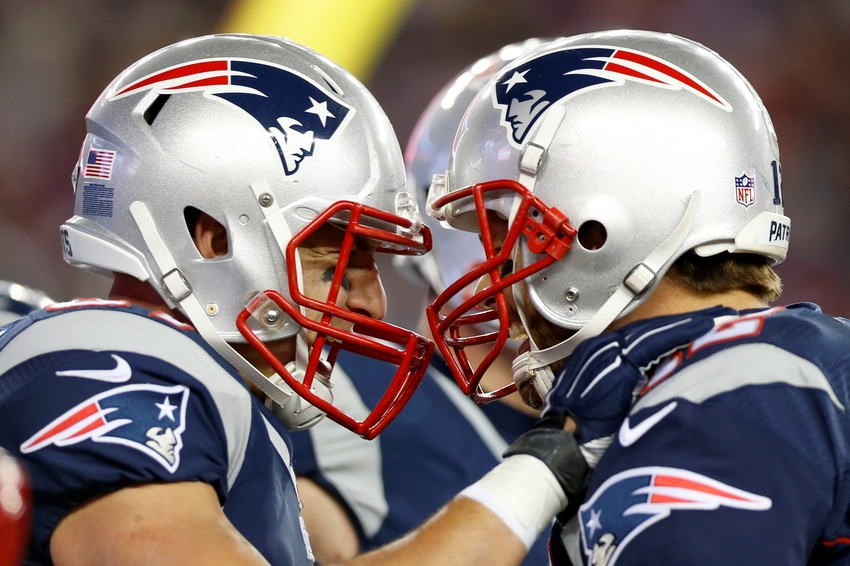 The New England Patriots suffered injuries to two of their biggest stars two weeks ago against the Seattle Seahawks. Both seem ready to play in this week's matchup versus AFC East rival New York Jets.
Two weeks ago, both New England Patriots quarterback Tom Brady and tight end Rob Gronkowski suffered what some considered to be serious injuries. Brady took a shot to his right knee, while Gronkowski took a blow to his chest that caused bruising and bleeding.
Gronkowski missed the Patriots game last week vs. San Francisco, while Brady suited up and played. During the game it seemed like Brady re-aggravated his knee injury vs. the 49ers as he was sacked on a play. There was also a moment in last week where the Patriots took a knee to keep the clock moving, but Brady was clearly in pain, as he winced after making contact with the ground, and again as he had to help himself up.
Heading into today's game, Brady missed Wednesday and Thursday's practice. It's the first time in the last five seasons that Brady missed a Wednesday and Thursday practice in the same week. Gronkowski also saw limited practice time, but all signs point to him playing in some capacity on Sunday.
The Patriots could sure use a healthy Brady and Gronkowski as the regular season is nearing an end. As it stands right now, the Patriots hold the No. 2 seed with a 8-2 record, trailing the Oakland Raiders (8-2) only by strength of victory (.469 to .375). Players also listed as questionable for the Patriots for Week 12 include tight end Martellus Bennett (ankle/shoulder), wide receivers Julian Edelman (foot) and Chris Hogan (back). However, all five are expected to play later today.
After the Jets this week, the Patriots face the Rams, Ravens, Broncos, Jets, and Dolphins.
This article originally appeared on