Three teams in Los Angeles is NFL's 'nightmare scenario'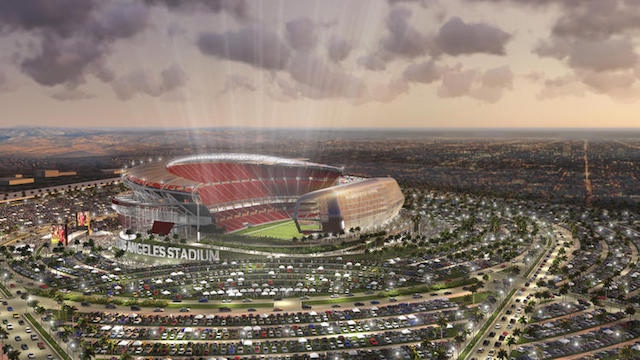 One team is eying Inglewood, Calif. Two more are looking at a site in Carson. But all three can't get what they want.
The NFL has to navigate a bit of a minefield when it comes to relocation, according to the Los Angeles Times. The St. Louis Rams, San Diego Chargers, and Oakland Raiders are all considering a move, but at least one will have to stay put.
"It would be a major headache if all three teams apply for relocation, even though we appear to be headed that direction now," said Sam Farmer of the Times. "There aren't going to be three teams moving to L.A., so if three teams were to apply, at least one of them would be sent back to a market it tried to leave."
Farmer suggests NFL intervention before jockeying turns into "a wide open horse race." Commissioner Roger Goodell might step in for the first time at the next round of owner's meeting's in Chicago, where Los Angeles relocation is expected to be hashed out.
Or, as Farmer suggests, one team could make Goodell's life easier by bowing out of the race altogether.
"If one of the three teams were to agree to stay in its home market, an L.A. deal could come together quickly." he said. "Neither the Chargers nor the Raiders are optimistic about what they've seen in their home markets so far, and — although St. Louis is off to the most promising start on a new stadium — the Rams have given no indication they want to stay there."