Three Takeaways From Bills Fourth Straight Win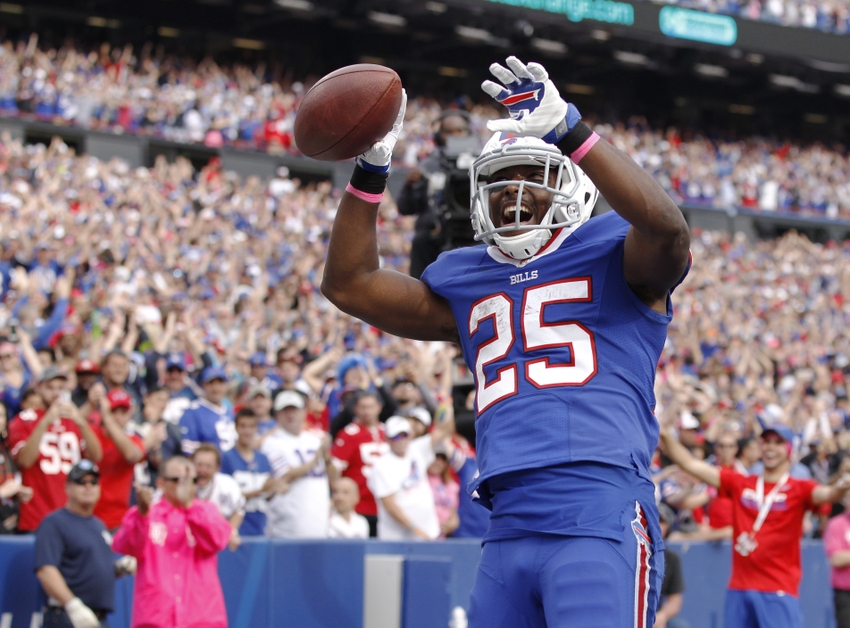 Here are three takeaways from the Bills fourth straight win
The Buffalo Bills won their fourth straight game this past Sunday. It's something the team hasn't done since 2008. After an 0-2 start, the team has completely reversed the trajectory of the season and optimism amongst their fans is peaking. Bills supporters haven't seen their team play this complete of a game since Week 3 last season when they beat the Miami Dolphins 41 – 14.
The obvious takeaway from this past Sunday is the fact that LeSean McCoy looks as good as ever. He's second in the NFL in total rushing yards (587) and yards per carry (5.6). We'll acknowledge he deserves to be one of the key takeaways this week, but everyone and their mother (and their mother's, mother) have already written about that ad nauseam so we're going to focus on some other takeaways from the game. We'll start slightly negative and end with two positives.
The Bills dominated the 49ers but not as badly as you think
It's great to see Bills fans able to "peacock around" showing confidence in their team's performance last week. However, it wasn't as big of a blowout as fans think. With under three minutes left in the third quarter the Bills were up by just four points. Right after the start of the fourth quarter the game was within one score. Shortly after that is when Nickell Robey-Coleman, for the second straight week, made the defining play of the game.
Want your voice heard? Join the BuffaLowDown team!
Robey-Coleman was the one with the hit that caused the fumble on the kickoff that led to the Bills opening up a huge lead and never looking back. The rushing attack was unstoppable and it wore out the 49ers defense. As Richie Incognito put it on the John Murphy Show the 49ers eventually "tapped out." The 49ers quick paced offense didn't do their defense any favors because they could not sustain drives as evidenced by the Bills winning the time of possession battle by over 10 minutes.
When the Bills finally did open up the game I wasn't ready for it. It had been a while since Buffalo had a lead of that magnitude. When the Bills were up 22 with 9 minutes left they gave Tyrod Taylor and LeSean McCoy a break for the remainder of the game. Not being prepared for this, I started screaming at my TV,  "They are only up 12 points! What are they doing!" After a few seconds, I realized they were up 22 not 12 and finally calmed down. I think part of me couldn't fathom a 22 point lead for the Bills in the fourth quarter. So while the final score is impressive, the game remained closer than fans remember through the first three-quarters.
Find out what Tyrod Taylor does really well on the next slide which features our second takeaway.
Tyrod Taylor takes care of the ball
This is an odd week to bring up this point considering Tyrod Taylor lost his first fumble in a game this season. It wasn't his fault as Arik Armstead came charging up the middle completely unblocked and was able to hit Tyrod before he could hand off the ball. Some Bills fans have been critical of Taylor so far this year due to the perceived lack of production in the passing game but that's not a completely fair assessment of his play.
The Bills passing attack was obviously going to take a step backward when Sammy Watkins went on injured reserve. Buffalo is thin at wide receiver and Taylor has had issues seeing over the middle which affects his ability to complete certain passes. Further holding him back is the fact that Charles Clay has been dealing with knee issues on a weekly basis.
Buffalo has jumped out to early leads in the past four games. They have used that to their advantage by pounding the ball on the ground to shorten games rather than throwing. The one thing not being talked about enough is the way that Taylor has protected the ball this year.
So far this season, Tyrod has thrown just two interceptions and averages an interception on just 1.2 percent of his throws. To put that into context that would be 12 interceptions per 1,000 attempts.
Teams that win the turnover battle tend to win the game. Tyrod Taylor protects the ball better than most quarterbacks in the league and he deserves more praise for that.
The Bills offense was able to run for an incredible 312 yards this past week. Certain fans might complain that Tyrod doesn't have any 300-yard passing games this year but when you're running game can torch a team for over 300 yards there is no need to throw for 300 yards in a game. The bottom line is Tyrod is doing his job and he's doing it well.
His record as a starter is now 12-8. That equates to a 60 percent winning percentage which is better than Jack Kemp, Joe Ferguson, Ryan Fitzpatrick and Drew Bledsoe had for the Bills. In fact, Bills Hall of Fame quarterback Jim Kelly's winning percentage wasn't much better for Buffalo at 63.1 percent.
Fans should be ecstatic with Tyrod even if he isn't torching defenses through the air. He made several key completions on third downs and that's what the Bills need out of him. The Bills offense consists of a strong running game and an efficient passing game that doesn't make big mistakes. That's exactly what they are getting from Tyrod right now.
Find out who the Bills most improved player from last season is on the next slide for our third and final takeaway.
John Miller is making strides in his sophomore season
The Bills offensive line had one of their best seasons in years last year. Two of their players, Richie Incognito and Eric Wood went to the Pro Bowl, and Cordy Glenn had another fine season. Glenn is one of the top ten left tackles in the league and the Bills paid him that way this offseason.
Their other two linemen were question marks. Jordan Mills, who was filling in for Seantrel Henderson who suffers from Crohn's disease, was shaky at times. The other Bills lineman who held the unit back was rookie guard John Miller. Miller did an admiral job in his rookie year but there were moments where he was obviously overmatched.
This year is a whole different story. Not only is Miller doing better but Pro Football Focus actually gives him a higher grade than Richie Incognito so far. Miller has doubled his grade from PFF this year to 77.4 compared to last year's 38.7 rating. He is currently ranked the 22nd best guard in the league by the site meaning he could be the top guard on about one-third of the teams in the NFL.
That's a pretty significant jump from his rookie year to his sophomore year. If he continues this trend he's the one who Bills fans will be referring to when they speak of their Pro Bowl guard in the future. If this is a sign of things to come Bills fans should feel very blessed because Miller is playing extremely well in the second season of his young career.
There was a lot to feel good about with the Bills blowout victory over the 49ers. Now it's time to head to Miami and take care of business because the schedule becomes much harder with games coming up against New England, Seattle, and Cincinnati.
This article originally appeared on