Three Reasons 49ers-Packers Preseason Game was a Smashing Success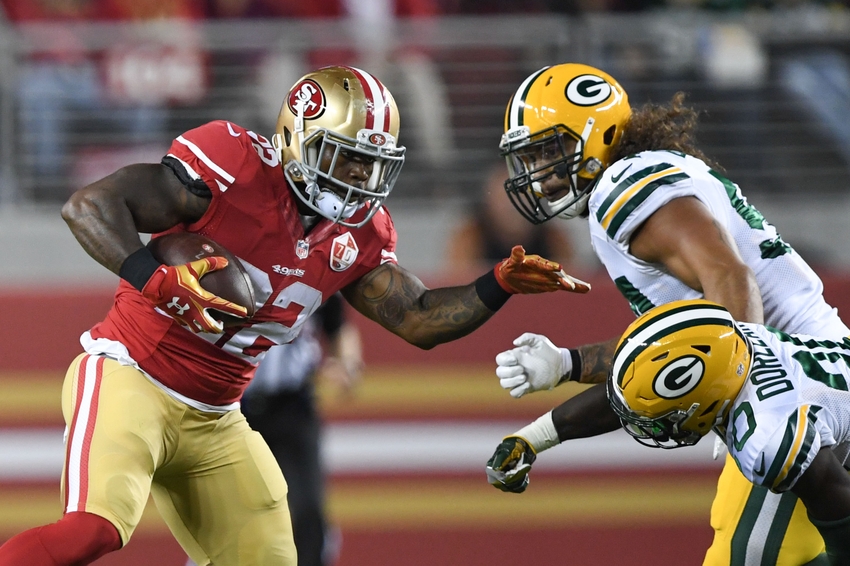 Contrary to prevailing opinion, last Friday's San Francisco 49ers preseason game against the Green Bay Packers was a real success. Here's why.
On the surface, the August 26 preseason game between the San Francisco 49ers and the Green Bay Packers was a decidedly one-sided affair.
Despite an early touchdown, the Niners' second and third team units were seemingly outplayed by their Packer counterparts.
As is often the case with preseason football, however, the 21-10 final score does not tell the whole story. In fact, here are three reasons why Friday night's game was a smashing success for the red and gold.
San Francisco…We Have a Quarterback
Well, so much for a good old-fashioned quarterback controversy. The recent contest involving quarterbacks Blaine Gabbert and Colin Kaepernick was over faster than a late 80s Tyson fight.
Gabbert's performance, although nothing landmark, looked like the work of a quarterbacking savant relative to Kaepernick.
On the evening, Blaine completed two of three passes for 14 yards, also orchestrating a three-yard touchdown toss that was ultimately deemed a lateral.
By contrast, it only took one miserable three-and-out series to give ardent Niner fans involuntary flashbacks of last year's offensive incompetence. Kaepernick's line, although not too dissimilar to Gabbert's (2-6 for 14 yards), made for something far less comely.
He appeared rattled from the first snap, working through the wrong sort of progressions: indecisive to panic-stricken.
Not unlike Steve Young when he first took over as the 49ers signal caller in '91, Kap's first read is to run. Even the slightest hint of pocket pressure gives him angina, causing him to pull the ball down and bolt.
Unlike Young, however, Kaepernick hasn't progressed during his career, relying on his raw athleticism as a beard for his lack of playbook mastery. Despite his obvious innate abilities, Kap simply can't turn the tide with his feet alone. At this point, teams are hip to his script, keying on his running ability and turning him into something worse than one-dimensional.
Heading into the Packers game, the Niners were in desperate need of some clarity regarding the single most important position on the field. Kaepernick's dreadful in-game showing made the decision an easy one… with or without his pregame anthem hijinks.
Workmanlike or not, Gabbert is going to be the starter come Week 1 of the regular season, and that's a good thing. Everyone knows quarterback controversies are locker room cancer, and the Niners no longer have one.
Chalk one up in the win column.
The O-Line Is Jelling
The day the 49ers cut Erik Pears is the day the team is ready to once again join the ranks of the respectable in the NFL.
That day, 49ers Faithful, was Sunday.
Last year's offensive line was an outright abomination. But, if there is one area where the 49ers appear to have made significant offseason strides, it is in the trenches.
With a new-look starting five of LT Joe Staley, LG Joshua Garnett, C Daniel Kilgore, RG Anthony Davis and RT Trent Brown, the 49ers may have landed on something special.
Three weeks into the 2016 preseason, the 49ers are ranked No.1 in rushing, with just under 185 yards on the ground. Of course, the team also ranks 30th in passing yards (150). But look no further than the aggregate quarterback play to explain that shortcoming.
Against the Packers, the O-line surrendered three sacks for a combined minus-21 yards. Yet each of these sacks came in "garbage time." If there is such a thing in a preseason game, with a host of backups and potential roster fodder on the field.
By contrast, the Niners first team offensive line was stout, allowing ample time for both Gabbert and Kaepernick as well as springing Hyde for a 27-yard romp that was the Niner's definitive offensive highlight of the game.
It all starts up front. And if the 49ers are going to compete this year, they'll have to perform well in the trenches. The extra beef they have added seems to be paying early dividends.
No more Pears? An inarguable win.
A Battle-Tested Defense
One of the most consistent knocks on Chip Kelly's offensives is how hard they are on defenses. Not opposing defenses, but their own. Kelly's uptempo style can lead to a mess of 3-and-outs, leaving his defenders winded and snap-weary.
Friday night's game was no exception. The Packers dominated the clock, possessing the ball two minutes to every one for the Niners. In the end, Green Bay ran 76 plays to the 49ers 47, making for a true trial-by-fire for the defense.
"We talk about being a relentless group, and I really think that we're starting to trend in that direction." – defensive coordinator Jim O'Neil
All in all, the unit responded well. After stymieing Green Bay Packers QB Aaron Rodgers for the first 15 minutes, the 49ers ultimately surrendered a touchdown in each of the final three quarters.
However, sans starters NaVorro Bowman, Ahmad Brooks and Antoine Bethea, the replacements held their own against the run, limiting the Pack Attack to a modest 3.8 yards per carry.
Add in three sacks for a combined minus-26 yards, along with a gang of quarterback hurries, it is clear that 49ers have bought into defensive coordinator Jim O'Neil's philosophical triumvirate of discipline, relentlessness and accountability.
"We talk about being a relentless group, and I really think that we're starting to trend in that direction," said the 49ers' O'Neil. "I thought we were stout in the run game. We did a very good job up front, and that's a team that can run the football."
If not for a few jaw-dropping heroics by backup quarterback Joe Callahan, including a 51-yard, playground-style duck and chuck to WR Geronimo Allison, this game would have been a defensive jewel.
Did the D bend? Yes. Did it eventually buckle? Sure. But remember, preseason is the time to do it. It's practice. Nothing more.
Last Friday night against the Packers, the 49ers defense got a taste of what it means to be the supporting cast for a Kelly offense. And they did it when it didn't count.
Winner.
All statistics, records, quotes and accolades courtesy of ESPN.com, NFL.com and 49ers.com unless otherwise indicated.
This article originally appeared on