Three Bright Spots From Sunday's Loss to the Titans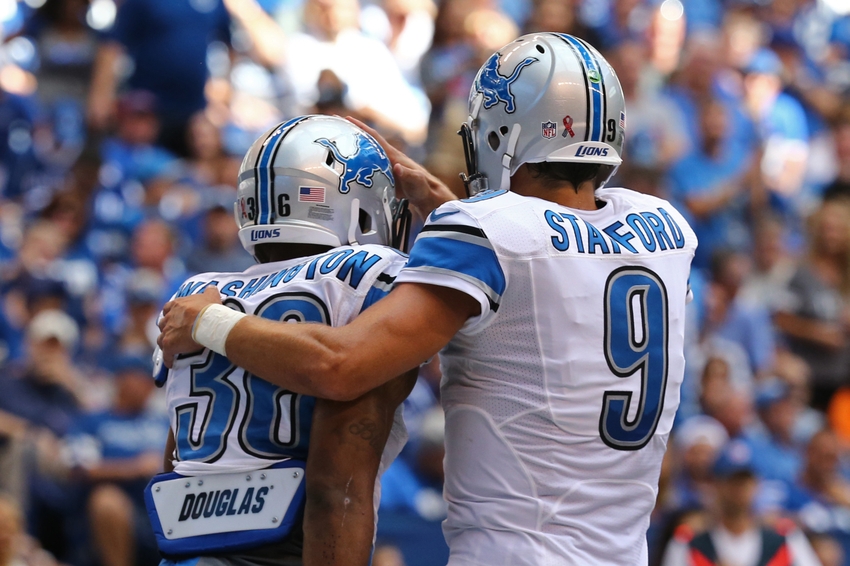 The Lions played one of the ugliest games you will ever see over the weekend, losing 16-15 to the Tennessee Titans.
It wasn't just hard to watch because of the 7 dropped balls or 29 total penalties, however, it was the fact that they lost to a Titans team that they thoroughly outplayed. They blew a game they needed. They blew a chance to be 2-0 and stay on top of a tough NFC North.  It is not the end of the world, though, as the Lions sit 1-1 with 14 games left. Here are three positives from Sunday's game because we all know you're still going to watch.
3. Eric Ebron is starting to look like a difference-maker
Ebron has yet to become the next Jimmy Graham but has made steady progress from his underwhelming rookie season. Sunday wasn't quite the game it would've been for Ebron had Detroit not lost. He finished with just 4 catches for 53 yards but he showed up in big moments. In a game filled with penalties – mostly accurate calls as Jeff pointed out – the worst call of the game may have been a phantom push-off called on Ebron that negated his touchdown catch. After Detroit gave the Titans the lead late in the fourth quarter, things looked grim as Detroit faced a 3-and-19. Stafford fired it while under heavy pressure, throwing the ball a bit behind Ebron. Not someone that is generally known for his hands, Ebron was able to reach back with one hand and bring it in while staying in stride to get the first down. If Stafford hadn't thrown the interception after – which was also intended for Ebron – people would be talking more about this catch. Throw in an impressive hurdle over a Titans defender and you see everything Ebron is capable of bringing to the table. He needs to become a more consistent threat, but we saw the athleticism that can make him a matchup nightmare.
2. The Lions are running the ball
The Lions rushed for 137 yards on 23 attempts against a talented defensive front. They continue to effectively use their stable of backs. Ameer Abdullah had a sensational 24-yard run but left the game with an injury. Dwayne Washington immediately stepped up and rushed four times for 31 yards. Riddick ran for 37 yards and Stafford tacked on 31 yards as well. It wasn't your typical ground and pound type of running game but as I wrote last week, Jim Bob Cooter has figured out how to run efficiently even if Detroit does have a pass-first offense. We all know the Lions' bread is buttered with Matthew Stafford throwing the ball around, however, if they can continue to run effectively they become that much tougher to slow down. The Lions can't keep hurting themselves with penalties the way they did Sunday, but for now, the running game looks better. Riley Reiff is playing pretty well on the right side. Taylor Decker has his moments in the run game. The interior lineman, particularly Laken Tomlinson, need to step up but center, Travis Swanson, has played surprisingly well.
1. Matthew Stafford looks to be in complete control of this offense.
Stafford got some people's attention after outdueling Andrew Luck in week one. This week, he threw a game-losing interception, but few will blame him for the loss. It was a bad decision on the interception but the Lions should have never been in that situation after the way he played for most of the game. The non-stop penalties took back multiple touchdown passes that would've probably iced the game. Stafford, doing his best Peyton Manning impression, looked to be in complete control of the Lions offense. He was out there yelling fake-audibles, changing plays and showing a passion that Lions fans have been waiting to see for years. Stafford almost led his second-consecutive 4th-quarter comeback in a game the Lions had no business getting behind in. No matter the situation, Stafford doesn't seem to shy away from it as he has been accused of in the past. It also doesn't hurt when your millionaire quarterback shows he's not scared of a little contact. Stafford trucked a Titans defender in what probably wasn't the smartest play but you gotta love his toughness.
More from SideLion Report
This article originally appeared on