Thoughts on the Kansas City Chiefs 2016 roster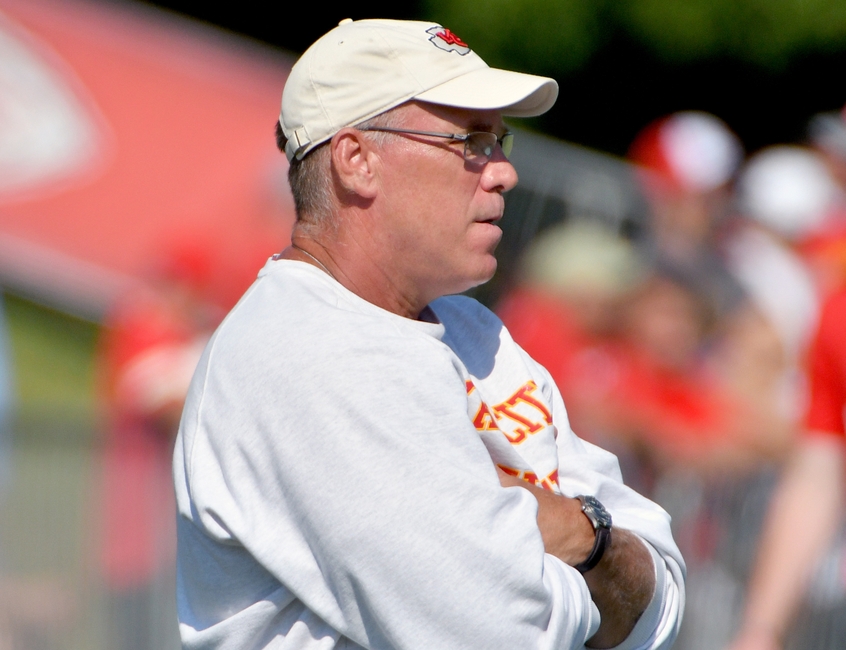 As I sit down to write this on Sunday afternoon the news of the Kansas City Chiefs roster moves continues to come in. In the past several days the Chiefs have made multiple cuts, trades, and signings as they try to finalize their 53 man roster for their week one game next Sunday against the San Diego Chargers. Overall I'm incredibly happy with the Chiefs roster. KC has as deep of team as we have seen in a very long time and the fact that they had to cut some promising players is actually a very good thing.
The team that Andy Reid and John Dorsey took over when they arrived couldn't cut any promising players because the roster was so paper thin when it came to talent. In fact, the Chiefs famously pilfered the waiver wire after cuts and filled out their roster with cast offs from other teams. Now, a few years later the Chiefs are one of the NFL's deep teams that has other teams looking at their cast offs. That's progress.
While the Chiefs have a deep and talented roster and I believe they are poised to make another playoff run this season I do think some of the moves they have made are interesting to look at. When you do have a deep roster it makes cuts less obvious and more open for debate. So I thought before the first game takes place this coming Sunday (woo hoo!) I'd take one last look at the moves they've made and where the roster stands going forward.
I'll tackle one move at a time and look at the possible pros and cons of each of these moves and where I personally come down on each of them. Let's start with the move I like the least.
The Kansas City Chiefs trade Rod Streater for…..????
Far and away the move I have the biggest problem with was KC trading away Rod Streater. First, let's be very clear, the Chiefs didn't really get diddly poo for Streater. Essentially, KC traded Streater and Marcus Cooper for Kenneth Acker and the possibility of a higher 7th round draft pick in two years (again, not an additional 7th round pick in two years, just the possibility of swapping 7th round picks). If I asked you a couple of weeks ago if you would make that trade I feel pretty confident that 99% of Chiefs fans would have said no. I get that if you're going to cut a guy anyway you might as well get something, but KC came as close as you can to trading Streater for absolutely nothing as you can get in the NFL.
Now, the compensation isn't really why I don't like this move. I don't like it for what it does for the roster. I just wish I could say "I may not like the move but at least they got (blank) out of it." Here's the real issue. If I were to ask Chiefs fans what KC's number one issue on offense in their playoff loss to New England was I believe that the clear top answer would be Jeremy Maclin being hurt and KC not having anyone that could really take his place. Now, let me be VERY clear, Streater is no where near the wideout that Maclin is, but he is a sure handed veteran wideout that runs good routes. He is exactly the kind of guy KC needed on their bench to fill in when Maclin went down.
With one or two exceptions (more on that in a minute) I don't have a huge problem with the wideouts that made KC's roster. Conley is the best choice for the number two starting spot and has fantastic tools and upside. The rookies Tyreek Hill and Demarcus Robinson both showed enough promise to make the team and I believe both have the potential to be part of the long term future on offense for the Chiefs. So the foursome of Maclin, Conley, Hill, and Robinson were no brainers for me. That leaves two other options that KC could have let go in place of Streater, DeAnthony Thomas and Albert Wilson.
I would have bet a large sum of money on DAT not making the 2016 Chiefs after Kansas City drafted Hill. While no two NFL players are the same those two certainly share a lot of similarities. Both are explosive (although Hill has better straight line speed), both are threats in the return game, and both have experience at both running back and wide receiver. Something weird went down with DAT last season. He was out with a concussion, the Chiefs eventually medically cleared him to play, but he didn't return. My sense was that DAT had doubts about continuing his NFL career and the Chiefs weren't happy that he wouldn't return for the playoffs when they needed him. I believed that this would lead to either DAT retiring or KC moving on without him (especially when they drafted DAT 2.0 in Hill). That all having been said, DAT came back this offseason ready to roll and looked great as a slot weapon with the second unit. He played well enough to make the team. I think he's a valuable weapon to have, but I would have preferred to trade DAT over Streater given that you have someone else with DAT's skill set in Hill.
Then there is Albert Wilson. Here's the deal, I was excited about what Wilson was able to show as an undrafted rookie. Then he was a key contributor on offense last season when Conley was still developing and KC had little else at the position. The problem is that I just don't see Wilson as having a skill set that brings something more to the table than other options that KC now has at wideout. Wilson is a smaller wideout with good speed. However, he doesn't do well with contested passes or balls that aren't thrown right in his bread basket. While he has the speed to go deep it doesn't usually produce anything because Alex Smith isn't super accurate deep and Wilson lacks the ability (or desire) to go up and get a pass that's not dropped in his hands. He also has the agility to work over the middle as a slot wideout, but again since he rarely comes up with a contested pass he has to be wide open to produce there and most wideouts can produce when they are wide open and the QB puts the ball right in their hands.
It sounds like I think Albert Wilson is a bad NFL receiver. That's not the case. I just think he's limited and I'm confused as to what role the Chiefs see him excelling in this season. I believe Streater is as good or better as a route runner, has better size, and fights for contested balls. In my opinion he offered something that the smaller slot guys like Wilson, DAT, and Hill couldn't. That's why I didn't like the move. Ultimately KC was going to have to part ways with a promising wideout and that's a good thing because it means the Chiefs have developed depth at a position where there used to be a black hole of nothingness. I just feel like the Chiefs made a move that limits their options for this season as opposed to if they went a different direction.
Now let's talk about the quarterbacks.
The Chiefs lose two quarterbacks they drafted to other teams.
The Chiefs have spent two draft picks on quarterbacks since Andy Reid arrived in Kansas City and they were both released and then snatched up by other teams this weekend. 2014 draft pick Aaron Murray was added to the Arizona Cardinals practice squad and then this year's fifth round pick Kevin Hogan decided to sign on with the Cleveland Browns (also on the practice squad). We don't know anything for sure, but I would guess that the Chiefs wanted to add Hogan to their own practice squad but he chose to go somewhere where he had a greater chance of making the 53 man roster eventually.
Some people in the Chiefs Kingdom were upset by this. I get that, it would definitely be better if one of the fifth round picks that KC drafted turned out to be so promising that they wouldn't dare let another team get their hands on them. However, the odds of a 5th round draft pick becoming your franchise quarterback are very, very slim. It was clear by the end of the final preseason game that Aaron Murray hadn't come as far as the Chiefs would have liked, so his release was not a surprise. Murray may develop into a NFL backup and maybe even an occasional spot starter but that appears to be his ceiling. Kevin Hogan is a little harder to lose since he was just a rookie. However, most experts agreed that he was more likely to be a backup in the NFL than a starter. Had he set the world on fire in training camp and the preseason he could have landed the number three job, but he didn't.
I wrote a piece shortly after the Nick Foles signing stating that KC's quarterback of the future wasn't currently on their roster and I still believe that. Foles is a short term answer to the backup quarterback position and I don't see him as having a high enough ceiling to be the heir apparent to Alex Smith. Tyler Bray may have a higher upside than Foles but I think he is even less likely to ever be a full time NFL starter. I get that KC fans are desperate for a home grown star at quarterback and when they see an arm talent like Bray and see him make a couple of good throws in the preseason its easy to get excited. The problem is that playing quarterback in the NFL is WAY more than throwing a good looking long ball. I believe Tyler Bray has light years to go when it comes to reading defenses and running Reid's full West Coast offense against first string NFL defenses. Maybe he'll prove me wrong, but I'm not going to hold my breath.
I still am hoping that the Chiefs draft a quarterback early (first or second round) of next year's draft. That would give the draft pick a couple of years to develop under Smith before taking over. I'm not losing any sleep over the loss of Murray and Hogan. I would have liked them to get Hogan on the practice squad, but I never had a lot of hope that he was KC's star quarterback of the future.
Now let's look at the players the Chiefs claimed off of waivers.
The Chiefs claim inside linebacker Sam Barrington from Green Bay and release Ramik Wilson.
There is a lot to like about claiming Sam Barrington off of waivers from Green Bay. When healthy he was a much better (or at least proven) starter than any inside linebacker that Kansas City has that isn't named Derrick Johnson. I'm excited about the possibility of Justin March but we saw in the preseason that he isn't the physical thumper that KC has typically started next to DJ. With the loss of starter Josh Mauga for the season the Chiefs were sorely lacking in experience at the position. They now have it in Barrington.
If you do a little digging on Barrington it appears that Packers fans thought pretty highly of Barrington before he missed almost all of last season to a foot injury. He started training camp on the PUP list but eventually came off and saw some preseason game action. The general consensus seems to be that Barrington wasn't quite back to his old form just yet. Does that mean that Barrington isn't ready to play every day yet? I don't know. Would an 80% Sam Barrington be an upgrade over March in the starting lineup? I don't know. It seems that Barrington may be a more natural fit for the run stopping linebacker next to DJ but we'll have to see what happens. I would think March still gets to start the season as the starter but if the Chiefs struggle to stop the run I wouldn't be surprised to see Barrington on the field.
The real surprise of this move is that the Chiefs parted ways with linebacker Ramik Wilson to make room for Barrington. Wilson was a fourth round pick just last season and had seen starting snaps at times in place of March. It seemed clear that March had established himself ahead of Wilson but Ramik was clearly the top inside linebacker off the bench should either of the starters miss time. That role now shifts to Barrington (unless he's starting) as the other reserve inside backer, DJ Alexander is more of a special teams player than anything else at this point in his career. I wish I could offer some insight into wether this move was more about them being really high on Barrington or them not being happy with Wilson and wanting to go another direction. I will say that I don't believe Wilson will ever become a star linebacker. He's just a solid player. He's doesn't have elite speed but he isn't slow. He isn't a bad tackler but he isn't a great run stuffer. He isn't bad in coverage, but he isn't an ideal cover linebacker. He was a solid backup but I don't know that he would have ever become an every down starter for the Chiefs.
Overall, I'm hoping that Barrington plays well enough that we don't regret letting Wilson go. Actually, I'm hoping Justin March plays well enough that it isn't really relevant because Barrington is limited to being a role player off the bench.
The Chiefs also claimed an offensive lineman this weekend.
The Chiefs claimed offensive tackle Bryan Witzmann off waivers from the Cowboys.
I'll admit, my initial response to this move was……"who?" However, if you simply asked me the question "which team would be the best in the NFL to pick up an offensive lineman from?" My answer would have been Dallas, not because I know anything about their reserves but simply because they have the best offensive line in football. Now, that in and of itself doesn't mean that Witzmann will be any good at all. However, after doing a little digging I was encouraged about what I saw regarding Witzmann.
The average response by Dallas fans seems to be that he played very well overall this preseason and some thought he had a shot of making the team. Most were disappointed to see him go and wanted him on Dallas' practice squad. That is about as encouraging as you can get when it comes to a former undrafted offensive lineman that just got cut by his third NFL team. Witzmann won't ever beat out Eric Fisher or Mitchell Schwartz for a starting job but that doesn't mean his presence couldn't have an effect on the Chiefs starting offensive line.
You can make a strong argument that the player on the Chiefs current roster that played the best at guard last season was Jah Reid. The Chiefs patience with Laurent Duvernay-Tardif seems to have paid off as he has looked much better this preseason. However, rookie Parker Ehinger who has been starting at left guard has struggled at times. To date, Kansas City had been hesitant to play Reid at guard, mainly because he was far and away KC's best tackle off the bench. If they were to move him inside they wouldn't have anyone they trusted to come off the bench at tackle. If the Chiefs like what they see in Witzmann it could free them up to play Reid at guard should Ehinger continue to struggle.
My guess is that the Chiefs give Ehinger a shot to prove he can handle it. If you want to know why KC may be tempted to start Ehinger despite some issues with his core strength I highly recommend you read THIS PIECE on center Mitch Morse and how he helps the Chiefs in their screen game. Seriously, take a couple of minutes and read that article, its worth it. While the article is all about Morse I couldn't help of think of Ehinger. The KC rookie may not be a physical force inside but he moves well for a guard and seems to have an advanced understanding of angles for a rookie. You can tell from that article how the Chiefs value that. While KC doesn't typically stretch the field with deep passing they do stretch a defense from side to side. Having interior linemen that are athletic enough to get out and move helps them do this.
I would still feel better about KC's line if Reid started at guard this season and they gave Ehinger another year to build some strength and gain some experience. Here's to hoping that Witzmann looks good enough at tackle that the Chiefs are willing to consider it.
Finally, a few closing thoughts.
Is the Chiefs roster now set?
While I would assume that the Chiefs coaching staff is now on to preparing for San Diego it is possible that GM John Dorsey may still be looking to make more moves. I would think they would like to put Ramik Wilson on the practice squad if he goes unclaimed. I'm also curious if they will pursue any more help at outside linebacker. Yes, they are getting Tamba Hali back but neither Dee Ford or Frank Zombo showed much of anything while playing with the first string in the preseason. Dezmon Moses and Dadi Nicolas looked much better but were playing against back ups. That is the one position that I have the biggest concerns about on the entire team now that it appears that the 53 man roster is set.
I thought that the Chiefs might be able to deal Knile Davis to a team that needed kick return help and a decent back up running back. That could still happen, but with the health of Jamaal Charles and Charcandrick West in question the Chiefs would need to bring Darrin Reaves up off the practice squad if they did. Spencer Ware is great but they can't go into games with him as the only fully healthy option. I actually thought Reaves outperformed Davis this preseason so if they could find a team with a spare outside linebacker that wanted to make a swap for Davis I would be fine with that.
Finally, I'm most excited about David King and Terrance Smith making it onto the practice squad. These guys played great this preseason and looked like they had some serious upside if given time to develop. The Chiefs are so deep at the defensive line that King had no real shot but on most teams he would have likely made the team. At inside linebacker I would have even considered keeping Smith on the active roster over DJ Alexander. Alexander is one of Dave Toub's key special teams players so that's why he won out, but I believe if the Chiefs should have injuries at the position they would be more likely to play Smith on defense than they would Alexander.
That does it for me this week Addicts. I'm pretty happy with the team that the Chiefs have put together for 2016. I think they have a chance to be really good this year. If Justin Houston comes back healthy then they may even have a chance to do something special this year. If Houston doesn't come back at all then their ultimate success may be determined by how well they can piece together a pass rush. I'd love to hear what you think of the Chiefs moves and 53 man roster in the comments below.
I can't believe that next week I actually get to write about a regular season Chiefs game. Football season is officially upon us!
Until then, thanks for reading and GO CHIEFS!!!!!!!!!!!!!
This article originally appeared on