Thomas Rawls Fakes Out Panthers, Rumbles for 45-Yard Touchdown (Video)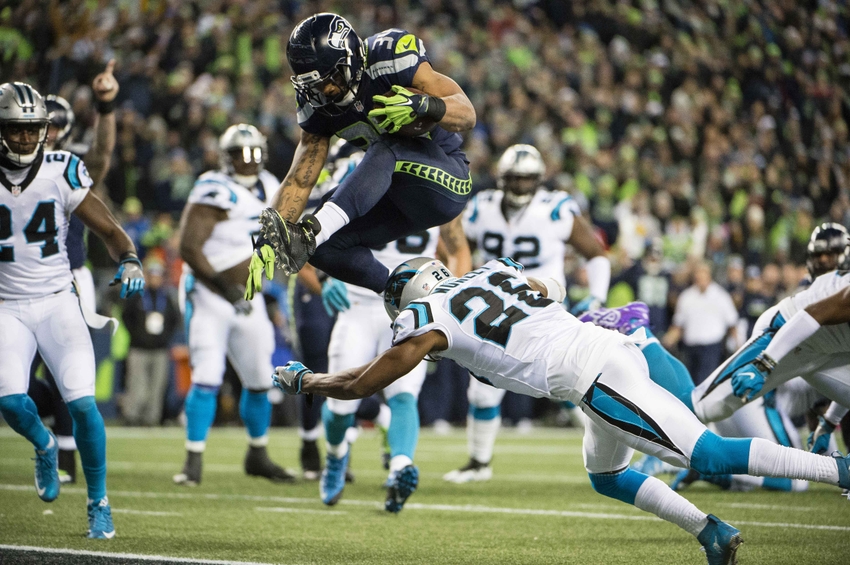 Thomas Rawls made the Carolina Panthers defense fall over themselves before taking off for a 45-yard Seattle Seahawks touchdown.
Right out of the gate on Sunday Night Football, the Seattle Seahawks got Thomas Rawls cooking. After nabbing an interception on their first defensive play, they fed the second-year running back in close. Rawls made a great play to gallop into the end zone for the score. As impressive as the leap was, though, it was merely the prequel to the main event that would come in the second quarter.
With the Carolina Panthers having just answered with a deep touchdown pass, the Seahawks needed an answer to keep momentum. Just passed midfield, they called Rawls' number once again. And the incredibly unique and gifted runner made something big happen with it.
Taking a carry to the right edge, Rawls got to the tackle and turned on the moves. With a series of crazy quick and shifty cuts and jukes, the back left the Panthers defense stumbling. Having gotten would-be tacklers off-balance, Rawls then popped all the way outside and hit fifth-gear. Though he's not a speedster, his juke was so devastating that he was able to rumble the whole 45 yards into the end zone for the touchdown:
Watch out, @Seahawks opponents.@TRawls810 is running WILD!

45 yards to the house. #CARvsSEA https://t.co/qAOZJLPS0K

— NFL (@NFL) December 5, 2016
Rawls burst onto the scene last year, but had his rookie year shortened due to an injury near the end of the campaign. He also missed the start of this season after another injury. But now he's back and again showing what he's capable of.
With the offensive line woes of Seattle, the Seahawks were desperately wishing they had a playmaker in the running game as they did with Marshawn Lynch. Rawls may be a different player overall than Lynch, but he showed on this score that he's capable of being a catalyst. If he can keep this up consistently, the Seahawks could be in a great spot heading into the playoffs.
This article originally appeared on