This sleeping giant will emerge for the Ravens in 2015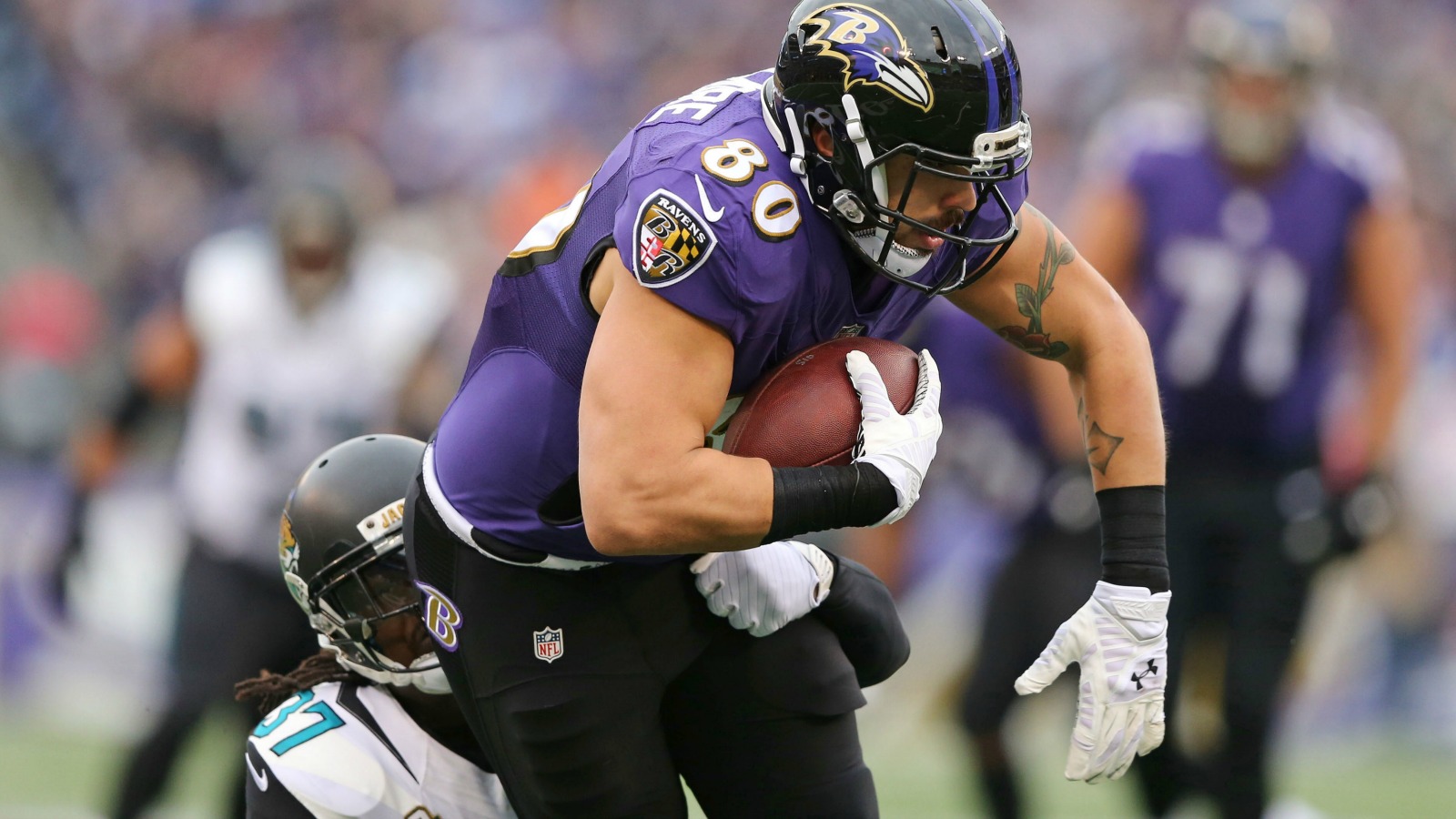 The Ravens' tight end depth chart was looking pretty bare after the 2014 season. Dennis Pitta was shelved with another devastating hip injury and Owen Daniels followed former offensive coordinator Gary Kubiak to Denver.
Rookie Crockett Gillmore was left standing as the only healthy tight end with any amount of NFL experience, so Ozzie Newsome did what any general manager would do — he restocked the cupboards. Newsome moved up in the second round of the draft to select consensus top tight end Maxx Williams out of Minnesota and then nabbed Delaware's Nick Boyle in the fifth. While everyone is eager to see if the athletic Williams can be the second-coming of Rob Gronkowski, don't fall asleep on Gillmore.
After serving most of his rookie as a blocker, Gillmore added 15 pounds of muscle — to become a better receiver. Now at 275 pounds, Gillmore says the added bulk will help him get separation from opposing defenders.
"I'm a lot stronger in and out of breaks," Gillmore told the team's official site during OTAs last month. "That was a big thing for me. I think I grew so fast that I never really developed the strength to get that quick twitch. Getting that muscle has really helped me run."
Gillmore himself was a third-round pick out of Colorado State in 2014. He wasn't even targeted his rookie year until the sixth game of the season, and finished with 10 catches for 121 yards and a touchdown — against the rival Steelers. In the postseason, he added two catches for 30 yards and a score, also against the Steelers.
Despite the limited opportunities, Gillmore flashed some ability in the passing game, just as he did at Colorado State, where he caught 111 balls for 1,308 yards and eight touchdowns in three seasons.
As long as Pitta remains sidelined, Gillmore is expected to get the first shot at becoming Joe Flacco's starting tight end, a role that will see a lot of balls in new offensive coordinator Marc Trestman's offense. Trestman, who came to the Ravens after serving as head coach of the Chicago Bears, loves to go to his tight end, as evidenced by Martellus Bennett's career-best 90 receptions for the Bears last season. Bennett was targeted 129 times by QB Jay Cutler, and that's with WR Alshon Jeffrey, RB Matt Forte, and WR Brandon Marshall each having over 100 targets.
Wide receiver Steve Smith is the only returning Ravens pass-catcher with more than 35 targets from last season, leaving plenty of opportunity for those ready to step up. Gillmore will be up to the task, but he'll have to prove himself quickly as a reliable safety valve for Flacco with Williams waiting in the wings.
"He is already strong, he is already big, but it just seems like he's moving around a lot better out here — a lot more fluid in his route running, catching passes, things like that," starting running back Justin Forsett said of Gillmore.
Gillmore may be a step slower than Williams, but his experience in the offense will keep him on the field regardless. The Ravens will ease Williams into action since he doesn't come from a pass-heavy system, and any time Boyle sees will come as a blocker. At 6-foot-6, Gillmore gives Flacco a huge target underneath and in the red zone, and if the Ravens use as many two-tight end sets as they did last year, Williams will join him to provide a nice 1-2 punch.
Ravens owner Steve Bisciotti compared Gillmore to Cowboys tight end Jason Witten earlier this offseason, saying that 30 to 40 catches was realistic for Gillmore in 2015. While that prognostication came before the draft, only two things will keep Gillmore from that benchmark next season — injury or the full-time return of Dennis Pitta.