This is not a trap game for Giants, Bengals are quality opponent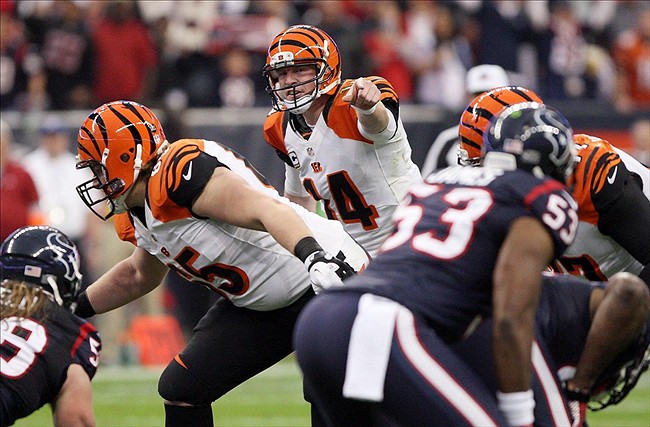 There are at least two trap areas where the New York Giants (5-3) have scuffled recently. First, these ain't your Bill Parcells' Giants when it comes to prime time games. Secondly, Big Blue does not exactly embrace prosperity. Chances are the oddsmakers looked at certain past history, while the Cincinnati Bengals (3-4-1) morphed into a 1-point favorite. For Giants' fans who think the game will be a walk in the park, think again.
Favorite or Underdog Trap
The challenge for Big Blue are the Cincinnati Bengals, who are classic under-achievers this season. Ironically, the Bengals are now the favored team coming into the contest. Earlier this week, the Giants opened up as 2-point favorites.
So what gives?
Specific to this game, the oddsmakers at VegasInsiders.com see two teams that both have poor historical trends to rely upon. According to SB Nation, "Historically, New York hasn't fared well as a home underdog. The Giants are 0-10 SU and 4-6 ATS in their last 10 games as a home dog, with their last home upset coming all the way back in 2009 per the OddsShark NFL Database."
OK, fair enough.
Conversely, Sports Illustrated reported on Nov. 11, 2016, "The Bengals are 0-8-1 in their last nine games against teams with winning records, and they have also failed to cover the spread in three of their previous four games versus NFC East foes."
The trap here is that past performance does not mean anything. These teams do not meet frequently enough for past history to matter.
In other words, trends mean nothing, what matters is what goes on between the white lines.
Prime Time Game Trap
Once upon a time, the New York Giants were built for prime time. Sure there were disappointments, the 7-3 loss to the San Francisco 49ers on Dec. 3, 1990 stands out. Even then, the G-Men got revenge by besting San Francisco 15-13 in the NFC title game a month and a half later. A prime time affair never a guaranteed win, but it usually guaranteed an A+ effort.
What's changed?
Per SB Nation, "The New York Giants are 1-4 straight up and against the spread in their last five appearances on Monday Night Football." That can be coincidence based upon the Giants lousy records the past few seasons. So we have to decide: what came first? The lousy record on Monday night, or the lousy football in general?
As poorly as the Giants have seemingly performed on Monday night, the Bengals are somehow worse. "Andy Dalton and the Bengals have a reputation for melting down under the prime-time lights, and that's especially true in road prime-time games. Since Dalton's rookie year in 2011, the Bengals are just 1-7 straight up in road prime-time games," according to CBS Sports on November 7, 2016.
Here's another kicker: the home team has won every time these teams have met.
Prediction Trap
As Paul Schwartz of the New York Post wrote on Nov. 13, 2016, "The Giants will be on a major run or have their momentum slammed shut after this one. Andy Dalton, Jeremy Hill and especially A.J. Green are a tough trio to contain and Cincy's defensive front can be beastly. Nod here for desperation (Bengals) over the home team (Giants)."
In other words, if this game was played on Tuesday at a neutral site, who would win?
Cincinnati Bengals 24 New York Giants 17
This article originally appeared on