The Washington Redskins regret drafting Josh Doctson?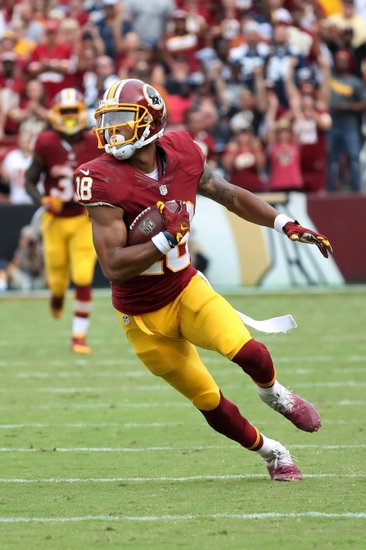 The Washington Redskins used their 1st round pick of the 2016 NFL Draft on wide receiver Josh Doctson. So far, he hasn't made the type of impact they were expecting.
Josh Doctson has missed much of the season with an Achilles tendon injury and doesn't appear close to getting back in action. Washington is wisely playing it safe as they don't want to cause any long-term damage.
His absence hasn't been a major issues as players like DeSean Jackson, Pierre Garcon and Jamison Crowder have picked up the slack. Doctson still has a bright future, but Washington might not reap the benefits of this pick until next year.
This is obviously disappointing for a franchise that is hoping to make a return trip to the playoffs. They need all hands on deck in what is a very competitive division with the New York Giants, Dallas Cowboys and Philadelphia Eagles.
More from With the First Pick
The most disappointing thing about Doctson's injury is that Washington could've used this pick to address another area of need. They've had issues in the secondary, along the defensive line and at running back.
An intriguing fit would've been Derrick Henry who has shown flashes of brilliance with the Tennessee Titans. He'd represent an upgrade over Matt Jones and someone capable of doing big things behind their powerful offensive line.
Kenny Clark would have also made sense with the team's issues along the defensive line. Clark has made an immediate impact with the Green Bay Packers.
Nobody in the Redskins organization is, nor should be, ready to give up on Doctson. However, I'm sure there are more than a handful of people looking at the draft board and thinking what might have been.
This is just one of the many reasons the NFL Draft is such an event and worthy of year-round coverage.
This article originally appeared on