The Top 2017 NFL Head Coaching Candidates Based On Connections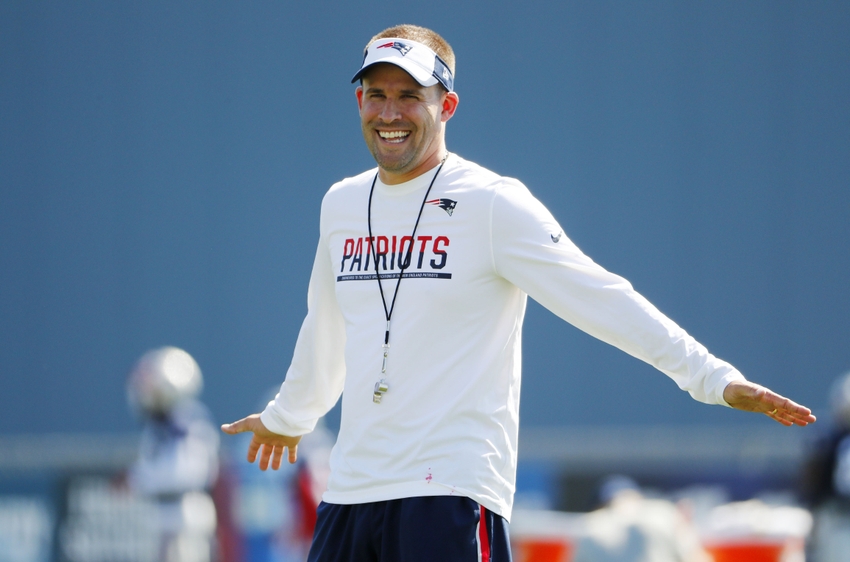 The top 2017 NFL head coaching candidates are beginning to emerge from the rest of the pack, and their names will become big as the season winds down.
One of the forgotten aspects that can't be overlooked when choosing a new head coach for the franchise is connections. What other notable coaches has this man worked under during his time on the sidelines? If one thinks this doesn't matter too much, think again. Chuck Noll didn't become great during his run in Pittsburgh by accident. Playing under Paul Brown and coaching for guys like Sid Gillman and Don Shula certainly didn't hurt his development.
The same goes for the iconic Bill Walsh. Before he was a genius in San Francisco he learned from Gillman, Brown, as well as Al Davis and Marv Levy. Great head coaches are rarely dropped out of the sky from nowhere. Most are bred over time based on their experience under other great coaches. So based on that criteria, who should be considered the top candidate of 2017?
#10:  Sean McDermott (Carolina DC)
Being dropped into the fire right away in Philadelphia didn't dampen the spirit of Sean McDermott. He got back on his feet and has since become one of the top defensive coordinators in the NFL. Reid remains a terrific head coach who continues to enjoy success in Kansas City. Ron Rivera has helped show McDermott the defensive ropes. Both coaches have championship success in their background and got to Super Bowls while McDermott was with them. So he's seen the blueprint.
#9:  Scott Linehan (Dallas OC)
Mike Tice
Nick Saban
Jim Schwartz
Jason Garrett
From an offensive coordinator point of view, Scott Linehan has established himself as one of the best. He's helped produced a top 10 offense with four different franchises in his long NFL tenure. That's not an easy feat in accomplish and a testament to his ability at adapting quickly to the players he has and also developing young quarterbacks. Daunte Culpepper, Matthew Stafford, and Marc Bulger experienced arguably their best seasons under him. Dak Prescott is the favorite for Rookie of the Year.
The question is can he be a successful head coach? His first stint in St. Louis started well but went south in a hurry. His coaching tree has since grown. Mike Tice and Jim Schwartz aren't the most admirable names. However, Saban is a highly notable name and Jason Garrett continues to build his own legacy in Dallas. There is every reason to think Linehan has learned some valuable lessons from his early failure and his connections reflect men who endure through similar hardships.
#8:  Matt Patricia (New England DC)
Paul Pasqualoni
Bill Belichick
One of the more interesting names on the short list. Matt Patricia almost didn't forge ahead with his NFL career. He wanted to become an aeronautical engineer. However, the call of football brought him back. He worked his way up the ladder in college before jumping the pros where he became an assistant in New England. There he had a hand in helping them win two of their four Super Bowls in 2004 and 2014. None of his defenses as a coordinator have ranked lower than 10th in points allowed.
Patricia is one of those coaches who never moved around much. Paul Pasqualoni had been a great NFL assistant himself for year but before that he had a successful run as a college head coach at Syracuse. Of course then there is Bill Belichick. The pillar of the modern NFL head coaches. He has reached six Super Bowls in his career with the Patriots and won four. Many believe him to be the best of all-time. Learning from him certainly hasn't hurt Patricia.
#7:  Josh McDaniels (New England OC)
Nick Saban
Bill Belichick
Time has proven that Josh McDaniels is one of the premier offensive minds of his generation. He's extended the career of Tom Brady further that most quarterbacks are able to reach. The play calling and ability to adapt to his personnel are two trademarks of McDaniels. Numbers speak for themselves. His offenses have ranked in the top 10 in points score eight times since 2006. If a team is looking for somebody who can develop a quarterback, he is the first name mentioned.
Like his cohort Patricia, McDaniels has learned at the knee of Belichick. They set records and almost went undefeated together in 2007 and won a Super Bowl in 2014. What some people don't know is before arriving in New England he spent a brief time watching a young Nick Saban operate at Michigan State. McDaniels may have the rare honor of having coached under the greatest NFL head coach and greatest college head coach in football history.
#6:  Darrell Bevell (Seattle OC)
Mike Sherman
Brad Childress
Pete Carroll
For sustained success it's harder to find a coordinator more accomplished than Darrell Bevell. He resurrected the career of Brett Favre in Minnesota and got them to an NFC championship. Then he joined the Seattle Seahawks where he has overseen the rapid development of Russell Wilson into a superstar. He now has a Super Bowl ring. Of course many won't let him forget the disastrous play call the following year that resulted in the now iconic Malcolm Butler interception.
By and large though Bevell has remained a big name on coaching lists for a long time. He's learned from some pretty good head coaches. Mike Sherman and Brad Childress each had their share of success. Pete Carroll is the big name though. He won two national champions in college and then led Seattle to a Super Bowl title in 2013. Building a winning program is what he does best. That experience combined with his offensive savvy is what gives Bevell an edge.
#5:  Harold Goodwin (Arizona OC)
Lloyd Carr
Lovie Smith
Mike Tomlin
Bruce Arians
Nobody really mentions him much. That shouldn't be a surprise. It's well-known Harold Goodwin doesn't have an agent, so the hype won't be picked up on him. Nevertheless the man is an accomplished assistant at both the college and pro levels. Currently he's the offensive coordinator in Arizona where he has squeezed a few more Pro Bowl seasons out of veterans Carson Palmer and Larry Fitzgerald. Before that though he amassed quite a resume.
He started at Michigan as a graduate assistant where he helped the Wolverines win a national championship. Then he joined the Chicago Bears under Lovie Smith and reached a Super Bowl in 2006. Two years later he was with Mike Tomlin in Pittsburgh helping them beat the Cardinals for a Lombardi trophy. Since 2012 he's learned under Bruce Arians. This is not only a group of accomplished coaches he's learned from but also a diverse one in terms of offense and defense.
#4:  Mike Shula (Carolina OC)
Ray Perkins
Don Shula
Dave Wannstedt
Tony Dungy
Jack Del Rio
Ron Rivera
There is a lot to be said for bloodlines in the NFL, even at the coaching level. Mike Shula is the son of legendary Hall of Famer Don Shula. Being taught the game at his knee gives Mike a leg up over many others. It's not just that though. He's become quite the accomplished assistant. This is a man watched Dan Marino up close and parlayed that into multiple success stories developing quarterbacks. David Garrard and Cam Newton have become Pro Bowlers under his direction.
Learning from his father alone is pretty good, but Shula got tips from a number of other reputable sources. Tony Dungy, another Hall of Famer worked with him in Tampa Bay. Jack Del Rio and Ron Rivera are also two of the better coaches currently in the league. Some may be skeptical Mike can do the job after his brother Dave failed so spectacularly in Cincinnati. The truth is though he deserves his own chance. Just ask Derek Carr after people compared him to brother David.
#3:  Kyle Shanahan (Atlanta OC)
Jon Gruden
Gary Kubiak
Mike Shanahan
Dan Quinn
People thought he was just surviving on the coattails of this more famous father but the reality is Kyle Shanahan has become a top offensive mind in his own right. Every team he has been an offensive coordinator with more than one year produced a top 10 unit. Matt Schaub, Robert Griffin III and Matt Ryan have each had their best years under his watch. Developing quarterbacks is a big thing with NFL teams these days, hence why he's among the most popular names.
It doesn't hurt that he's learned the ropes from three of the best at that particular job in the past 30 years. His father Mike Shanahan got career-best efforts and Super Bowls out of Steve Young and John Elway. Jon Gruden won a Super Bowl with Brad Johnson being a Pro Bowler. Gary Kubiak just won the Super Bowl last year. This is a strong coaching background Kyle is coming from filled with lots of championship and quarterback success. It's hard to see him not getting a team.
#2:  Anthony Lynn (Buffalo OC)
Wade Phillips
George Seifert
Mike Shanahan
Jack Del Rio
Bill Parcells
Romeo Crennel
Rex Ryan
Every year has a sort of shooting start coaching candidate that almost comes out of nowhere. No doubt that title belongs to Anthony Lynn. He started out the season as the Buffalo Bills running backs coach. Then the other shoe dropped as offensive coordinator Greg Roman was fired early in the season. Lynn was promoted to take over that position and the Bills offense has improved significantly since. He's respected by both his players and fellow coaches.
Not surprising given some of the names he's been under. George Seifert, Mike Shanahan and Bill Parcells all have won multiple Super Bowls. Jack Del Rio is proving himself a top head coach again in Oakland. The best part is Lynn is a top offensive mind but he's learned much of his style from great defensive coaches. Wade Phillips, Romeo Crennel and Rex Ryan are three of the best in the business. Lynn may have arrived late to the party, but he's definitely prepared.
#1:  Teryl Austin (Detroit DC)
Jim Caldwell
Paul Pasqualoni
Lloyd Carr
Mike Holmgren
Ken Whisenhunt
Urban Meyer
John Harbaugh
This is the name people continue to underappreciate. One of the reasons the Detroit Lions are now in command of the NFC North division has been the surprisingly effective play of their defense. This is a unit that really only has one star in Ezekiel Ansah but they continue to exceed expectations. Austin has been a hot head coaching candidate the past few years. He's a proven coordinator and known for being a good teacher and motivator.
He also boasts quite a background in terms of experience. Jim Caldwell and him have worked together both in college and the NFL. He was part of the Michigan national championship team in 1997 and learned under Urban Meyer at Florida. To top it off he's had the good fortune of learning from Mike Holmgren and John Harbaugh, both Super Bowl winners. Austin has proven himself at both the college and pro levels. He's patiently waited his turn. It's time somebody gave him a shot.
This article originally appeared on