The Steelers are the best team in the NFL (yes, even better than you, New England)
Rise, Pittsburgh.
After a sloppy, if still effective start, the Pittsburgh Steelers are back at full strength (or as full of strength as any NFL team can ever be) and playing the best football of any team in the league. Ben Roethlisberger is the runaway MVP favorite (it's early, of course, but he's never won the award in his 13 seasons). Other than that anomalous look-ahead loss in Philly, the defense has given up exactly one first-half touchdown and hasn't allowed more than 16 points in a game. Antonio Brown has lived up to the immense hype, showing why he was the No. 1 pick in most fantasy drafts over the summer. And with the one-year suspension to receiver Martavis Bryant, Sammie Coates has stepped seamlessly into his role, giving Big Ben the second receiving target that makes the Pittsburgh offense deadly.
In short, the Pittsburgh Steelers are 4-1 in an uncharacteristically weak AFC North and seem poised to make another deep run into the playoffs, all while the eyes of the NFL are on New England and debating how good this Pats team is and whether Tom Brady can win an MVP award in a 12-game season (he can't, unless the rest of the NFL's offensive stars come down with a nasty came of Romo-itis). But here's the kicker to it all: Roethlisberger, for as great as he's been, has been secondary to the turnaround, at least according to the numbers.
Pittsburgh was fine in its first three games (going 2-1 with that blowout loss to Philadelphia besmirching their September). But then Le'Veon Bell, the Steelers running back considered one of the most talented in the league, returned from a three-game suspension after missing a league-mandated drug test and his presence has completely transformed the Pittsburgh offense.
This is from NFL research and there's no better way to show the discrepancy in Roethlisberger's number than listing them side-by-side: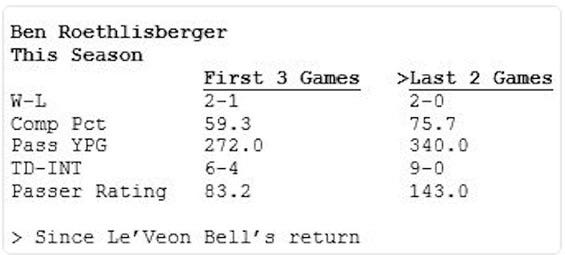 Just for fun, here's what happens if you extrapolate Ben's numbers from those last two games over a 16-game season: 5,440 yards, 72 touchdowns and a Lombardi Trophy in a pear tree. Impossible to keep up but impressive nonetheless. Is it too much to say this came from Bell?
Part of it did, for sure. It's not as if Pittsburgh faced Cleveland and Jacksonville when Bell returned. The Steelers instead played two teams that finished last season with 10 or more wins (the Chiefs and Jets). Bell finished with 210 yards for a 5.5 ypc and caught 14 balls out of the backfield combined, all while keeping his touches relatively low (cough, Ezekiel Elliott, cough).
It doesn't take Jon Gruden breaking down "Spider 2 Y Banana" to draw conclusions about this: DeAngelo Williams, Bell's backup who was fine in his stead, was able to get yards because the defense was more focused on shutting down the passing attack. Now, with Bell in the backfield, opponents won't have that luxury. Throw in Brown and Coates and that's an offense you'd take over Brady and Martellus Bennett/Rob Gronkowski every time. (The two teams play a week from Sunday in case anyone wanted a referendum on it. That's probably the game of the year through the first half of the season.)
Not to say the Steelers will win that game, or even be favorites or the best team come January. Tom Brady is going to keep playing like he found the Fountain of Youth while sunbathing in Italy during his suspension. The Vikings, though possessing all the hallmarks of an oasis in the tundra (great defense, offense that is ripe to be exposed), should be up there too. Throw in a half-dozen teams that will catch a heater and enter the NFL playoffs with a chance to win that 11-game crapshoot.
But there's just something about Pittsburgh, with a healthy (full) roster, a quarterback in the midst of his best season in years, a coach with playoff success and a wide-open NFL that has to get you thinking about the Terrible Towels invading Houston on the first Sunday in February.