The Seahawks Are Changing – Whether They Like It Or Not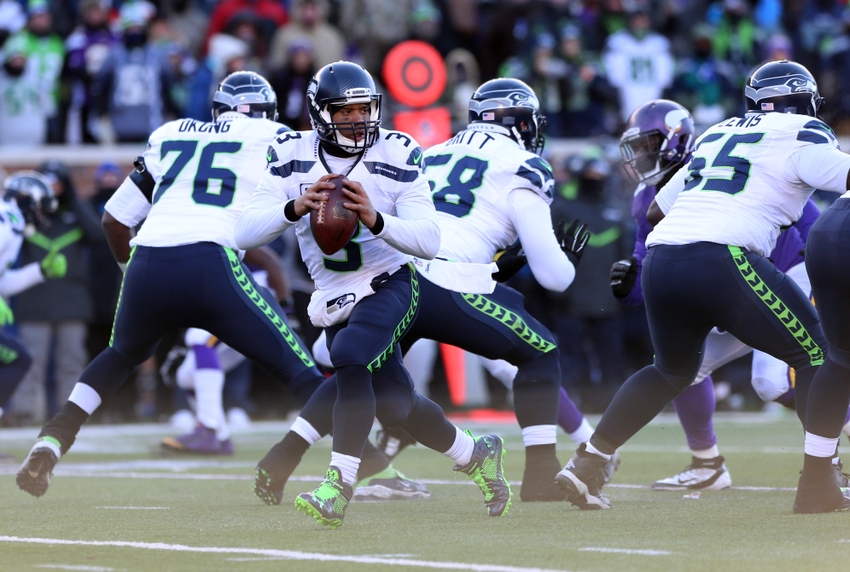 The Seahawks have always favored running the ball over passing it. With the run game becoming increasingly impotent, the Seahawks face an identity crisis on offense.
The Pete Carroll led Seahawks have typically gone against the grain. As the rest of the NFL transitioned into a league dominated by high octane passing offenses, the Seahawks have always zigged while others zagged. They carved out a league-wide reputation for themselves by being bigger, stronger and more physical than their opponents. Behind RB Marshawn Lynch, they ran the ball right down their opponent's throat and didn't let up until the final whistle blew.
After Lynch rode off into the sunset (presumably in a golf cart), it was assumed that their running game would take a small step back this season. In an ideal world, the run game would be just good enough to tire out opponents and open up the game for Russell Wilson to make explosive plays down the field. What wasn't assumed is that the run game would be completely ineffective and cause them to abandon their identity during crucial moments throughout the year. Now, several issues factor into this, and some of them may be fixable. However… 
Thomas Rawls looked like the second coming of Beast Mode in 2015, but injuries have limited him this year. Christine Michael briefly awoke from a long hibernation, but old habits crept up and the Seahawks jettisoned the talented 26-year-old. CJ Prosise was up next, and for a brief period, he mesmerized fans with his electric athleticism and versatility.
He looked like a future star. However, Prosise couldn't shake the injury bug, suffering a shoulder injury that ended his regular season. While Troymaine Pope and Alex Collins have shown brief flashes, neither of them looks like a regular contributor this season.
In addition to the running back questions, the offensive line has not performed up to it's typical, not so lofty standard. Regardless of what you may think of Tom Cable as a scout, he has consistently produced a fantastic run blocking unit. Per Football Outsiders DVOA metric, here are Seattle's lines in terms of run blocking DVOA:
2016: 23rd (so far)

2015: 4th

2014: 4th

2013: 9th

2012: 4th
The personnel has changed dramatically throughout Cable's tenure, especially this season. Currently, the Seahawks starting offensive line consists of a basketball player, a 4th rounder, a center on his 3rd position, a raw 1st round pick and a former TE. This isn't ideal. However, the Seahawks have always been successful running the football due to their stubborn reliance on sticking to it and their physical style of play.
In addition, Russell Wilson, usually a lethal weapon running the football, has been largely immobile throughout the year after dealing with a variety of injuries. The lack of a rushing threat at quarterback has largely affected the run game. As injuries molded Wilson into a statue in the pocket, the zone read, a mainstay in their offense, became unusable.
More from 12th Man Rising
Last season, the Seahawks ran the football 500 times out of 989 offensive plays (50.56%). They were almost a perfectly balanced offensive football team. This season tells a different story. Out of 646 snaps, they've run the ball on 41.18% of those snaps, well below the league average. The Seahawks had been slowly transitioning away from the run in recent years. Their run play percentage has dwindled from 56.96% in 2012, Wilson's rookie year. Wilson's 368 attempts through 11 games have him on pace to shatter his previous career high (483).
Without a doubt, the Seahawks are still Russell Wilson's team. He should and will be the centerpiece of the offense now and going forward. The Seahawks have proven they can win by relying purely on the pass, especially with an elite quarterback surrounded with high-quality weapons. However, the lack of a running game has still taken it's toll on the Seahawks, and more specifically, their defense. On top of being ravaged by injuries to several key players, the exhausted defense has been dominated in crucial points during several key games this season. 
In 2016, the defense has played 739 snaps, which is the 9th most in the NFL. By comparison, the Seahawks were dead last in defensive snaps played in both 2014 and 2015. This could be a problem as they get into the playoffs, where dynamic offenses like Dallas will be waiting for them. The run game wears teams out, opens up the play action and helps them close out games. These abilities will be helpful come January. 
You can bet that coach Pete Carroll is enraged at their failure to establish the run, as he's notorious for sticking to his principles. Early in games, they will continue to attempt to ignite some fire from the smoldering ashes of their rushing offense. Boosting up the trenches and becoming more physical will most likely be top priorities next offseason.
As for this season, who knows? Perhaps the offensive line will brush aside their struggles and return to the slightly below competent Tom Cable line we all know and love. Maybe Thomas Rawls ignites the offense and recaptures his dynamic 2015 self. What is known is that, so far, the Seahawks identity is shifting, whether they like it or not.
This article originally appeared on