The Seahawks are already winning the NFL Draft
By Tim Weaver
Great teams build through the NFL Draft. Bad teams try (and fail) to do it through free agency. That's good news for Seattle Seahawks fans because their front office does the draft as well as anybody else around the league.
You probably already know that general manager John Schneider excels at finding latent late-round talents and turning them into superstars in conjunction with Pete Carroll. (See: Richard Sherman.)
This year the Seahawks are in excellent position to continue that trend, and how they're doing it is a terrific example of their shrewdness not only in evaluating talent but keeping their long-term financial flexibility.
After they were awarded four compensatory picks the Seahawks now hold 11 total, which is more than any other NFL team. That's a good start, but the truly remarkable thing is they're doing it with a financial efficiency that blows the rest of the competition away.
In an excellent article yesterday at Over the Cap, Jason Fitzgerald wrote about the league's rookie salary cap.
This chart he included shows that the Seahawks have a lower total effective cap cost than any other team with the exception of the Buffalo Bills (who have five less picks.) Check it out: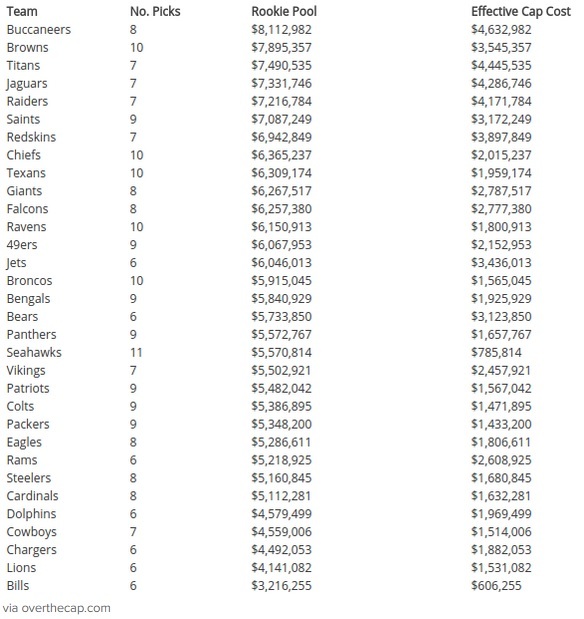 So, the emphasis on amassing late round draft picks not only gives the Seahawks more chances to find hidden gems, it keeps their cap costs down. In PC/JS we trust.
More from cover32: