The Philadelphia Eagles' mid-season report card: What have we learned?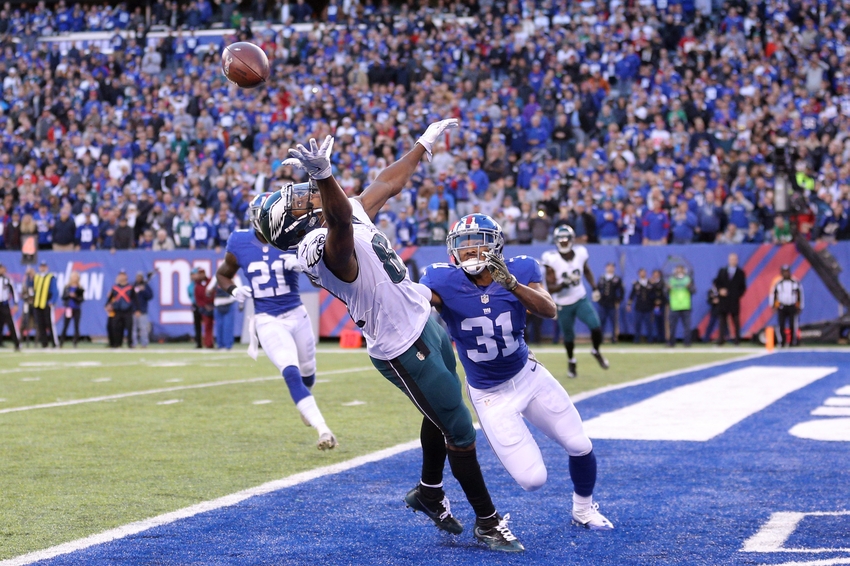 The Eagles are 4-4 through their first eight games, and their fans are worried.
The Philadelphia Eagles can officially be placed in the emotional roller coaster category. Prior to the season, we all got the schedule. As we sat in sports bars and cubicles and huddled around water coolers and break room tables, we argued about the possibilities. We penciled in "W" and "L" next to each game. We saw the prognosticator in all of us wake up.
Then, Las Vegas released their preseason thoughts and pretty much told us that the Eagles had no shot. That either enraged you or strengthened what you were already thinking. The long and the short of it is none of us thought this team was in contention for a playoff spot, especially with Sam Bradford leading us. We just weren't going to accept what Vegas said and admit that we were so bad we'd win three games either.
Time has flown. Here we are, and the season is halfway over. Bradford was traded. Rookie quarterback Carson Wentz stepped in. There were winning streaks and losing streaks. There have been ups and downs, but there is no reset button in real life and this team is 4-4. We've seen the games. We've seen the reactions. Now, it's time to grade this team.
Let's begin:
The Offense:
There's really no nice way to say it. Outside of Darren Sproles, no one trusts any of these running backs. It appears that even the coaches have lost faith in Ryan Mathews. Since he's been in the league, he's led the NFL in lost fumbles. That includes two this year, one virtually leading to the team's unraveling against the Detroit Lions. The Eagles employed their version of "next man up". In came Wendell Smallwood, and he coughed it up against the Dallas Cowboys, again helping to create a downward spiral that this team was unable to recover from.
Wentz is one of the few bright spots. His hot start, ability to recover from mistakes he's made early in games (see the New York Giants or Minnesota Vikings contests) and his command of the pocket have shown the Eagles have the right guy at the signal caller position. Now, they just have to find the right guys to catch the ball. We believed the tight end position would be one of the saving graces of this unit and wide receivers Nelson Agholor and Josh Huff would have breakout years. We were wrong on both counts. Huff was dismissed, the tight ends have either been ignored or vanished and every time someone drops a pass, you can see Wentz's shoulders slump.
The offense has major concerns.
Final Grade: C-
The Defense:
The defensive unit is solid but not the immovable object that we want to give them credit for being. Everyone keeps pointing to point differential and the opponent's scoring average. The Eagles are among the best in the league in both, but that only tells you half of the story.
Jim Schwartz is an excellent defensive coordinator. He'll be looked at for head coaching opportunities at season's end, and the Eagles would be wise to do everything they can to keep him. You can't ignore what these team has done. They didn't get the job done in the game against the Washington Redskins, but every other week they helped put this team in a position to win. Yes, there have been costly penalties to extend drives, but they've basically locked teams down in the second half of games.
They showed dominance against the Pittsburgh Steelers and the Minnesota Vikings, but they were also taken advantage of early by the Lions and Giants. They can also get lost anytime anyone  decides to throw the deep ball. Still, this unit has the potential to be just as good as any defensive unit in the league (if they can figure out the cornerback position).
Final Grade: B+
Special Teams:
If Dave Fipp keeps it up, he'll be able to run for Mayor in Philadelphia and do so successfully. For years, this team has found ways to block field goals and return punts and kickoffs for touchdowns. They're not doing it in garbage time. They do it exactly when they're needed. They've been a spark over and over again and have often been the reason that the Eagles have pulled games out. Look no further than last year's game against the New England Patriots. The Eagles had never beaten Tom Brady before, but they did so last year, and it was primarily because of special teams play and an interception return by safety Malcolm Jenkins.
They've carried the trend into this year, and again, they've blocked field goals and returned kicks for touchdowns. Fipp and company have given new life to the phrase "three phases of the game". The Eagles have turned the special teams unit into a weapon. Now, they have to figure out a way to make them into a luxury and stop relying on them so much.
Final Grade: A+
The Coaches:
Head coach Doug Pederson has gone from a conquering hero to the village idiot. His style of play calling has being questioned. His decision making process, during the course of games, has everyone scratching their heads. He has to be given credit for the hiring of Schwartz, but he inherited Fipp so he can't be given kudos for that.
After a while, you have to start wondering what running backs coach Duce Staley and wide receivers Greg Lewis are doing. This team is consistently getting nothing out of their skill positions, and you have to wonder if giving offensive coordinator Frank Reich an opportunity to call plays might be an idea the team may want to consider.
Just take a look at the events from Sunday:
Defensively, the Eagles can be taken advantage of, but you have to say that Schwartz has done an awesome job so far. For the most part, this team has locked people down in the second half of games Chris Wilson has worked his magic, particularly with what appears to be an aging Connor Barwin and an injured Bennie Logan, but Ken Flajole could get a little more out of the linebackers. We're all kind of waiting on Jordan Hicks to break out, and though he's shown signs, we haven't seen the leap that we all expected.
You're more than welcome to look at the offensive line, particularly center Jason Kelce, and tell us if you think strength and conditioning coaches Josh Hingst and Keith Gray are doing their jobs or not.
Final Grade: C+
Total team effort:
So let's sum this all up. The Eagles got their guy at quarterback with the second pick in the draft, and even though he had a hot start, he's not immune to the growing pains of being a rookie. He's needed to rely on the veterans at the skill positions for help, and outside of Jordan Matthews and Darren Sproles, he's been let down more than he's been helped.
The play-calling has been spotty, a few of the coaches probably need to be replaced and, even though this team has been in position to win games late, they typically haven't. On defense, they're good but have a tendency to lose on the deep ball, and when they stop teams on third down, occasionally they'll commit a penalty that will extend the drive and lead to a touchdown.
The special teams unit is extraordinary, but unfortunately they don't play for the majority of the game. That eliminates one of the biggest chances this team has to score. Overall, this team is what we thought in the beginning. They're a .500 team through the first half of the season, and even though games will be exciting and stressful, they may be a .500 team when the season concludes. Had it not been for a surging Cowboys team, that might have been enough for a division crown. Other than that, everything's just fine.
Sunday kicks off the second half of the season. We'll just have to wait and see what happens.
Next Opponent: Atlanta Falcons
Overall Team Grade: C-
This article originally appeared on