The Path to the (other) Title: Seahawks Week 14 DVOA Preview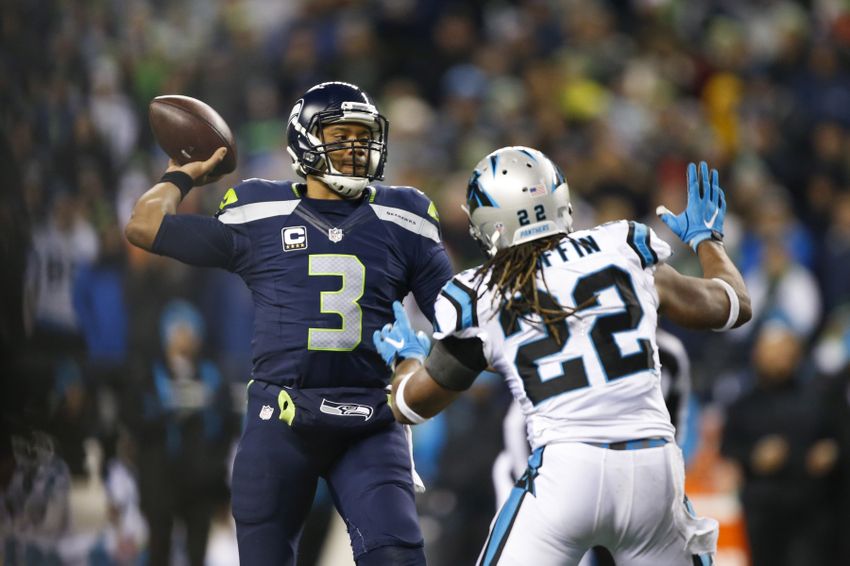 The blowout win over Carolina pushed Seattle up to 3rd in DVOA, but now they face a tough test on the road in Green Bay.
After a dumbfounding loss to Tampa Bay, the Seahawks came out and TOTALLY REDEEMED THEMSELVES against Carolina last weekend. I consider the Carolina Panthers to be a rivalry game so whooping them by 33 points warmed my heart. The continued emergence of the running game was also great news for the likelihood of winning both the NFL and DVOA titles.
What was NOT helpful was the loss of Earl Thomas. As this topic has been covered extensively, I will simply point you to three articles that cover everything you need to know: Danny Kelly's piece on replacing Earl Thomas with Russell Wilson, Kenneth Arthur's quick look at Steven Terrell, and our own Ben B's analysis of Steven Terrell's play in the Carolina game.
Ok, back to DVOA. Seattle moved up a spot to number 3, behind New England and Dallas. Philadelphia is the only team in the top-ten trending down, although Oakland will likely fall in next week's rankings after getting shellacked by the Chiefs on Thursday night.
There are quite a few key DVOA matchups this week as very team in the DVOA top-10, except Atlanta, is matched up with an opponent in the top half of the rankings, including three matchups of top-ten teams. Importantly, this is also the last game Seattle has in the regular season against a team even in the top-20 of the DVOA rankings (Green Bay is #12).
Week 14 Matchup
Like many NFL teams this year, Green Bay is an unbalanced team. Their strength is their offense, more specifically their passing game. With Aaron Rodgers at quarterback this isn't too surprising, but their putrid run game is probably more to blame for the lack of offensive balance than mere philosophy. An incredible six different players have led the Packers in carries at least once this season: Eddie Lacy, Aaron Rodgers, Ty Montgomery, Aaron Ripkowski, James Starks, and Christine Michael.
I expect Michael will get the bulk of the carries in this "revenge" game, but probably won't turn that into much production. The Seahawks defense is healthy everywhere except for free safety (single tear rolls down cheek) and have shut down better rushing offenses all season.
The most obvious concern in the passing game is the deep ball, specifically on seam and post routes where Earl Thomas once roamed. Jordy Nelson is Rodger's best, and most trusted, deep threat so watch for him to test Terrell in this game. Post-hype fantasy breakout wide receiver Davante Adams has great games against mediocre cornerbacks and disappears against the best so I don't expect much from him on Sunday.
I'm actually picking Randall Cobb and Jared Cook to be the biggest pains in the arse for the Seahawk defense. Sure, Green Bay may try a few extra deep shots with Thomas out, but I don't think they are going to fundamentally change their offense that's built mostly around short and intermediate range quick passes just because Earl Thomas is out.
More than Thomas's deep speed, I think Seattle will miss his uncanny ability to read and react to plays happening in front of him. How often have you seen Earl suddenly streak in from off-screen like a missile to break up a pass or tackle a receiver/runner for minimal gain? If Terrell cannot replicate even some of that, we may see a lot more yards-after-the-catch from players like Cobb and Cook over the middle.
Defensively, Green Bay is far stronger against the run than the pass. This would point to a Wilson game over a Rawls game, but I'm not sure it's that straight forward. Recently, the Packers have started to weaken against the run, likely due to an ever-growing injury report. Do they even have any healthy linebackers left?
A cold and snowy game may also favor Rawls' punishing style. I imagine it will be difficult to tackle a 220 pound frozen bull running at full speed 20 plus times. All this to say I think Seattle can be effective running and passing the ball against Green Bay.
Prediction
This is a very difficult game for me to predict. I think the matchup is in Seattle's favor, but this is a huuuuuuge game for Green Bay's playoff hopes and Aaron Rodgers home record in December is nearly flawless. Of course, this game is also pretty important for Seattle's hopes of holding onto a first round bye in the playoffs. It's also their last, best chance to impact their DVOA ranking against a quality opponent.
So, while a large part of me thinks Seattle could blow-out the Packers I'm going to try and suppress those thoughts a little. Instead, I'm going to say this is a game where Rodgers and company frustratingly convert a ton of 3rd downs and keep the game close in sloppy winter conditions. Seattle thwarts a Rodgers 4th quarter comeback attempt and eventually wins 31-22.
More from 12th Man Rising
This article originally appeared on