The Nick Vannett injury could be bigger than you think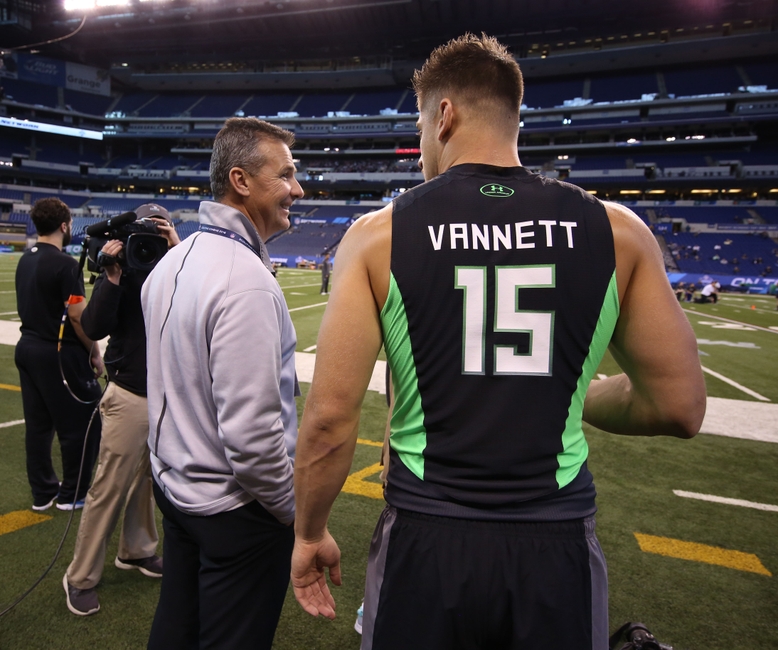 Rookie TE Nick Vannett was expected to play a key role in the Seahawks blocking scheme. His injury puts his status for the beginning of the season in doubt.
Over the offseason, the only injured Seahawks tight end who was a center of discussion was Jimmy Graham. But the former All Pro coming off a ruptured patella tendon might not be the most important tight end battling injury at the moment.
Rookie third round draft pick Nick Vannett is nursing a high ankle sprain suffered in the second preseason game against Minnesota. Pete Carroll said it's unlikely he'll be ready for the regular season opener, and his absence may last longer than that.
High ankle sprains can take 6-8 weeks to heal, depending on the severity.
So why is a rookie tight end, who wasn't even going to be a starter, so important?
Vannett has the makings of a solid all-around tight end, but what made him such an attractive option in the third round this year was his blocking ability. General manager John Schneider said Vannett was far and away the best blocking tight end in the 2016 draft.
And here's why that's so important. The Seahawks offensive line issues are well documented, and in particular the left tackle position is in the hands of Bradley Sowell, a career backup before signing with Seattle this offseason. Vannett could help as an extra lineman of sorts on obvious passing downs, much like Zach Miller did during his time here.
Vannett can also help in the running game. At Ohio State he was often used lined up as a fullback or H-back, helping blow open holes for All American running back Ezekiel Elliott. The Hawks may have been counting on this, electing to go through all of camp without an established fullback on the roster. It's probably no coincidence that shortly after Vannett went down, the team re-signed veteran FB Will Tukuafu.
The silver lining could be the emergence of Brandon Williams. An under-the-radar free agent signing this off season, Williams has had a good preseason and is nearly on Vannett's level as a blocker. It would appear he's got a good shot at a roster spot now, at least until Vannett is back.
The Seahawks face some good front 7's in the early going with matchups against Miami and the LA Rams looming especially large. Let's hope Vannett's ankle gets better soon, or someone steps up in his absence.
More from 12th Man Rising
This article originally appeared on