The Latest: Saints defense healthiest yet with Byrd active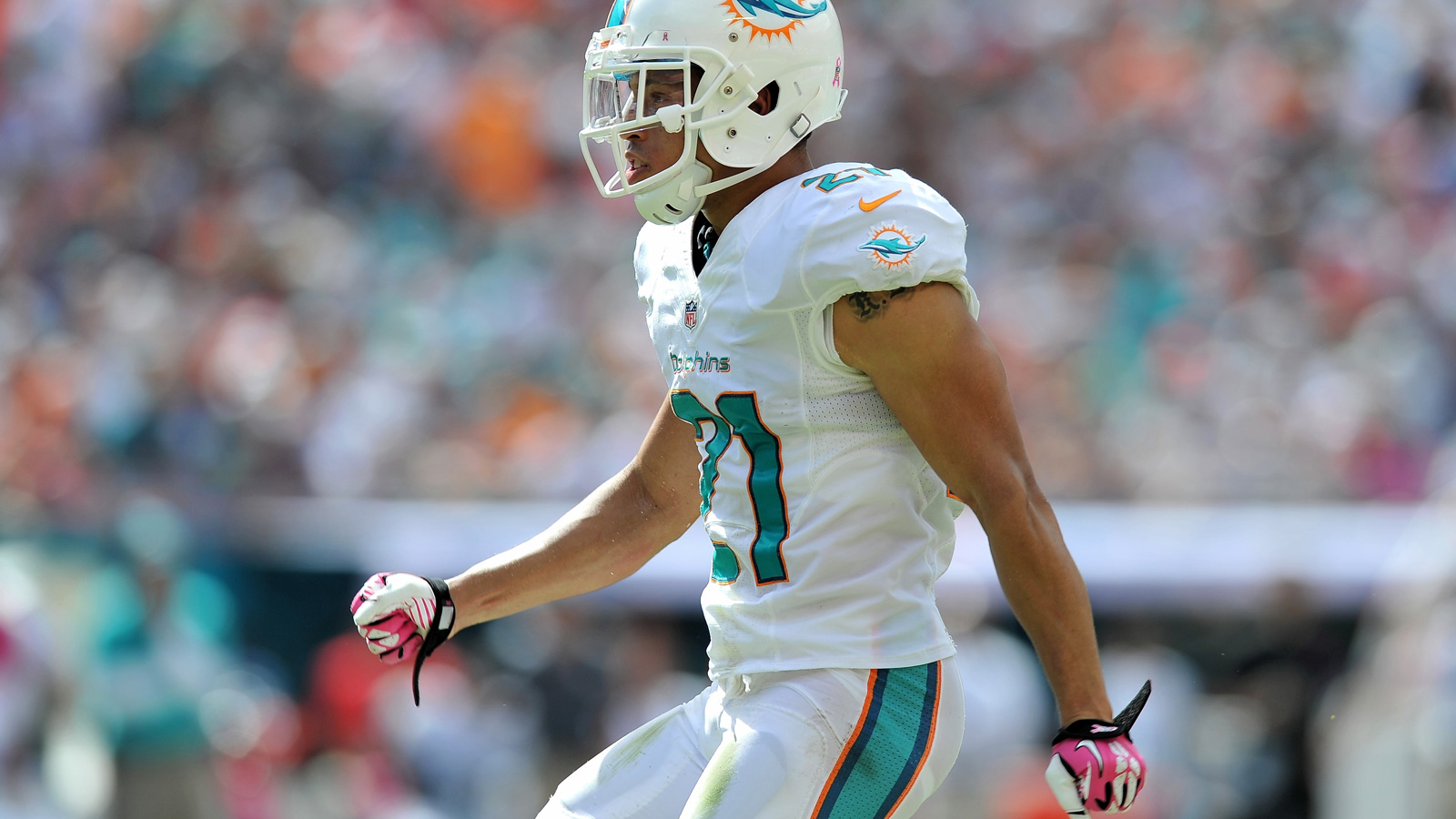 The latest from NFL games around the league on the fourth Sunday of the season (all times EDT):
7:35 p.m.
The New Orleans Saints defense is its healthiest yet for Sunday night's game against the Dallas Cowboys.
Free safety Jairus Byrd, cornerback Keenan Lewis and linebacker Dannell Ellerbe have been activated for the first time this season.
Byrd was the Saints' top acquisition in free agency in 2014, but played only four games last season before a knee injury sidelined him for the rest of the season. After returning for offseason practices, complications led the Saints to keep him on the physically unable to perform list during training camp.
Lewis, a starter, returns from a hip injury that occurred in New Orleans' third preseason game.
Ellerbe, who joined the Saints in a trade with Miami, hurt his toe in the Saints' preseason opener.
—
7:15 p.m.
A man from Springfield, Missouri has been pronounced dead at a Cincinnati hospital after he collapsed during the Bengals' 36-21 win over the Chiefs. A Bengals spokesman says the man had some type of pre-existing condition and collapsed in a restroom at Paul Brown Stadium during the game. He was taken to Christ Hospital, where he was pronounced dead.
The man's identity isn't being released until his family is notified.
– Joe Kay reporting in Cincinnati
—
7:00 p.m.
Bottled up most of the day, Adrian Peterson finally broke loose – just when the Vikings need him most.
On fourth-and-1, Peterson burst through the line untouched for a 48-yard score to slice the deficit to 20-17 with 10:01 remaining.
Before that run, Peterson had 14 carries for 34 yards.
– Pat Graham reporting from Denver
—
6:40 p.m.
Rams starting inside linebacker Alec Ogletree was carted off the field with just over five minutes left in the third quarter with an injury to one of his ankles. His return was announced as questionable.
– Bob Baum reporting from Glendale, Arizona
—
6:30 p.m.
Clay Matthews gave 49ers quarterback Colin Kaepernick a little bit of a show following an 8-yard sack in the third quarter.
The dramatic Packers linebacker did what Kaepernick likes to do when things go well: a celebratory kiss on his right biceps muscle.
– Janie McCauley reporting from Santa Clara, California
—
6:20 p.m.
It's the third quarter and no sign of Johnny Manziel. That's because Josh McCown has done a good job of keeping the Browns in this one against the Chargers.
McCown threw a 34-yard touchdown pass to running back Duke Johnson Jr. in the first half and then had a 53-yard completion on a swing pass to Isaiah Crowell to set up Travis Coons' 33-yard field goal for a 16-13 lead.
It helped that Brandon Flowers tried to knock Crowell out of bounds instead of wrapping him up. Some Cleveland fans think Manziel should be starting but he likely won't get into this game unless McCown gets hurt.
– Bernie Wilson reporting from San Diego
—
6:15 p.m.
On paper, it seemed like Green Bay at San Francisco would be one of the highest scoring NFL games of Week 4. Not so after 3 1/2 quarters.
The Packers have scored two touchdowns and the 49ers only a field goal in what could be the lowest scoring game of the afternoon if things don't change.
Sports books in Las Vegas picked this game to be the highest scoring game of Sunday, with an opening total of 47 1/2 points.
—
5:30 p.m.
Ronnie Hillman took a pitch from Peyton Manning and zoomed right into the Denver Broncos record books.
Hillman broke free for a 72-yard TD run Sunday against Minnesota, which is tied for the fourth-longest scoring romp in Denver history. The longest belongs to Gene Mingo, who galloped 82 yards for a TD against Oakland on Oct. 5, 1962.
Watch out, C.J. Anderson, Hillman may be closing in on your starting job. Anderson has three carries for seven yards on the afternoon. Hillman? One for 72 – a pretty good average.
– Pat Graham reporting from Denver
—
4:20 p.m.
The Seattle Seahawks have downgraded running back Marshawn Lynch and defensive tackle Brandon Mebane to out for the game Monday night against the Detroit Lions.
Seattle announced the status changes following the team's walkthrough practice on Sunday. Lynch and Mebane had both been listed as questionable after Saturday's final practice.
Lynch injured one of his hamstrings late in the first half of Seattle's 26-0 win over Chicago last Sunday. Lynch was hurt catching a fourth-down pass just before halftime. Seattle coach Pete Carroll said Lynch had an MRI on the injury earlier this week but did not elaborate. It will be just the second game Lynch has missed since joining the Seahawks in 2010 and the first since the 2011 season.
Rookie Thomas Rawls, who rushed for 104 yards last week in Lynch's absence, will likely get the start against the Lions.
Mebane suffered a groin injury against the Bears and did not practice all week.
Seattle also added linebacker Bruce Irvin to the injury report with an ankle injury. He is questionable.
—
4:15 p.m.
Cairo Santos makes his club-record seventh field goal, a 51-yarder that raises a few eyebrows. The Chiefs went for the field goal instead of trying for a touchdown with 2:34 left. Santos' kick cut the Bengals' lead to 36-21.
Santos is the sixth kicker to make seven field goals in a game. Tennessee's Rob Bironas holds the NFL record with eight field goals in a game in 2007.
– Joe Kay reporting from Cincinnati
—
3:45 p.m.
Colts kicker Adam Vinatieri added to his milestone day becoming the first player ever to score 1,000 points with two teams.
Vinatieri hit two field goals from 54 and 32 yards and one extra point against the Jaguars, giving him 1,001 points as a member of the Colts. Heading into the game Sunday, Vinatieri had 994 points. Vinatieri was already one of two players in the NFL to score 800 or more points with two teams.
Vinatieri also moved past John Carney to be fourth all-time for field goals made. Vinatieri is now the Colts' all-time leading scorer after passing Mike Vanderjagt, who had 995 points.
– Corey Elliot reporting from Indianapolis
—
3:25 p.m.
Kansas City's Cairo Santos has tied the club record with his fifth field goal. He's connected from 22, 40, 51, 24 and 40 yards. It's the ninth time a Chiefs kicker has made five in a game. The Bengals lead 21-15 late in the third quarter.
– Joe Kay reporting from Cincinnati
—
3:15 p.m.
Eagles quarterback Sam Bradford limped off the field in the third quarter after one of his offensive linemen appeared to roll over his lower right leg on a third-down incompletion.
Bradford is getting his right ankle taped by a trainer on the sideline.
Team officials say he'll return to the game.
– Howard Fendrich reporting from Landover, Maryland
3:05 p.m.
Devonta Freeman is sure taking advantage of his chance to start for the Atlanta Falcons.
With rookie Tevin Coleman sidelined by a rib injury for the second straight game, Freeman has emerged as a key weapon in the Atlanta offense. He rushed for 141 yards and three touchdowns in last week's victory at Dallas, and he has three touchdowns so far Sunday against the Houston Texas.
Freeman broke off a 16-yard run for the Falcons' first TD, and tacked on a 23-yarder in the opening minute of the second quarter. He had a 6-yard touchdown in the third quarter.
Freeman has 70 rushing yards midway through the third quarter, plus five catches for 81 receiving yards.
The unbeaten Falcons are seeking only the fourth 4-0 start in franchise history.
– Paul Newberry reporting from Atlanta
—
2:32 p.m.
Kansas City's Sean Smith is back from his three-game suspension for violating the NFL's substance abuse policy, and he's having a tough time of it against the Bengals. The Chiefs' top cornerback is guarding A.J. Green, who has six catches for 78 yards in the first half. Green is coming off a 10-catch, 227-yard game at Baltimore.
No surprise that the Bengals lead 14-12 at halftime. They've outscored opponents 66-18 in the first half of games this season and haven't allowed a touchdown.
– Joe Kay reporting from Cincinnati
—
2:30 p.m.
The Redskins' defense is pitching a shutout so far against the Philadelphia Eagles – the first time since 1997 that Washington held opponents scoreless in the first half of consecutive home games.
Eagles kicker Caleb Sturgis missed a 33-yard field goal try on the last play of the first half, leaving the Redskins ahead 13-0.
Philadelphia's offense came in struggling, and Sunday has been no different so far. The Eagles' first three possessions each ended with a punt, the fourth ended with a fumble, and the fifth – after a 45-yard punt return by Darren Sproles – ended with Sturgis' miss.
Eagles quarterback Sam Bradford is 5 for 10 for 74 yards. He's been sacked three times.
In Washington's previous home game, a 24-10 victory over St. Louis in Week 2, the Redskins led 17-0 at halftime.
– Howard Fendrich reporting from Landover, Maryland
2 p.m.
With three catches for 24 yards in the first quarter against Buffalo, Giants receiver Odell Beckham Jr. set the NFL record for most yards receiving through his first 16 games.
Beckham reached 1,598 yards receiving thanks to an 8-yard catch with 6:39 left in the first quarter. That's 5 more yards than the previous record set by Houston's Bill Groman over the 1960-61 seasons.
For the Bills, starting left tackle Cordy Glenn was escorted to the locker room after hurting his left ankle. His return is considered questionable. Buffalo is already missing starting left guard John Miller (groin).
– John Wawrow reporting from Orchard Park, New York
1:45 p.m.
We have a DeMarco Murray sighting.
The Philadelphia Eagles running back weaved his way to a 30-yard gain on his first carry Sunday against the Washington Redskins – by far his longest run of the season.
Murray, who led the NFL in rushing for the Cowboys last season then signed as a free agent with the Eagles, entered this game with a grand total of 11 yards on 21 carries this season in two games. His best effort had been worth all of 9 yards.
He missed last week's game with a hamstring injury.
– Howard Fendrich reporting from Landover, Maryland
—
1:40 p.m.
A 54-yard field goal in the first quarter Sunday against the Jaguars gave Colts' kicker Adam Vinatieri a leg up in the record books.
With the field goal, Vinatieri moved up in both the NFL and Colts record books. Vinatieri passed John Carney for sole possession of fourth place in NFL history in field goals made. It also put him ahead of Mike Vanderjagt for most points scored in Colts history. Vinatieri currently has 997 points.
One more field goal on Sunday will make him the first player in NFL history to score 1,000 points with two teams. He is one of two players in the NFL to score 800 or more points with two different teams.
– Corey Elliot reporting from Indianapolis
—
1:25 p.m.
Top overall draft pick Jameis Winston is off to a tough start, losing a fumble on Tampa Bay's second play against Carolina and having his first pass intercepted and returned for a touchdown.
The fumble – on a snap in the rain – set up a field goal. Josh Norman's interception and 46-yard return up the left sideline gave the Panthers a 10-0 lead.
– Fred Goodall reporting from Tampa Bay, Florida
—
1:20 p.m.
New York Giants left tackle Ereck Flowers aggravated an ankle injury on the opening drive and his return is questionable.
Flowers was limited in practice this week and was listed as questionable on Friday. Justin Pugh shifted from left guard to play left tackle, while John Jerry entered the game to fill Pugh's spot.
– John Wawrow reporting from Orchard Park, New York
—
1:15 p.m.
Chicago Bears center Will Montgomery has hobbled off the field with a left ankle injury on the team's first drive against Oakland.
Montgomery was blocking on a running play when teammate Charles Leno Jr. dove into the back of his leg.
The Bears say Montgomery will miss the rest of the game.
Matt Slauson slid over to center from left guard, and the Bears went on to score on a 7-yard touchdown reception by wide receiver Eddie Royal.
– Jay Cohen in Chicago
—
12:40 p.m.
Jets starting strong safety Calvin Pryor left the game against Miami in the fourth quarter.
He suffered an apparent knee injury after colliding with a receiver.
The Jets gave no immediate indication if he would return. He was replaced by Dion Bailey, who was recently picked up on waivers from the Seattle Seahawks.
– Shawn Pogatchnik reporting from London
—
12:15 p.m.
There's plenty of focus on Bills quarterback Tyrod Taylor as Buffalo (2-1) prepares to host the New York Giants (1-2).
Taylor has so far played up to the confidence head coach Rex Ryan had in naming him the Bills starter to open the season. After spending his first four NFL seasons backing up Joe Flacco in Baltimore, Taylor has shown few signs of jitters. After struggling through the first half of a 40-32 loss to New England two weeks ago, Taylor has combined to go 32 of 43 for five TDs, one interception and a touchdown rushing over the past six quarters.
He now has a chance to get Buffalo off to a winning record through four weeks for just the third time since 2000.
The Bills will be minus two key starters: RB LeSean McCoy (hamstring) and WR Sammy Watkins (calf).
– John Wawrow reporting from Orchard Park, New York
—
12 p.m.
Bears quarterback Jay Cutler gets the start against Oakland after he missed a 26-0 loss at Seattle last weekend with a hamstring injury.
Cutler got hurt in the first half of a 48-23 loss to Arizona on Sept. 20, and Jimmy Clausen threw for just 63 yards against the Seahawks. With sacks included, the Bears finished with 48 net yards passing, the second time since 1990 they finished with fewer than 50 net yards through the air.
Cutler will be without one of his favorite targets in wide receiver Alshon Jeffery, who is out for the third straight week with a hamstring injury.
For Oakland, safety Charles Woodson is active after he was listed as questionable with a shoulder injury.
– Jay Cohen in Chicago
—
11:40 a.m.
Colts quarterback Andrew Luck is inactive and will miss his first NFL game because of a right shoulder injury.
Backup quarterback Matt Hasselbeck will make his first start since 2012 on Sunday.
The injury forced Luck into limited action at practice this week. The move also makes sense because Indianapolis can give Luck a few more days of rest before visiting Houston on Thursday.
Despite taking more hits than any quarterback in the league over the past three seasons, according to STATS, Luck never wound up on the bench because of an injury. He started 57 consecutive games including the playoffs and has led the Colts to three straight 11-win seasons, three straight playoff appearances and back-to-back division titles.
– Mike Marot reporting from Indianapolis
—
11:35 a.m.
The Dolphins say the team's top cornerback, Brent Grimes, will miss the rest of the game with a knee injury sustained in the first quarter. Grimes came up limping after failing to make a tackle on Jets wide receiver Brandon Marshall, who scampered for 22 yards on the third-down play.
Dolphins backup linebacker Chris McCain also was out with a hip injury, but his return was listed as probable.
Outside linebacker Jelani Jenkins returned to the game after leaving with stinger symptoms after a hit to one of his shoulders.
– Shawn Pogatchnik reporting from London
—
11:20 a.m.
Ryan Fitzpatrick threw for 172 yards and a touchdown to give the New York Jets a 20-7 lead over the Miami Dolphins at halftime at Wembley Stadium.
Fitzpatrick hit Eric Decker from 10 yards out with 37 seconds to go in the first half for New York's second touchdown. The first came on the team's first series, when Fitzpatrick threw to Brandon Marshall for 58 yards on the first play and Chris Ivory ran it in two plays later from the 3.
Nick Folk converted both extra points and added a pair of field goals.
The Dolphins got their only score with a little help from New York's secondary.
Miami quarterback Ryan Tannehill threw deep to Jarvis Landry in the second quarter, and Darrelle Revis was called for pass interference, giving the Dolphins 36 yards.
On the next play, Tannehill threw to Jordan Cameron, but Marcus Gilchrist was whistled for another pass interference. That gave Miami another 22 yards.
Tannehill found Jake Stoneburner on the next play for 8 yards and a touchdown to make the score 13-7 midway through the second quarter.
– Chris Lehourites reporting from London
—
AP NFL websites: http://pro32.ap.org and http://twitter.com/AP-NFL