The House of the Rising Son: Raider Nation Took New Orleans, And I Lived To Tell About It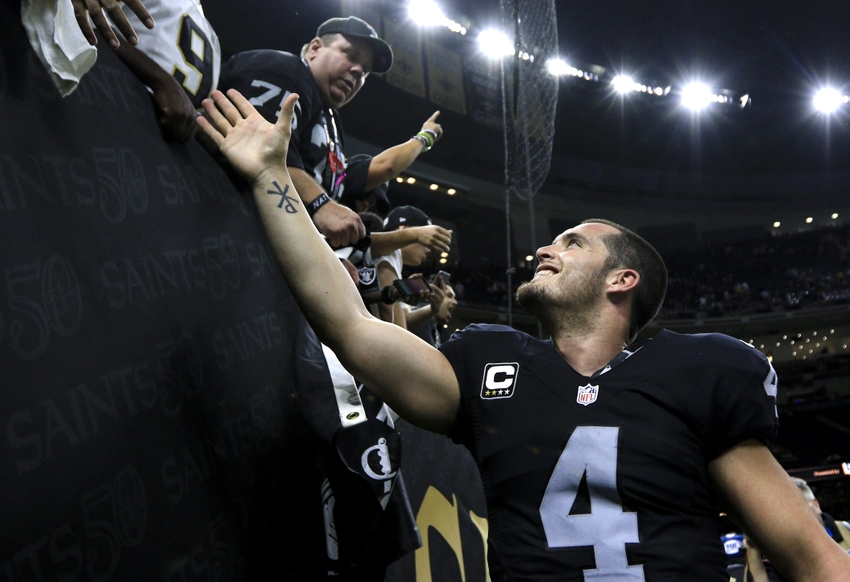 JBB Staff Writer Ryan Prime attended the Oakland Raiders regular season opener in New Orleans, and shares his experience from the game.
While its origins are still a heavily-debated point of contention, it is almost universally agreed that the descriptor of "Nation", as applied to the Raiders' raucous and ever-passionate supporters, was first used in reference to both the fan base's ability to travel en masse to its team's away games, as well as having a substantial organic grassroots foundations in locales that stretch far outside of the boundaries of California.
Put more simply, there are a hell of a lot of Raiders fans everywhere.
If you love this team, that's a fact that you can acknowledge and admire without needing much thought, especially if you take the time to interact with fellow members of the Nation on social media. There are proud and poised representatives from Canada to Florida, and even overseas in the United Kingdom. It's no secret that the culture and rich history of the franchise has resonated globally over the course of time.
That said, you can't truly or fully understand this phenomenon until you see it for yourself, live, loud and in the flesh. I was afforded the opportunity to do that this weekend, and damn if it wasn't sweeter than a Marcus Allen cutback.
Never mind that as a native and resident of Houston, Texas, I'd had a couple chances to see my team do battle in person over the past few years (four times since 2004, to be exact). Alas, circumstances prevented me from being present for the "ten-men-plus-Al's-Ghost" interception to seal an emotional 25-20 victory the day after Mr. Davis' passing back in 2011. Likewise, bad planning led to my watching Matt McGloUp's first pro start (and only win) with the team from my couch in 2013.
So when it was announced back in December of last year that the Saints were on the schedule for the Raiders as a road game, I knew that, barring my untimely demise, there was absolutely no way I wouldn't be there. Louisiana is just as much home for me as Texas is, and with a diehard Saints fan/season ticket holder for a cousin, all I really had to do was show up.
On Sunday morning, I popped up like a kid on Christmas, trading in my Raiders jammies for my "Just Win Baby" t-shirt and a skull-mouthed bandana. Me and my familial cohorts, a motley group of Raiders and Saints fans alike, watched in fascination as the NFL Network's GameDay panel unanimously selected us to leave the Superdome victorious that afternoon.
— Barlo$ Borrea (@primetimeRYNE) September 11, 2016
This opening day just carried a different buzz of energy; football was back, my Raiders were back, expectations were high, and I was going to get to witness the blossoming of this new generation of pirates at almost point-blank range.
That feeling only amplified as we descended upon downtown New Orleans towards the stadium. Derek Carr and Khalil Mack jerseys were in abundance, as well as your old-school staples like Snake Stabler and Howie Long. I'd seen the pictures of Raiders fans flocking in large quantities throughout the French Quarter on Twitter days prior. Being amongst the pillagers, however, was a new, fresh type of exhilarating.
Walking up the concourse, I traded fist bumps with fellow members of the Nation, and friendly barbs with the Saints fans who thought they should have something to say about my allegiance. As echoes of the vaunted "RAAAAAAAAAAIIIIIIIIIDDDDDDERRRRRRRRRSSSSSS" reverberated across the terrain, our hosts seemed genuinely taken aback that we'd shown up in such a prominent and boisterous fashion.
We took our seats, and I was more than delighted to see so many Raiders fans in our section. I even bumped into some homies from SoCal that I'd met back during my first trip to Oakland in 2014. The atmosphere was absolutely electric, everybody was amped and on their feet. It was go time.
Absolut-ly outchea pic.twitter.com/bNShNjGx1X

— Barlo$ Borrea (@primetimeRYNE) September 11, 2016
The Raiders won the toss, and elected to defer, which was completely fine by me, as I'd been anxiously anticipating the matchup between their offensive line and our pass rush. True enough, things escalated rather quickly, as Bruce Irvin made his impact felt immediately, swiping the ball from Drew Brees on a third-down drop back.
The Nation roared with fierce enthusiasm.
That momentum would be halted by our subsequent offensive stagnation. Maybe it was play-calling, maybe it was execution — however you choose to parse it, it simply wasn't good. Even then, morale was still sound when the Raiders managed to put a score via some Carr-to-Coop connections and a Latavius Murray rushing TD.
But then, the Saints started to pour it on in the form of big plays to receivers Willie Snead and Brandin Cooks, both of which gave our supposedly-improved (and certainly well-paid) secondary fits (New Orleans also received the benefit of some questionable DPI calls, but that's another story for another day).
Between the second and third quarters, The Nation's morale dipped, to the point where I shelled out ten bucks for a 16-oz can of Coors Light, just to brace myself for the worst. No offense to anybody who drinks Coors Light, but usually, I love myself a little bit more than that.
Even more frustrating was the fact that the high-octane offense that'd been advertised all offseason wasn't providing much in the form of production or creativity, and simply could not manage to establish any consistent rhythm. Maybe we can take a closer look at the "why" behind Musgrave's ineffective screen plays in a later discussion, but I wasn't ready to process those thoughts in the moment. I was more interested in suggesting fade routes as an alternative, if you catch my drift.
I'll concede that it was probably for the best that the bounty I'd put on Bill's head wasn't met. The offense waited until the fourth quarter to really open it up and start clicking, and certainly not a second too soon. We finally got to a glimpse of what this unit is truly capable of, as they put up 22 points in the final frame.
Coop and Crab both made the phenomenal plays we've come to expect from them weekly, and of course, undrafted rookie favorite Jalen Richard dazzled, emphatically justifying his roster spot.
As the clock crept downward and the Raiders continued to press the issue, the cool, jazzy confidence of Saints fans began to slowly seep out of the building, gradually replaced by a budding nervousness. They were more than ready for this game to be over. Raiders fans felt like it was finally beginning.
All eyes were on Number Four as he calmly directed his team down the field during the final drive, and the air was thicker than the smoke in a room during an Aldon Smith fire-up session. The entire building was on their feet, ebbing and flowing with each snap.
After Carr found the decidedly-clutch Seth Roberts over the middle to pull within one with forty-eight second left, through high-fives and hugs, I watched him rise from a knee and put up two fingers.
"Oh, wow," I said, matter-of-factly. I'd be lying if I said my initial reaction wasn't a quiet internal revolt, much preferring the comfort of simply kicking the field goal, with the fans around me verbally expressing the same sentiment.
But after about ten seconds to process it, I was content with the decision. "If we can't win it here, we probably can't win it," I thought. With a Raider brother on either side of me, we huddled together and watched with bated breath as the Raiders lined up five-wide for the ensuing two-point conversion attempt.
This game was very reminiscent of two contests from 2015: the home stand against the Ravens in Week 2, and the thriller versus the Steelers in Week 9. There are a lot of similar elements and themes between these three games, some that are more comfortable as trends and characteristics than others. But the major underlying point here is that this team is quickly building an impressive resume as a battle-tested squadron, increasingly comfortable in the face of adversity. And that's never a bad thing.
Moreover, seeing and feeling the presence of the Nation in an away setting — especially one with its own passionate, die-hard loyalists like New Orleans, where you can hardly go anywhere at any time of year without seeing a black-and-gold fleur de lis — fits neatly as a larger metaphor for what reasonable expectations for this season can really be. Show up, show out; be bold and let 'em know you're here, and you're for real.
— Barlo$ Borrea (@primetimeRYNE) September 11, 2016
Overall, much love (as always) to the N.O., where it's almost impossible for me to have a bad time. Saints fans were spectacular and extremely hospitable, minus the one bloke who angrily declared to me that Raiders were "trash" and would not win a game for the rest of the season, as he stormed out of the stadium. My heart truly goes out to him. I know that pain all too well.
It'll probably be eight years before the Raiders return to the Crescent City, so if you haven't yet made that trip, I'd suggest you start pinching your coins now, in the event a Trump-led America isn't a war-torn nuclear wasteland by then. It's definitely an experience you'll want to have crossed off of your bucket list.
With that, it's on to Oakland for the opener. See you there.
More from Just Blog Baby
This article originally appeared on