The Dime Package: 10 Thoughts from NFL Week 13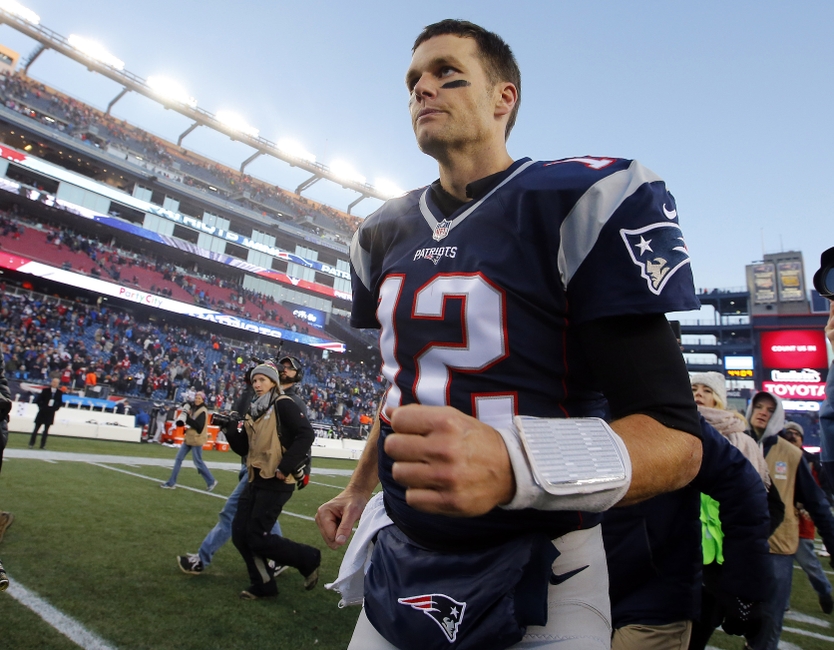 Tom Brady's 201st win as quarterback of the New England Patriots highlighted Week 13 in the NFL.
With only Monday Night Football between the Indianapolis Colts and New York Jets to be played, put a fork in NFL Week 13. Now we have just four more weeks of games until the playoffs begin, which really gives you an indication of how quickly this season is flying by.
Even though that's the case, we're all still learning and adapting as fans. There are plenty of teams that we think are good that disappoint us and then others that we think are lackluster that prove us wrong. It's been a cycle all season long and it's still going at this point. Perhaps the only constant is Tom Brady and the New England Patriots.
Here is The Dime Package for NFL Week 13, offering 10 thoughts on Sunday's action:
1. Tom Brady is now officially the winningest quarterback in NFL history with 201 career wins. Brady surpassed Peyton Manning after Sunday's 26-10 win over the Los Angeles Rams. Brady downplayed the accomplishment as usual but it was a big deal. The Patriots are now 10-2 on the season.
2. Hey, maybe the Detroit Lions are for real. I know a win in New Orleans isn't as big a deal as it used to be, but they picked off Drew Brees three times and the defense was exceptional. In a season where the Cowboys are grabbing all of the headlines in the NFC, the Lions are quietly flying under the radar at 8-4.
3. The Philadelphia Eagles proved yesterday that they are not a playoff team after getting lambasted by the Bengals 32-14. The Bengals have struggled all season long offensively and were once again without A.J. Green and Giovani Bernard. Giving up 32 points to a depleted offense like that is embarrassing.
4. Don't look now, but the Green Bay Packers have won two in a row. They still have a shot at winning the NFC North but with the Seahawks coming to town next week, their chances of winning the division are still slim to none!
5. I am officially back on the Kansas City Chiefs bandwagon after back to back wins on the road  against the Denver Broncos and Atlanta Falcons. Andy Reid and his team have responded nicely after a brutal home loss to the Bucs two weeks ago.
6. So much for the Miami Dolphins being a playoff contender in the AFC, huh? They got smoked by the Ravens yesterday, 38-6. Miami's defense was awful but the offensive line was even worse.
7. The Washington Redskins losing to an inconsistent Cardinals team was a head-scratcher. But after a heartbreaking loss to the Cowboys on Thanksgiving, it's not that much of a surprise.
8. I'm not quite ready to proclaim that I believe in the Tampa Bay Buccaneers, but I'm getting there.
9. Odell Beckham Jr. and Antonio Brown hanging out on Saturday night before their game really bothers me. I don't care that they are buddies. They should be competitors the night before a game, not hanging out!
10. Tie or no tie for Cam Newton, the Carolina Panthers would have still gotten blown out. They are just not the same team they were last year.
This article originally appeared on