The Dallas Cowboys fall to Giants: Thoughts and Analysis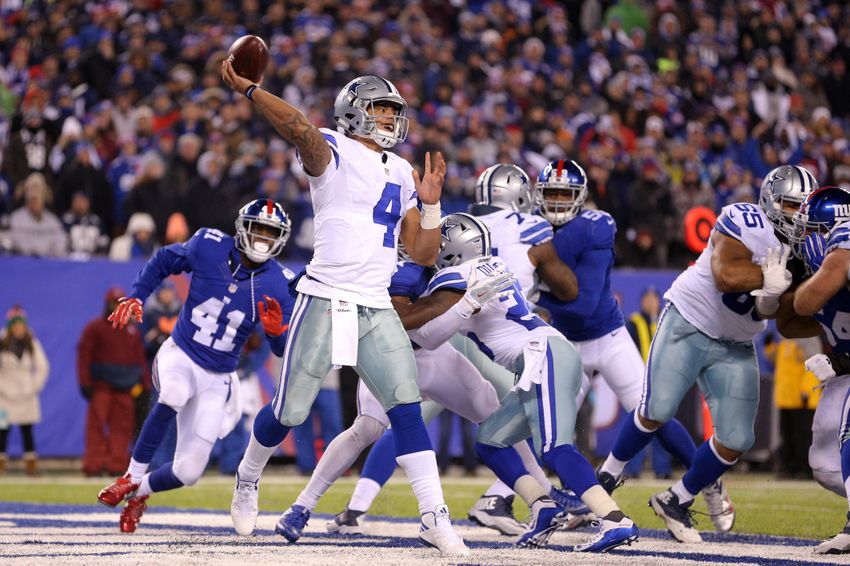 Following a disappointing loss to a division rival, we examine what went right and what went wrong for the Dallas Cowboys on Sunday Night Football.
Well, the Dallas Cowboys have found their kryptonite.  And they wear blue.  After losing to the New York Giants in Week 1 of the regular season, the Cowboys reeled off 11 straight victories.  The Giants made sure it wouldn't be 12, defeating them for the second time this season.
The Cowboys had a lot riding on this game too.  With a win, they would have crowned themselves kings of the NFC East for the second time in three years.  They also would have secured themselves a first round bye thanks to a loss from the Seattle Seahawks.
As they say, on to the next one.  But first, let's look back and reflect upon this disappointing loss.
Thoughts
Weakside linebacker Sean Lee had himself a very impressive game.  He seemed to be all over the field.  He was a bright spot on a Cowboys defense that played very well against an offense that has its share of playmakers.  From what I picked up on, he did his best work against the run tonight.  It seemed he always found his well into the hole to make a stop.
The Dallas Cowboys struck gold in this draft, and no one really questions that.  Their excellent scouting paid off again, with rookie cornerback Anthony Brown recording his first career interception.  That was probably one of the best defensive plays I've seen in a long time.
Terrance Williams turned in an impressive performance judging from the eyeball test.  He did a good job of getting open and making sure he finished catches.  Cole Beasley looked like he had a nice game himself too.
Who would have ever thought that a missed field goal by Dan Bailey would end up killing these Cowboys?  Granted it was a 55-yard kick, which by no means is easy.  If it was just an inch shorter though…
Analysis
Dez Bryant did not look like himself tonight.  On some routes it looked like there was confusion between him and quarterback Dak Prescott on where he was supposed to be.  Particularly, on that deep post route, Dez seemed to slow down towards the end of the route, but Dak threw it deep.  That allowed Giants cornerback Leon Hall to make an uncontested interception.
The Cowboys offensive line played out of their minds tonight.  Facing such a good pass rush and as many blitzes as they did, it's hard to find a fault in their game.  There were several snaps in the run game where I was genuinely impressed with the athletic plays the interior lineman were making on the move.  Specifically, right guard Zack Martin managed to get himself through a gap just before Ezekiel Elliott, enabling him to make a key block that turned a 3 yard gain into 7.
Something was off with quarterback Dak Prescott.  Normally he thrives under pressure, but tonight he couldn't seem to get his feet under him.  The Giants had him off balance and under duress the entire night, and he just couldn't seem to get in a groove.
That's all I have without watching more in-depth game tape.  At 11-2, the Cowboys are still sitting pretty, so this loss shouldn't derail their season, but it is a little concerning that they've struggled against solid defenses two weeks in a real.  They'll have a chance for redemption next Sunday night against the Tampa Bay Buccaneers.
This article originally appeared on