The Dallas Cowboys are the NFL's Ultimate Road Warriors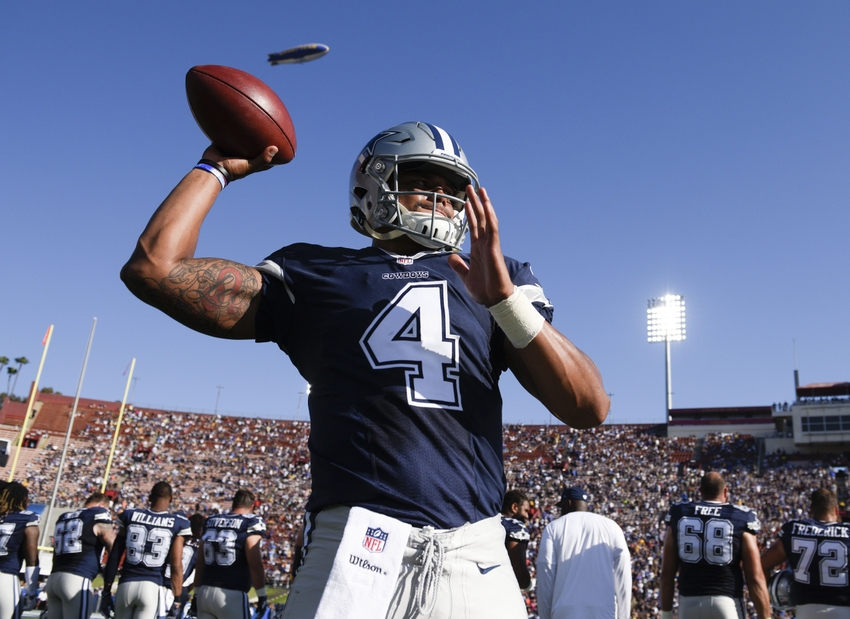 The Dallas Cowboys are on a 16-game road winning streak dating back to 2013 when their starting quarterback is under center.
Winning in the NFL is a hard thing to do.  Winning on the road is even harder.  Despite that, these Dallas Cowboys are almost unstoppable when playing behind enemy lines.  What makes them so deadly on the road?  Let's try to figure that out.
Coaching
It all starts at the top.  Cowboys head coach Jason Garrett has preached his philosophy of focus throughout his tenure in Dallas.  He strives to ensure that his squad only focuses on themselves and getting better.  Whether it be 2014's "Finish the Fight", 2015's "Nameless Faceless Opponent" or this seasons' "The Team.  The Team.  The Team", Garrett makes sure his guys approach each week with the right mentality.
And how could I even begin to write this article without my all time favorite Jason Garrett quote.
"Be your best regardless of circumstance. Be ready to play, whether it's home, road, parking lot or the moon."
Our head coach stresses playing the Cowboy's brand of football no matter the location.  Garrett has to be one of the biggest factors to his teams road success.
Rushing
If you're looking for another reason for their dominance on the road, look no further than rookie running back Ezekiel Elliott.  For the sake of being thorough, look to their offensive line as well.  One of the biggest challenges about playing in hostile territory is crowd noise.  It makes it hard to hear play calls, receivers have trouble hearing audibles at the line and it often forces offenses to resort to a silent count.
What's the best way to counteract crowd noise?  Fortunately, it's something that the Cowboys are very good at.  Pounding.  The.  Rock.  When push comes the shove, this dominant rushing attack is going to gain yards and wear down opponents.  A solid ground game keeps opponents on their heels, and helps to silence the crowd.  That in turn, opens up those easy throws for rookie quarterback Dak Prescott.
If the Cowboys can keep playing their brand of football and continue their team-first approach, they will be in good shape to turn in their second undefeated road season in three years.  The better news for fans, 6 out of the 8 teams that have gone undefeated on the road in NFL history have made it to the Super Bowl.  Does that mean these 'Boys are primed for a Super Bowl run?  Let us know what you think in the comments below.
This article originally appeared on