The Dallas Cowboys 5 Most Overpaid Players of 2016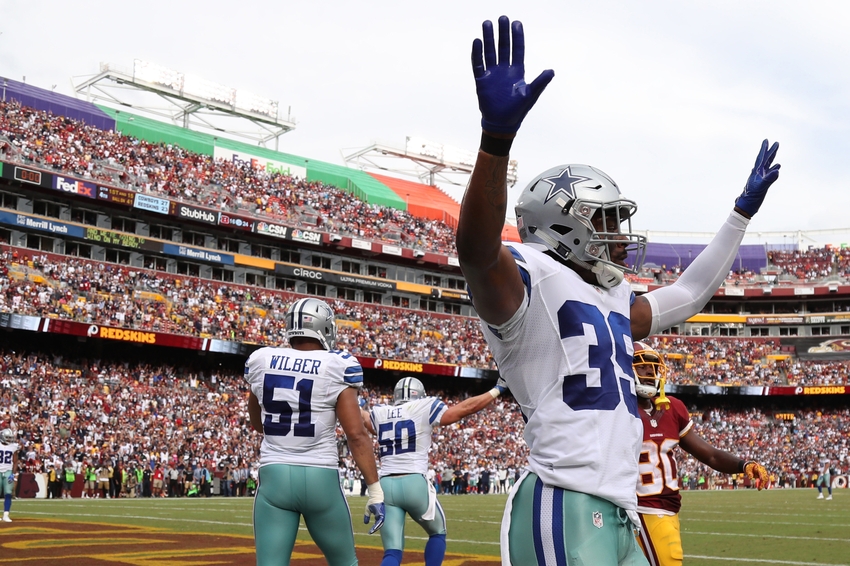 We attempt to rank the five most overpaid and underperforming Dallas Cowboys of 2016.
Admittedly, we are only three weeks into the NFL regular season. So coming up with a list of the Dallas Cowboys most overpaid and underperforming players may seem to be bit premature. But there are several Cowboys who are not living up to their lofty contracts and haven't been for some time. Therefore, our criteria for this ranking will not only consider their performance and pay scale for 2016 alone, but also their entire history with America's Team.
That being said, players who are out due to injury such as starting quarterback Tony Romo, will not be found on this list. Also omitted are newly signed players like defensive tackle Cedric Thornton and defensive end Benson Mayowa or rookies like running back Ezekiel Elliott.
Instead, the focus of this ranking will be on players who have had multiple seasons to prove they are worthy on their pricey deals…and have so far failed. Many of the names on this list Cowboys fans will know well…and likely loathe. We'll start with…
#5. Gavin Escobar, Tight End
2016 Stats: 0 Recs, 10 Total Snaps Played
2016 Base Salary: $979,158
2016 Cap Number: $1,339,703
2016 PFF Position Rank: N/A
Current Contract: Four-year, $4.21 million (2013)
2015 Stats: 8 receptions, 64 yards, 1 TD, 1 Fumble
Analysis: Ever since tight end Gavin Escobar was drafted in the second round of the 2013 NFL Draft, he's been seen as a bust with the Dallas Cowboys. In his first three seasons in Dallas, Escobar has never recorded more than nine receptions in a year. Disappointing for a player whose receiver abilities are considered his best attribute.
So far this season, Escobar has only played 10 total snaps in the Cowboys first three games. I'm sure Dallas would love to have him as a red zone target, but his poor blocking skills make him too much of a liability. Although his salary is a drop in the bucket when compared to others, his draft status, disappointing career and lack of play make him one of the team's most overpaid players.
#4. J.J. Wilcox, Safety
2016 Stats: 7 tackles, 1 pd, 1 FF
2016 Base Salary: $1,661,000
2016 Cap Number: $1,817,517
2016 PFF Position Rank: 39th
Current Contract: Four-year, $2.81 million (2013)
2015 Stats: 53 tackles, 3 pds, 1 INT, 1 Safety
Analysis: in 2013, the Dallas Cowboys took a chance on Georgia Southern's J.J. Wilcox, drafting him in the third round despite the fact he'd only played one season at the safety position. After two years of mediocre but improving play, Wilcox's development took a nosedive in 2015.
Ranked as one of the worst players at his position that year by Pro Football Focus, Wilcox entered 2016 as a possible roster bubble candidate. But the 25-year old surprisingly made it past final cuts as a back-up at the position and special teams player.
So far this season, Wilcox has made a couple key plays that stand out. One, a fourth quarter tackle on third down that gave the Cowboys a final shot of winning the game against the New York Giants in Week One. The other, a devastating hit that forced a fumble by Chicago Bears wide receiver Cameron Meredith in the third quarter on Sunday night.
Although I can certainly acknowledge Wilcox's contributions so far this season, his overall inconsistency, liability in pass coverage and poor tackling angles have hurt this team far too much in the past. His demotion as a stater this season and draft status make him one of the most overpaid players on the roster.
#3. Doug Free, Offensive Tackle
2016 Base Salary: $4,000,000
2016 Cap Number: $5,500,000
2016 PFF Position Rank: 60th
Current Contract: Three-year, $15 million (2015)
Analysis: When people talk about the Dallas Cowboys talented offensive line, the name normally mentioned last is right tackle Doug Free. And if it is mentioned, it's often to talk about his poor play. Don't get me wrong, at times Free is a competent tackle. Unfortunately, he's also likely the most inconsistent of all the Cowboys starting lineman.
It was only four years ago that Free was on the brink of being cut by the Cowboys. Having committed 15 penalties in 2012, the most by an offensive lineman that season in the NFL, the veteran was forced to take a pay cut in order to remain in Dallas.
Cut to only two years later and Free signs a three-year, $15 million deal with the Cowboys that includes $6 million guaranteed and a $4.5 million signing bonus. Currently ranked 60th among tackles in the NFL by Pro Football Focus, Free is likely the weakest link on the line. And his large salary cap hit makes every mistake and missed assignment seem that much larger and disappointing.
#2. Tyrone Crawford, Defensive Tackle/End
2016 Stats: 6 tackles, 1.0 sack
2016 Base Salary: $1,250,000
2016 Cap Number: $4,350,000
2016 PFF Position Rank: 96th
Current Contract: Six-year, $45.675 million (2015)
2015 Stats: 35 tackles, 5.0 sacks
Analysis: Several eyebrows raised when the Dallas Cowboys signed defensive tackle Tyron Crawford to a massive six-year, $45 million contract after three seasons of relativity little production. The argument for Crawford's signing at the time was the importance of locking up a quality three-technique tackle within defensive coordinator Rod Marinelli's scheme.
Poised to have a breakout season in 2015, Crawford underwhelmed recording a total of 35 tackles and a career-high 5.0 sacks. But the 26-year old was struggling with a shoulder injury all year and was playing through it.
With his health issues behind him, Crawford would be needed more than ever with three of the Cowboys possible starting front seven suspended for several games to start the 2016 regular season. Instead, Crawford has been a major disappointment. And the fact the Cowboys have now chosen to move him back outside to defensive end shows just how much they are struggling to get a pass rush.
Currently ranked 96th among all edge defenders, Crawford is absolutely playing way under his pricey contract. All signs are pointing to the fact the Cowboys paid him far too early. And at some point soon, they will likely be knocking on his door to take a pay cut to remain in Dallas.
#1. Brandon Carr, Cornerback
2016 Stats: 12 tackles, 3 pds, 1 int
2016 Base Salary: $4,250,000
2016 Cap Number: $8,434,000
2016 PFF Position Rank: 60th
Current Contract: Five-year, $50.1 million (2012)
2015 Stats: 76 tackles, 6 pds, 0 INTs
Analysis: Before agreeing to taking a pay cut this offseason, Dallas Cowboys cornerback Brandon Carr was scheduled to make a whopping $9.1 million in base salary in 2016. Despite the reduction in salary, Carr is undoubtedly still the Cowboys most overpaid player on the roster.
This is not news to Dallas fans. For years, the play of Carr and his massive contract have been a hot button debate issue throughout Cowboys fandom.
The biggest contention being the fact one of the highest paid cornerbacks in the NFL hadn't recorded a single interception in over two years. That streak was broken in Week One against the New York Giants this season in what was likely the easiest gimme takeaway in Carr's nine-year career.
The one positive you can say about Carr is at least he's available. The 30-year old has yet to miss a single game in his pro career. Although that's an amazing feat, Carr's inconsistent play has been a huge disappointment during his time in Dallas. And his large paycheck only amplifies that disdain.
The unfortunate thing is the fact Carr has played beneath his contract for so long, there is likely little he can do from becoming one, if not the worst free agent signing in Dallas Cowboys history.
This article originally appeared on