The Cowboys might have fewer Pro Bowler's than you think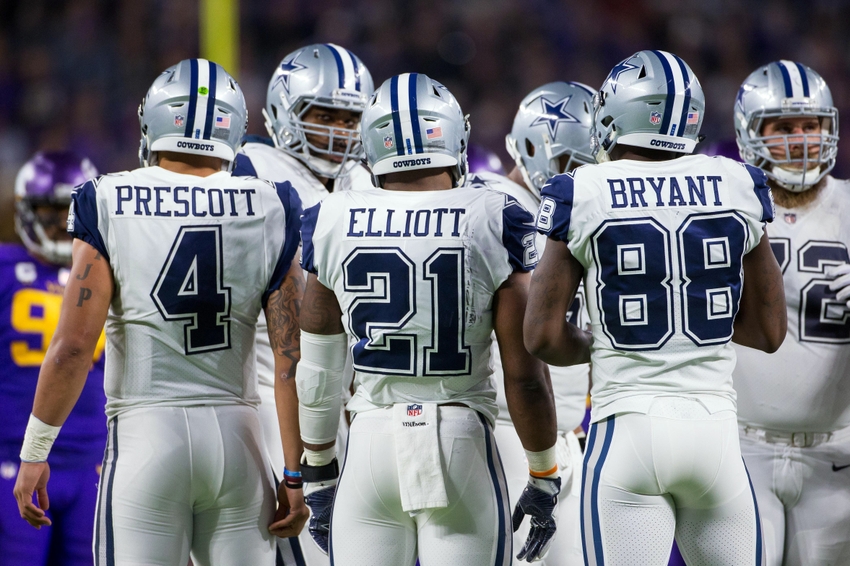 While the Dallas Cowboys will almost certainly have one of the two best records by season's end, they may not dominate the Pro Bowl as most top teams do.
Usually, a team that earns the best regular season record also ends up stacking the Pro Bowl roster.  This Dallas Cowboys team may be the odd exception however.
Even though the Cowboys are unquestionably one of the most popular teams, not to mention the best this year, statistics may work against them.
Offensively, running back Ezekiel Elliott and linemen Tyron Smith, Zack Martin and Travis Frederick should easily make the roster.  After that, however, it could be a numbers game.
Take, for instance, the quarterback position.
Everybody loves rookie Dak Prescott.  What's not to love?  He's not only an amazing player but he may be an even better person.  Prescott also happens to have one of the best quarterback ratings in all of football.
What Dak doesn't have though, are gaudy numbers.
Seven other quarterbacks have more touchdown passes than Prescott.  Nine have thrown for more yards.  Even if the Cowboys finish with thirteen or more wins, it's hard to imagine Prescott vaulting himself up into the top five in either category.
Matt Ryan in Atlanta and Detroit's Matthew Stafford are likely locks.  Green Bay will also need a Herculean effort from Aaron Rodgers if they are to make the playoffs.  Accomplishing that task would also likely fill another spot.
Another spot that Dallas may fall short is the wide receiver position.  The Cowboys have two guys, Dez Bryant and Cole Beasley, which certainly are deserving.  Again, though, the numbers aren't really there.
Neither are in the top ten in receptions or top twenty in receiving yards.  Bryant is just outside the top five in touchdowns, a number which will likely increase, but will that be enough?  Both will have to step up their production to eclipse 1,000 yards or double-digit touchdowns.
Meanwhile Mike Evans from Tampa Bay and Odell Beckham, Jr. in New York have either done so or will soon.  Both Packers receivers, Jordy Nelson and Davante Adams more than likely will as well.
Defensively, the pickings may be even more slim for the Cowboys.
It's high unlikely that anyone along the defensive line makes the cut.  No one currently has more than four sacks or six tackles for loss.  Those paltry numbers guarantee none of the front four get the call.
In the secondary, Morris Claiborne had a shot before getting hurt and missing the last five weeks.
That leaves linebacker Sean Lee as the sole option.  Actually, it would be shocking if he didn't make it.  Lee is fourth in the league in tackles with 112, including 10 for losses.  His versatility as a blitzer, coverage linebacker and run stuffer should make him a shoo in.
Speaking of guarantees, there is no way that kicker Dan Bailey doesn't get selected as the NFC Pro Bowl choice.  Matt Bryant of Atlanta is strong competition, however Bailey is perfect on his PAT's, which this year, is no sure thing.
All in all, no matter how well the Dallas Cowboys finish, I'm not convinced that they end up with more than six Pro Bowlers.  Hopefully, it's a moot point and none actually end up playing in the game.
This article originally appeared on