The Browns franchise QB is not coming in a trade or via free agency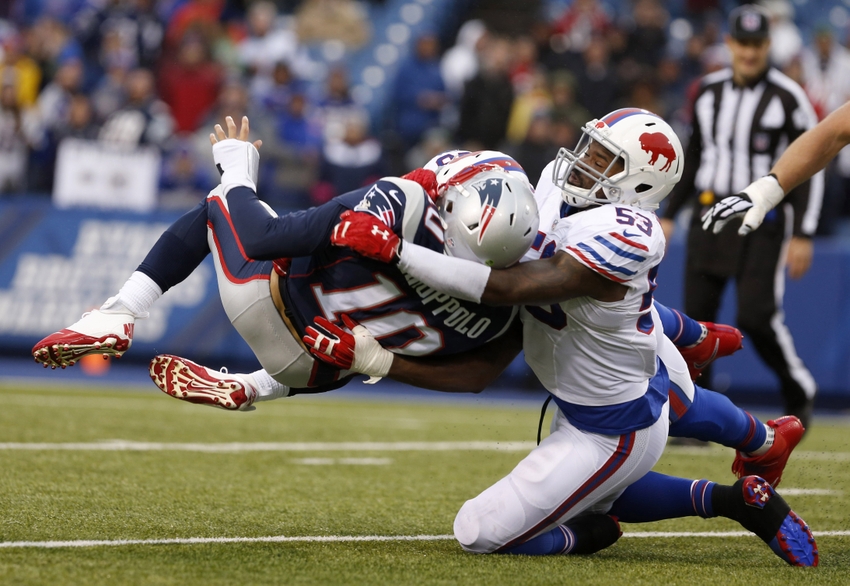 The Cleveland Browns need a franchise quarterback, which is something everyone knows. But they are not going to find one via a trade or in free agency.
If there is one universal truth about the Cleveland Browns it is that the team will go absolutely nowhere until they solve the quarterback situation that has plagued the team since the early 1990s.
Going hand-in-hand with that fact is another one: the Browns will not find their franchise quarterback via a trade or in free agency.
That is important to remember in the wake of Fox Sports analyst (and failed front office executive) Mike Lombardi floating out the idea late last week that the Browns will be on the prowl for New England quarterback Jimmy Garoppolo in the off-season.
"The next quarterback that'll be the Cleveland Browns' quarterback perhaps is Jimmy Garoppolo in New England," Lombardi said on FS1's Speak for Yourself, according to The Beacon Journal. "I think Cleveland understands, [coach] Hue Jackson specifically understands he needs a quarterback. I think they'll be very aggressive. I think Jimmy Garoppolo's on top of their list, and I think they'll go hard after him."
"I'm sure the [Chicago] Bears are going to make a phone call. There's a lot of teams that are going to come after Garoppolo because there's not a lot of quarterbacks. I think the Patriots will decide whether [to trade Garoppolo] based on the deal they're offered and Cleveland has enough assets to entice them."
Sigh.
The idea that the Browns would work so hard to acquire draft assets and strategically position themselves to finally transform the franchise only to waste those assets on another team's backup quarterback is a stretch.
Garoppolo is a nice player but is extremely limited in terms of actual game play in the NFL. He has only thrown 91 career passes in his three seasons with the Patriots and made just two starts, which only occurred because Tom Brady opened the season with a four-game suspension.
It seems likely that this is nothing more than an attempt by Lombardi to create a market for Garoppolo to help his friend, Bill Belichick. Garoppolo will be a free agent after the 2017 season, and if Lombardi can stoke the fires then it can only help the Patriots.
And of course the Browns should be lining up to help out New England.
"[The Browns are] going to have to use those draft picks on a player, and if you can get a starting quarterback who can play in cold weather, who can do a lot of things that Hue Jackson likes to do, I mean do you want to give up all your assets or do you want to go after AJ McCarron who was [Jackson's] backup [quarterback] in Cincinnati?" Lombardi said. "I think you're better off going after Garoppolo and get the better player."
More from Dawg Pound Daily
How much more obvious can you get?
We've been down this road before with the Browns and quarterbacks and it is exhausting. At one time or another through the years the Browns have been "linked" either via trade or free agency to quarterbacks as Sam Bradford, Nick Foles, Kevin Kolb, Matt Cassell and Matt Flynn, just to name a few.
And what do each of those players have in common? The teams that eventually signed or traded for them and regretted it.
So why would the Browns want to go down that road?
The reality of the situation is that championship NFL teams find their quarterbacks one way – through the draft – and avoid wasting their time and assets on the false hope of another team's player.
Only two teams since 2004 have won a Super Bowl with a quarterback that they did not draft. And those two teams come with a caveat as they were led by Drew Brees (New Orleans in 2010) and Peyton Manning (Denver in 2016), who only happen to be Hall of Fame-level quarterbacks.
Now if someone can guarantee that Garoppolo will one day be enshrined in the Hall of Fame, then the Browns should go for it. But that is probably not going to happen, and the Browns certainly can't make a move based on the evaluation skills of Lombardi, who has washed out of every NFL office he has ever worked in.
Sashi Brown and Hue Jackson are certainly smart enough to know that and are not going through the current exhausting season just to spend the next four years wasting their time with another team's backup.
The Browns need to solve the quarterback conundrum, there is no question about that.
But the answer assuredly will not be found in free agency or through a trade.
This article originally appeared on