The Bears should hard pass on Garoppolo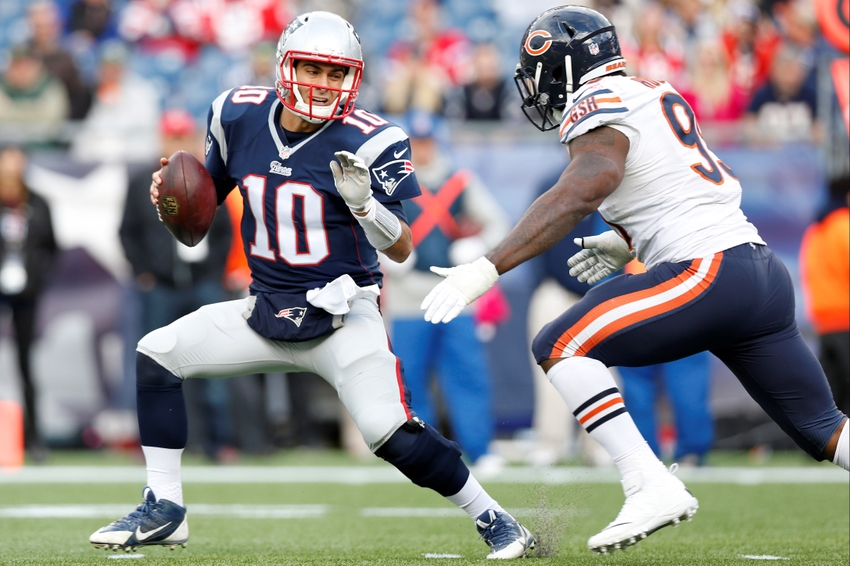 Even though New England Patriots quarterback Jimmy Garoppolo played well in his first NFL start, that does not mean he needs to be the Bears next signal caller.
Dang it, I freaking KNEW this was going to happen.
If the Patriots somehow squeaked through the Cardinals on Sunday Night Football, Jimmy Garoppolo would be the not only the next quarterback to take the planet by storm but he'd also be the next hot, in the physical and quarterback sense, quarterback-to-be for some NFL team.
And, according to some columnists and other news sites, that NFL team could be the Chicago Bears.
Now, this isn't a new trend in the slightest. NFL teams have always perused backup quarterbacks that have had decent showings, just to see if they could replace their incumbent signal caller.
It happen two years ago with Josh McCown and the Tampa Bay Buccaneers, after McCown's career revival with Marc Trestman. Before that,
Heck, this happened to the Patriots in 2009, remember? Matt Cassel led the Brady-less Patriots to an 11-5 record, and, suddenly, the world turned upside down with the notion that the next Tom Brady would be backing up the genuine article in 2010.
In fact, that Cassel situation is the reason why the Bears have Jay Cutler to being with. Then-Broncos head coach Josh McDaniels wanted Cassel so bad, he tried to trade for him, upsetting our favorite Vanderbilt product. 
In any case, let's assume, for just a moment, the Patriots offensive system is the reason why they've been able to taffy-pull wins out of their backup quarterbacks. Herein lies the issue on the table.
Garoppolo did NOT look like a second year player out of Eastern Illinois against the Cardinals. He had poise, flaunted a veteran's accuracy and led the Patriots to a 10-point lead to start the game. When it was all said and done, Garoppolo's statline was 24 for 33 with 264 yards and a touchdown against last year's NFC runner up.
Crazy? You betcha. But, is Garoppolo worth the price of a quarterback today? Not on the least, especially with New England's track record with backup quarterbacks.
Cassel, in his lone starting season for the Patriots, was 10-5 as a starter. His only other season with a record above .500 was when he led Kansas City to the playoffs with another 10-5 record, which makes sense when you realize his offensive coordinator that year was Charlie Weis, his former offensive coordinator in New England.
His other seasons as a starter? His record was a combined 9-23 with no other playoff appearances for the quarterback that has since become a journeyman and career injury fill-in.
Yeah, that's not good.
Assuming Cassel was a product of that New England system, it doesn't really bode well for Garoppolo unless he finds his way into a similar style that New England runs. Is it possible he turns in a successful career? Of course, but don't expect the same success unless he's in a system similar to New England's.

With college quarterbacks such as DeShone Kizer, Deshaun Watson and Brad Kaaya becoming NFL prospects come this March, it's almost more of a better bet to take a flyer on one of those talented quarterbacks than someone who have, barring injury or other deflated-ball related suspensions, four NFL starts for a very quarterback-friendly system.
More from Bear Goggles On
This article originally appeared on