The Baltimore Ravens Know How To Stop Big Ben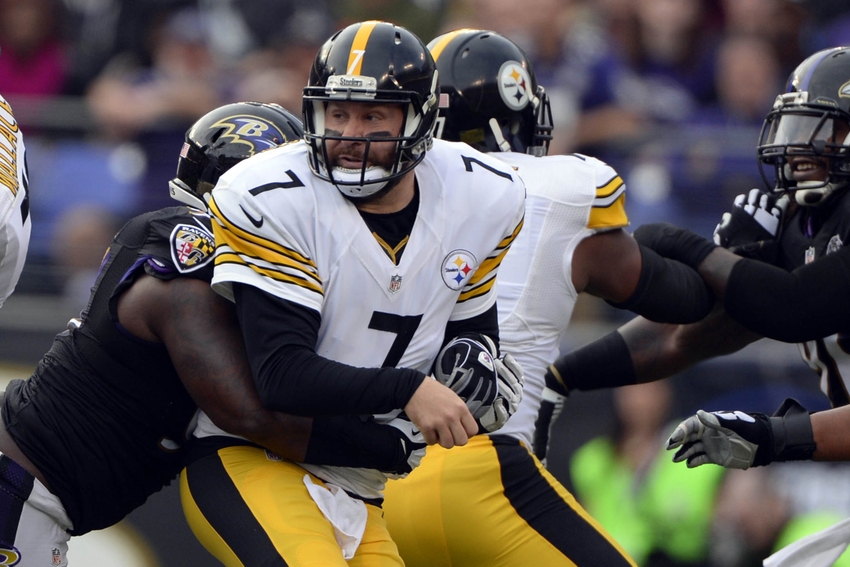 The Baltimore Ravens know there is only one good way to stop Ben Roethlisberger, who is expected to play on Sunday.
The Baltimore Ravens are quite familiar with Ben Roethlisberger. That may be an understatement. The Ravens have seen him lead game winning drives, extend plays for an eternity and beat their secondary more times than we can count. The purple and black have also pummeled Big Ben an awful lot. The Ravens know that the only way to keep Roethlisberger from beating them, is getting him to the ground.
Ben is coming back from an meniscus injury. Expect Dean Pees to come at him with every look he has. It's not malicious, we know banging into the 240 pounds of Ben is important to the game plan even when he is fully healthy. The Ravens pass defense ranks sixth best in the NFL, but they have given up big plays. Derek Carr had his fun, so did Eli Manning. Roethlisberger is capable of shredding the Ravens defense. We've seen him play hurt before and we've seen him hurt the Ravens defense in the process.
Want your voice heard? Join the Ebony Bird team!
The Steelers just have too much talent around Roethlisberger. Antonio Brown may be the best receiver in the NFL. Le'Veon Bell and DeAngelo Williams are a powerful running back combination. Sammie Coates is averaging over 20 yards per reception. Jesse James is doing a pretty good job replacing Heath Miller. If the Ravens give Roethlisberger all day to throw the ball, he will make plays. It is inevitable.
The Ravens can play this two ways. They can either come at Roethlisberger with everything they got, or they can die a slow death as the Steelers nickel and dime their way down the field. The Ravens need to play aggressively. Roethlisberger's biggest flaw is that he holds the ball too long. His never giving up on a play (especially when he's banged up) can lead to big plays for the Ravens defense. I'm thinking sacks, fumbles and interceptions.
The Ravens success against Roethlisberger has come when they have chased him down and made him pay. Look for the Ravens to make Roethlisberger public enemy number one on Sunday. The Steelers have so much talent around their quarterback. The only way to stop the Steelers is to stop Roethlisberger.
More from Ebony Bird
This article originally appeared on