The 5 hottest offenses in the NFL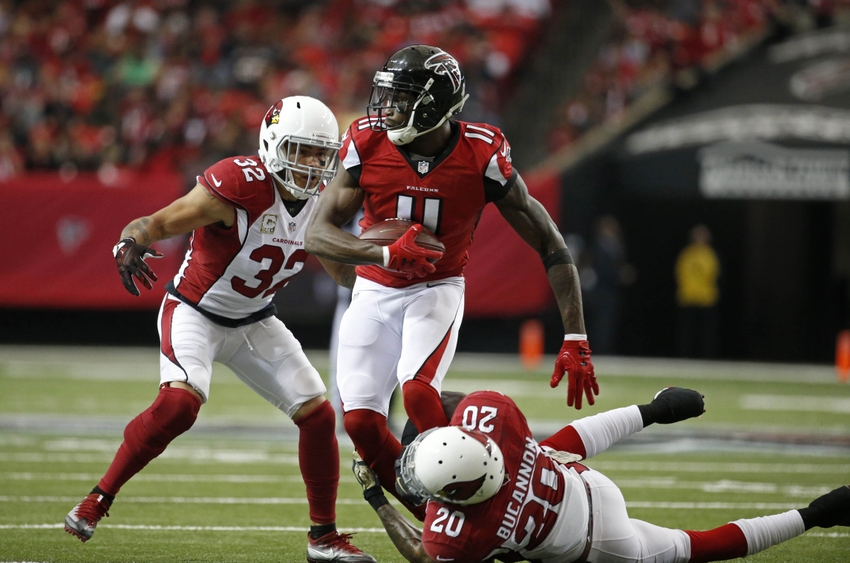 Defense still wins championships. But it helps to have a potent attack. These 5 teams have the hot hand in the NFL on offense these days.
Exciting. Explosive. Efficient. Those are all the things an NFL franchise is looking for from its quarterback, remaining skill people and the offensive front. Put points on the board, control the tempo of the game and hang onto the football.
So at the moment, which teams are playing their best on this side of scrimmage?
Remember, we are not talking teams but units. In some instances, no matter now how hot the attack, it may not end up in the team making it to the playoffs. Hence, if you're an NFL defense these days, these are five offenses you may not want to tangle with at the moment.
5. Pittsburgh Steelers
Mike Tomlin's slumbering team is awake once again.
During the Pittsburgh Steelers' 4-1 start, quarterback Ben Roethlisberger was lighting up opposing secondaries with wideouts Antonio Brown, Sammie Coates and Darrius Heyward-Bey. Meanwhile, veteran running back DeAngelo Williams was holding down the fort for suspended running back Le'Veon Bell for the first three games of the season.
Then came a midseason slump when the veteran signal-caller injured his knee against the Miami Dolphins. He missed the following game. Two weeks later, it took Big Ben three quarters to warm up against the Baltimore Ravens. A furious fourth-quarter rally fell short.
The following Sunday, Roethlisberger had the hot hand in a loss to the Dallas Cowboys. He threw for 408 yards and three scores in a 35-30 setback. Wins over the Cleveland Browns and Indianapolis Colts would follow. Suddenly, the Steelers have put 82 points on the board in their last three games.
Bell is in the midst of quite the stretch. He has reached the end zone at least once in three consecutive games. Over that span, he's racked up 89 touches for 566 yards and four touchdowns. Brown comes off a three touchdown performance on Thanksgiving night at Indianapolis.
We're not sure if the Steelers are playoff-bound. But armed with their own three-headed monster, they appear they will be going out with a bang and not a whimper.
4. Washington Redskins
Since Jay Gruden's club overcame a 0-2 start via a four-game winning streak, the Redskins are just 2-2-1 in their last five contests. But as of late, their offense has been very hard to stop.
These days, you could make a strong case that Gruden's club features the best pass-catching corps in the NFL. There's wide receivers Pierre Garcon, DeSean Jackson and unsung Jamison Crowder, as well as tight ends Jordan Reed and resurgent Vernon Davis. Reed (59), Crowder (55) and Garcon (52) have all caught at least 50 passes this season.
Fantasy Football Slant: Redskin To Start And Others Across The League To Play
Since being stifled by the Detroit Lions to the tune of a 20-17 loss at Ford Field in Week 7, the Redskins have put at least 26 points on the board in four straight contests. Over that span, Cousins has racked up 10 touchdown passes and been picked off once. The fifth-year pro has thrown for two or more scores in each of those outings. He's piled up 458, 262, 375 and 449 yards, respectively, over that stretch. Hence, the Redskins have piled up 500 or more total yards in three of those games.
In case you're wondering, Washington gets enough from its ground attack. Rookie free-agent Robert Kelley is in for fumble-prone Matt Jones and has been getting the job done. He now leads the team with 461 rushing yards and four touchdowns. He's not been a factor in terms of the passing game but with all of their other weapons, there has been no need.
Cousins and Kelley also benefit from an offensive line than has come together. The Redskins have allowed only 14 sacks in 11 games. Combine that with the fact the Gruden's club has only committed 12 turnovers in 11 outings (1 in their last 4 games) and this has become a hard attack to slow down.
3. Oakland Raiders
Here is one of those teams that has been hot from the get-go and has seemingly stayed pretty warm throughout the season. There has been the occasional lull. However, the Oakland Raiders and New England Patriots both own the best record in the AFC – the former due to the play of quarterback Derek Carr and company.
You can make an extremely strong case that the Silver and Black's third-year signal-caller is among the top candidates for NFL MVP honors. When you hit on 66.4 percent of your passes and connected for 22 scores, it's hard to argue the point. Carr has committed only eight turnovers this season, two of those in Sunday's 35-32 victory over the Carolina Panthers.
During the team's current five-game winning streak, Jack Del Rio's squad has scored 30 or more points on four occasions (although it took an assist from defensive end Khalil Mack on Sunday to reach that mark). In any case, the Oakland offensive unit has totaled at least three touchdowns in each of those contests.
The Raiders have a variety of weapons. Running back Latavius Murray is hot, scoring six touchdowns in his last five outings. The wideout trio of Amari Cooper, Michael Crabtree and Seth Roberts has combined for 155 catches and 14 of Carr's 22 TD connections.
Still, we rate the Oakland offense slightly behind two other teams for different reasons. But that's not a knock on Carr and company. And this is a group that has not only excelled, at times it has put the team on its back. Especially in the fourth quarter when the team needs them most.
2. Dallas Cowboys
With a rookie quarterback, a rookie running back and a magnificent offensive front, the Cowboys' hot streak on offense began in Week 2 at FedExField. They haven't slowed down since.
Talk about consistency? During the team's 10-game winning streak, Dallas has put at least 24 points on the board in each contest. In 11 games this year, the team has a paltry seven turnovers. Five times, they played mistake-free football.
This year, Dallas 37 offensive touchdowns. In each of their last 10 outings, all victories, they have totaled a minimum of three offensive TDs. And Jason Garrett's club averages 32:50 per game in terms of time of possession. In the Thanksgiving Day win over the Washington Redskins, Dallas was limited to 353 total yards. That snapped an eight-game stretch in which they gained a minimum of 400 total yards per game.
Still, the one man who doesn't get enough credit is offensive coordinator Scott Linehan. Since arriving in Dallas, he's helped changed the mindset of the team with his play-calling. Dating back to 2014 and including a pair of playoff games, the Cowboys have totaled at least 20 running plays in all but two of their 45 total contests.
This season, Garrett's club has a minimum of 25 rushing attempts in each game, And only the Buffalo Bills average more yards per game on the ground.
Quarterback Dak Prescott completes 67.9 percent of his passes. He's finding a healthier Dez Bryant. The explosive wideout has 17 catches for 268 yards and three scores in his last three games. Ezekiel Elliott leads the NFL with 1,199 rushing yards and 11 touchdowns, plus caught 24 passes for 303 yards and one trip to the end zone.
The only thing this unit is lacking is some added explosiveness. That's something our top-ranked group has in spades.
1. Atlanta Falcons
Dan Quinn's club gets the top spot and offensive coordinator Kyle Shanahan gets the big pat on the back. You could also make a case that this is the NFL's most improved offense from a year ago.
In seven of their 11 appearances this season, the Falcons put 30-plus points on the board. In three of those contests, they've managed 43 or more points. Yes, the defense has done its share in terms of scoring returns (3). But Shanahan's offensive unit has 38 touchdowns, with four players totaling at least five scores.
The turnaround for quarterback Matt Ryan from a season ago is amazing. Some much-improved offensive line play is helping, as is an attack that is stressing balance. Atlanta averages 411.5 total yards per game and the ground attack has chipped in with 108.4 yards per contest. Shanahan's offense averages just over 25 rushing plays per game and Devonta Freeman and Tevin Coleman have been a sensational 1-2 punch.
Back to Ryan, who is hitting on 68.9 percent of his passes. He's connected for 26 touchdowns and been picked off only six times. There have only been three fumbles on three occasions and lost two of those mistakes for a total of eight turnovers. In 16 games in 2015, this same quarterback had just as many scoring passes (21) as turnovers (21).
Yes, there's Julio Jones, Mohamed Sanu and now Taylor Gabriel. Ryan is doing an amazing job spreading the wealth as he has thrown touchdown passes to 11 different players.
Last year, the Falcons put up 339 points. In 11 outings in 2016, they have an NFL-high 358 points. It's been a season-long hot streak for this unit. And if Atlanta is going to hold on to the top spot in the NFC South, they need to keep the foot on the pedal. Especially with a defensive unit that's been far too generous.
This article originally appeared on