The 49ers Will Be a 10-Loss Team After 11 Games in 2016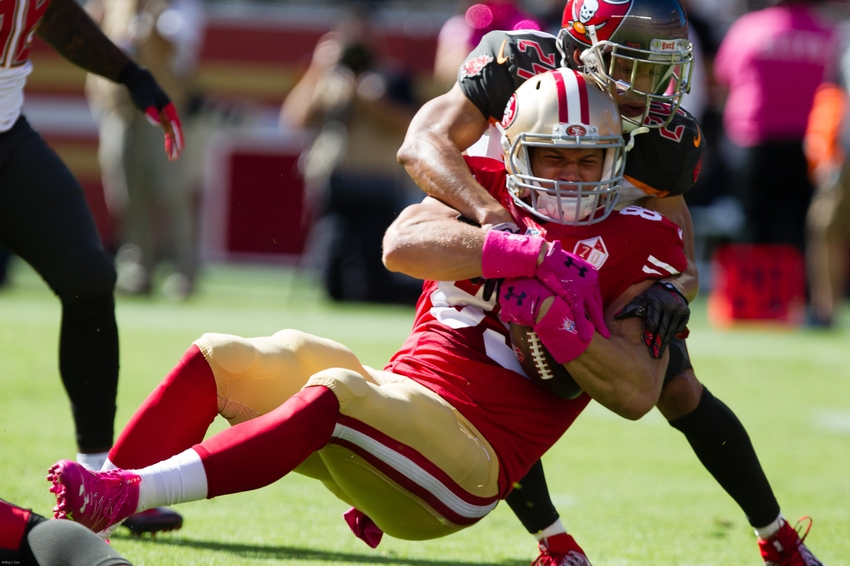 he San Francisco 49ers will be one game short of the maximum number of possible losses when their schedule hits Week 12 of the 2016 NFL season.
You've heard this narrative of the San Francisco 49ers this season before…
Let's Make the San Francisco 49ers Great Again
The Niners manage to stay in contention with an opponent over the first half of a game, only to see any chances of a win thwarted in the third quarter. San Francisco's defense, which can't stop anyone on the ground, looks worse than a wet paper bag. And the offense, inconsistently at best, has zero second-half answers of its own.
Pick a game aside from the 49ers' lone Week 1 victory and, chances are, the above is what happened. Just change out the opponents and tweak the stats a bit.
Sunday's 41-23 loss to the New Orleans Saints is merely the latest chapter in a repetitive whirlwind of ineptitude and problems.
The 49ers allowed a 100-plus yard rusher, Saints tailback Mark Ingram, for the seventh consecutive game. Guess what, the Niners have lost all seven games and by (mostly) huge margins.
At least San Francisco's 24-17 loss to the Dallas Cowboys in Week 4 seemed closer than it actually was.
This is a historically bad team. And it's not going to get worse. The 49ers aren't suddenly going to find some competitive juices to make their 2016 second-half efforts any better.
And they'll have 10 losses in 11 games before you can even blink.
Just take a look at the upcoming schedule:
Week 10 @ Arizona Cardinals
Week 11 vs. New England Patriots
Week 12 @ Miami Dolphins
Loss, loss and a loss.
Upcoming

Schedule

11/13

at

Arizona Cardinals
11/20

New England Patriots
11/27
at

Miami Dolphins
12/4
at

Chicago Bears
12/11

New York Jets
The Next Three Games
The Arizona Cardinals came into Levi's Stadium, with a backup quarterback, in Week 5 and trashed San Francisco 33-21. Running back David Johnson amassed 157 yards and two touchdowns in the effort, even with the Niners knowing he would be the lone focal point of the Arizona offense.
Now, the Niners have to handle the Cardinals on the road. And Arizona is hitting a desperation point.
We don't even have to speculate whether or not San Francisco stands a chance in Week 11. Unless you like pain, you probably should go mow your lawn or rearrange your sock drawer when the Niners host the New England Patriots.
Week 12 on the road against the Miami Dolphins might have seemed like a winnable game the way Miami was playing over the first five weeks of the season. Since Week 6 though, the Dolphins have pulled off three consecutive victories.
And, if you haven't noticed, running back Jay Ajayi is pretty good. He's averaging 5.9 yards a carry against some pretty good run defenses.
Defenses, far and away, better than anything the 49ers have to offer.
All Miami has to do is hand the ball off to Ajayi and let him do the work. That's it.
Any 49ers Changes to Be Made?
Nope. Don't count on them.
Sure, nose tackle Glenn Dorsey saw a major increase in action last week. He's now the best Niners interior run defender, according to Pro Football Focus. Insofar as the players around him? Not so much.
And don't expect scheme changes either. The one thing defensive coordinator Jim O'Neil did differently in Week 9 was to, well, call plays from the booth and not on the field.
Not like it made a difference.
In case you missed it, O'Neil's defenses with the Cleveland Browns ranked 32nd and 30th against the run in 2014 and 2015, respectively. The lack of talent, combined with the scheme, have led to what was ugly then. And it's equally as ugly with San Francisco now.
Perhaps historically.
The next feasible 49ers win might come in Week 13 against a 2-6 Chicago Bears team. Chicago's rushing attack, led by running back Jordan Howard, ranks 24th in the league. And the slew of the Bears' own problems could open up remote possibilities for a Niners road victory.
Maybe.
Still, it's perfectly reasonable to assume San Francisco loses in Week 13 too. Week 14 hosting the New York Jets might be interesting, perhaps somewhat fun to watch, but there aren't guarantees there either.
And the rest of the schedule? Well, you might just want to start thinking about 2017 free agency and the NFL Draft by that point. If you haven't already.
This article originally appeared on