The 49ers Should Shut Down Running Back Carlos Hyde for the Rest of 2016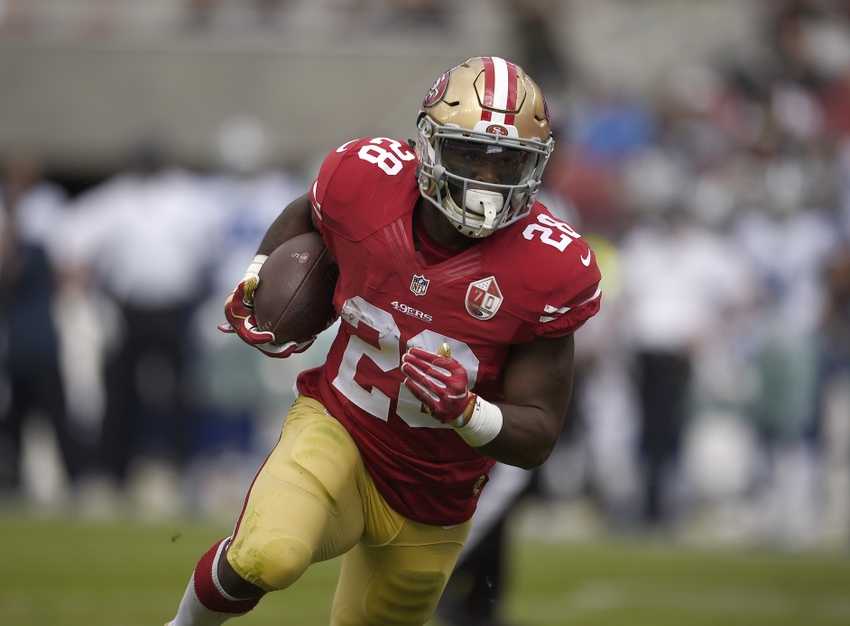 With 2016 a lost season for the San Francisco 49ers, the team would be wise to shut down No. 1 running back Carlos Hyde for the rest of the year.
The San Francisco 49ers should shut running back Carlos Hyde down for the rest of 2016.
49ers vs. Cardinals: The Good, Bad and Ugly in Week 10 for San Francisco
Let's face it, the 1-8 Niners are all in on another year of rebuilding. This year's campaign is a lost one in which the numerous problems and depth issues have come right to the surface. With seven games remaining on the schedule, any efforts should be either developmental or determining which players should be retained next year.
Hyde is one of the few playmakers San Francisco has on either side of the ball. But injury concerns and durability have been factors, just as much as his ability to impact the offense.
The Niners' second-round pick of the 2014 NFL Draft returned to action against the Arizona Cardinals in Week 10 after missing two games with a shoulder injury.
And it wasn't as if Hyde was a major factor. In reality, he wasn't one.
Hyde totaled a mere 14 yards on 13 carries. That's an average of just 1.1 yards per carry. Watching the film, it's clear Hyde wasn't running with the same sort of aggression or decisiveness we've seen out of him in prior games.
Instead, Hyde danced around and failed to hit any openings with regularity.
Durability Issues
Injuries have been nothing new for Hyde. San Francisco's No. 1 tailback has missed a total of 11 games out of 25 contests dating back to when he took over as the featured runner. That's 44 percent missed.
And it's worth arguing Hyde's shoulder injury prevented him from running with the same sort of prowess we've seen in the past.
Granted, Arizona's front-seven defense is one of the better ones in the league. So we should give credit where it's due.
But Hyde isn't going to have an easy slate of games on the schedule moving forward. The New England Patriots come to town in Week 11. And run-stopping teams like the Los Angeles Rams and Seattle Seahawks are still on the calendar.
Use the Time to Evaluate the Remaining 49ers Backs
Sadly, we're reaching the point in which the Niners might have to consider options other than Hyde moving forward.
Just ask Bleacher Report's Matt Miller:
Hyde may no longer be the long-term answer for which he was drafted. Regardless, the 49ers need help to support him even if he remains a fixture.
Now-No. 2 running back DuJuan Harris, who had a great game in Week 9 against the New Orleans Saints, saw only five carries against the Cardinals. He looks every bit the change-of-pace back San Francisco needs.
Whereas Hyde is more of a bruiser, Harris is much shiftier and elusive. He gets out to the sidelines quicker as well.
Shutting down Hyde would also allow San Francisco to promote a guy like rookie Kelvin Taylor from the practice squad. He, Harris, Shaun Draughn and Mike Davis could all easily compete for jobs next season.
All the while, Hyde recuperates from any elongated problems from his shoulder injury.
The 49ers need depth at the position. The last two years have proven such in glaring detail. And while Hyde is the best option San Francisco has, zero reasons exist to risk Hyde to further injury and/or put more mileage on his career.
Look to the future, 49ers. Hyde can be a part of it. But just ensure he's 100 percent next year.
This article originally appeared on