The 2016 Cleveland Browns Aren't Cursed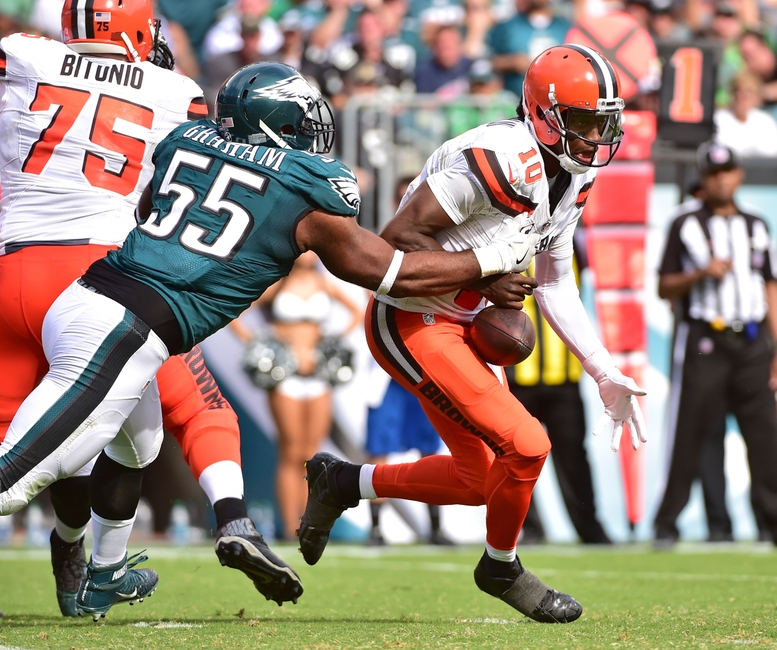 The 2016 Cleveland Browns aren't 'cursed.' They're just bad.
On Wednesday after it was announced that Cleveland Browns rookie wide receiver Corey Coleman suffered a broken hand during a practice. Coleman should be eligible to return to the field in 4-6 weeks.
The Cleveland Browns are cursed.
This predictable, not to mention played-out, take was put out there by legitimate NFL talking heads such as Frank Schwab of Yahoo Sports. And of course by fans posting on social media websites shared the same opinion.
Coleman's injury is yet another setback for a Cleveland side seemingly headed for disaster after only two weeks of meaningful action. The Browns will be starting the team's third different quarterback of the season in Week 3 of the campaign. Terrelle Pryor, a former quarterback converted to wide receiver, is now likely the team's top offensive playmaker until Josh Gordon returns from suspension. Standout rookie defensive lineman Carl Nassib is also out with a broken hand.
Accidents happen. Rookies get hurt. It's understandable fans of the Browns would feel frustrated heading into Week 3 against the Miami Dolphins. Fall has just begun and the Browns are already the worst overall team in the NFL. Moreover, they're a franchise that offers supporters few reasons to watch games these days.
The current state of the Browns is not the result of some supposed curse. This franchise is where it is today because of a combination of things. Awful decisions made by prior regimes, head coachHue Jackson attempting to move on, and also some poor planning by the front office have all contributed.
Nobody, not Jackson nor anybody else associated with the Browns, should've believed for even a minute that Robert Griffin III would survive an entire season healthy. Griffin has not truly been a NFL quarterback since 2014. His injury history is no secret. Those "IR-G3" jokes don't exist only because some football fans are mean.
It was not all that long after the Browns lost their Week 1 game to the Philadelphia Eagles when the club learned Griffin would be sidelined until at least Week 10 because of a shoulder injury, an injury Griffin either suffered or worsened when he decided to run over a defender in the fourth quarter of the game at Philadelphia when he could've avoided contact. The Browns should've signed a veteran quarterback the day after so that individual would've been ready to go before the Browns traveled south to Miami.
The Browns didn't do that. Cleveland instead started 37-year-old veteran Josh McCown against the Ravens. Meanwhile, they bumped rookie Cody Kessler up to second-string as well. McCown, who was sidelined because of multiple injury setbacks during the 2015 campaign, made it through less than a quarter of football against the Ravens before he first suffered a shoulder injury. While McCown remained in last week's game through Cleveland's final offensive position, he is now sidelined for the foreseeable future.
Cleveland responded to McCown going down by signing veteran Charlie Whitehurst. This is hardly Whitehurst's first rodeo. But he will not be ready to start for Cleveland against Miami in Week 3. Kessler will start at least one game, if not more, assuming he remains healthy.
Kessler failed to impress while on the field during preseason contests. Truth be told, Kessler looked like a project who wasn't close to being ready to lead any NFL offense. In fairness to Kessler, he wasn't supposed to play this early into his career.
The Browns failed Kessler in this scenario.
Strange things sometimes happen in sports. Maybe Kessler will shock the football world, quiet critics and prove against the Dolphins he may be the future franchise QB of the Browns. Nobody out there, however, should be too harsh on the young man if he flops. The Browns never should've put Kessler in such a position three weeks into his tenure as an NFL player.
The injuries to Coleman and Nassib are rough and like salt poured into open wounds. All would do well to stop pretending either man is a superstar right now today.
Coleman flashed moments of brilliance in scoring two touchdowns against the Ravens. One of those scores shouldn't have counted, though. Replays showed Coleman's toes were out of play when he completed the first touchdown grab of his career. It's also worth noting Coleman is currently averaging 3.5 catches per game. Nassib, meanwhile, played well in his first four quarters of NFL regular season football. Both should return to the lineup later this year.
The events of the past couple of weeks provided a painful reality-check for optimistic fans hoping the 2016 Browns could take multiple steps in the right direction. Even those who believe Jackson can be the coach who rights the ship and takes the Browns to the playoffs at some point must realize Jackson is going to lose more than he wins this yea—and also probably next year. This is a process, one that's going to be painful and arduous for passionate fans of the Browns.
The Browns aren't cursed. They're just bad this September.
This article originally appeared on