Thank you readers! PhinPhanatic voted "Best Overall Site"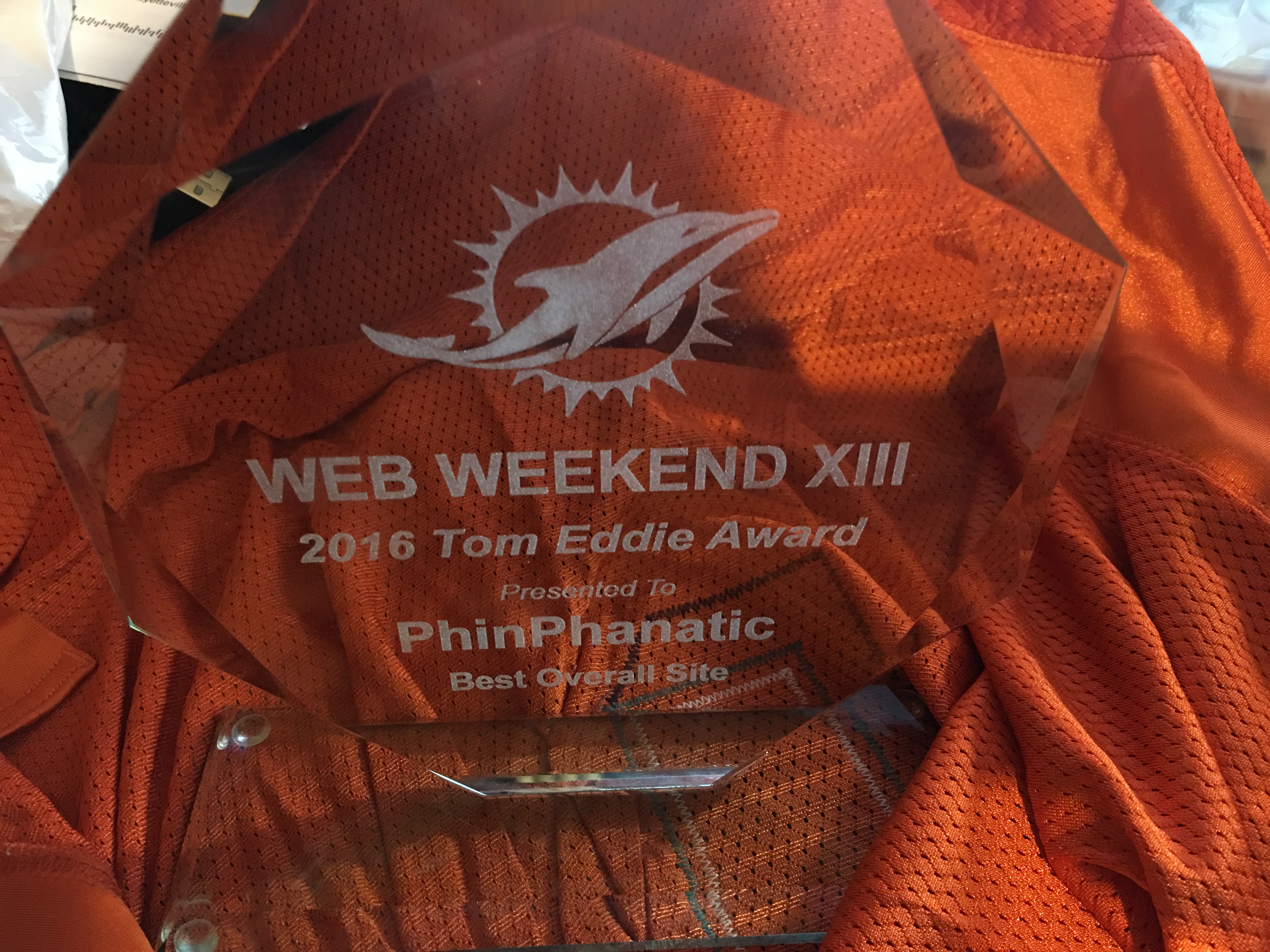 Over this past weekend a bunch of "web-heads" like myself convened in South Florida for the Miami Dolphins annual Web Weekend event. Part of the weekend was the "Webbie" awards.
More from Phin Phanatic
As with all years the "Webbies" are voted on by the other Miami Dolphins fan sites so it's always an extreme honor when your site is viewed as one of the top ones by your peers.
This year PhinPhanatic.com took home three "Webbie" awards. Best Features and Fan Columns, Most Informative Site, and the Tom Eddie Award or The Best Overall Site. The award is named after Tom Eddie who was one of the first "web-heads" with the site PhinFever.com.
Tom passed away about 8 years ago from cancer. The award allows us to remember him. While our site has won this award in the past, this year is the most special as it's the first one I have won since my mother passed away from her battle with cancer less than two years ago.
The reality of these awards is this. The passion that I have to write is only driven by the passionate thousands who read this site every day, like you are doing now. There is never enough words to convey to each of you how flattered I am that you take the time to read my drivel and then take the time to call me out when I'm wrong and agree with me when you believe I might be right.
We have a dedicated staff who strive to give you more than simple news and our committment to you goes beyond the regular season, beyond free agency and the draft but encompasses all 12 months regardless of what is going on within the football community.
So thank you for giving me the determination to keep writing as I enter my 11th year on PhinPhanatic.com.
Finally I would absolutely be remiss not to thank those sites that voted for us this year. Our community of Miami Dolphins fan sites grow each year and it is always a privilege to include this site in that family.
Congratulations as well go out to DolfansNYC, PhinFever, PhinManiacs, and Finheaven for their "Webbie" award wins! Each very well deserved.
This article originally appeared on